Two people were killed as a school bus carrying fifth graders on a field trip was ripped apart when it collided with a dump truck on a New Jersey interstate highway Thursday morning, according to The Associated Press.
Those killed were a teacher and a student, AP reported, citing New Jersey Gov. Phil Murphy.
People involved in the accident on Route 80 were taken to at least three area hospitals.
Images from the chaotic scene in Mount Olive Township show the body of the bus shorn from its frame and pushed into a median guardrail, resting at an angle. The front end of the bus appears to have been crushed in the wreck.
East Brook fifth grader Zainab Qureshi, 11, who was on one of two buses not involved in the crash, told The Morristown Daily Record the other buses made it to Waterloo. About 30 minutes after their arrival, however, they were told they had to return to school due to bad weather.
They found out about the crash at school, the student said.
Theo Ancevski, 11, was on board the bus that crashed, he told the Record. He said he heard other students screaming as the bus fell over, leaving some "hanging from their seatbelts." 
He said some students evacuated through the emergency exit on the vehicle's roof while others scrambled out of windows. 
Pavle Ancevski, Theo's father, told the outlet he was "stressed."
"I work in the city, so it was like [a] nightmare to get to here," he said. Saying "we're thankful to God that everything was OK" with his child, he added, "I hope the other kids are OK."
The school is located about 22 miles from New York City.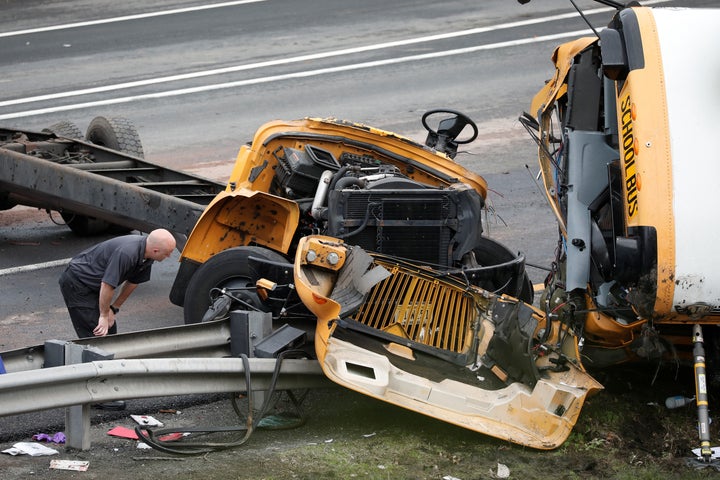 Injured passengers were taken to Morristown Medical Center, St. Joseph's Hospital and Hackettstown Medical Center, according to the school district.
St. Joseph's received two patients, a spokeswoman said, but she would not comment on their conditions. A spokeswoman for Atlantic Health confirmed that patients were taken to the company's Morristown and Hackettstown centers, but would not elaborate.
K-9 units were seen searching wooded areas near the crash scene, NBC 4 New York reported.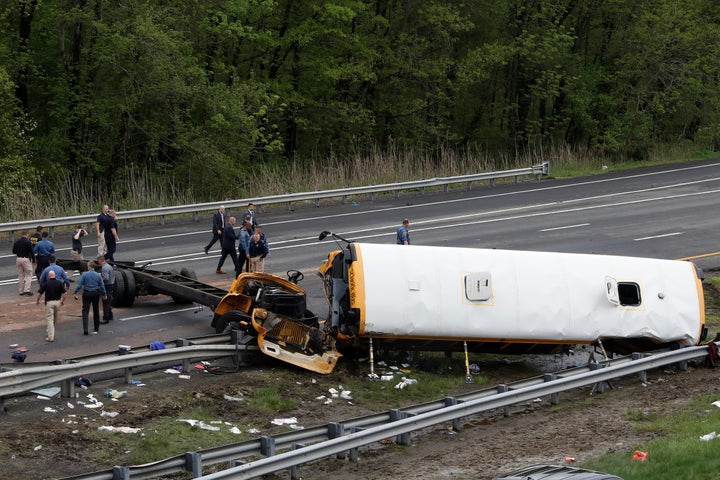 The company whose dump truck was reportedly involved in the crash, Mendez Trucking, has violated a number of safety regulations in recent years, according to the U.S. Department of Transportation's Federal Motor Carrier Safety Administration.
Prior to Thursday, Mendez trucks have been involved in eight crashes over the past two years, none causing fatalities. Its vehicles racked up more than 200 safety violations in that time, including many infractions for exceeding the weight limit.
The New Jersey–based company has a higher than average out-of-service rate — 37.9 percent compared to the national average of 20.7 percent.
Olive Township Mayor Rob Greenbaum called the accident scene "horrific" in an interview with the USA Today Network. Jeanne Weber, a Paramus City Council member, told the network she felt "absolutely sick" about the crash.
Murphy arrived at East Brook Middle School Thursday afternoon to offer his support.
"Our hearts are broken by today's tragedy," he said over Twitter.
East Brook Middle School students were dismissed early. 
Phone lines at the middle school appeared to be tied up after the crash, and HuffPost was not able to get through. A representative for the Morris County Sheriff's Office declined to comment.
This story has been updated with details on the truck company whose vehicle was reportedly involved in the crash.
REAL LIFE. REAL NEWS. REAL VOICES.
Help us tell more of the stories that matter from voices that too often remain unheard.