In anticipation of the fall premieres of Shonda Rhimes' three hit ABC shows "Grey's Anatomy," "Scandal," and "How To Get Away With Murder" on September 24, Time Inc. will feature the casts as part of a special cross-title editorial package this month with Entertainment Weekly, Essence and People magazine.
 "When I encountered something that felt like racism -- like my high school guidance counselor ­saying to me, 'Honey, I don't think you were made for Ivy League schools' -- I called my mom at work and said, 'Mom, this lady says I'm not made for Ivy League schools,' she explained. "And my mother said, 'Hold on, I'll be there in five minutes.' My mom drove up to the school, walked into the guidance counselor's office, came out, and said, 'Everything's fine now.'"
In the issue, Shondaland's leading ladies speak highly of their boss. According to Kerry Washington, working with Rhimes during her 2014 pregnancy made her notice a difference between female and male showrunners.   
"I was talking to an actress who's pregnant and really worried about telling her bosses, and I said, 'Yeah, when I told my boss I was pregnant, she literally jumped up and down in my trailer,'" Washington told Entertainment Weekly. "I don't know if there's a male show­runner who would do that."
Check out more of the interview with the casts of ABC's #TGIT lineup in the September 11 issue of Entertainment Weekly magazine now on newsstands.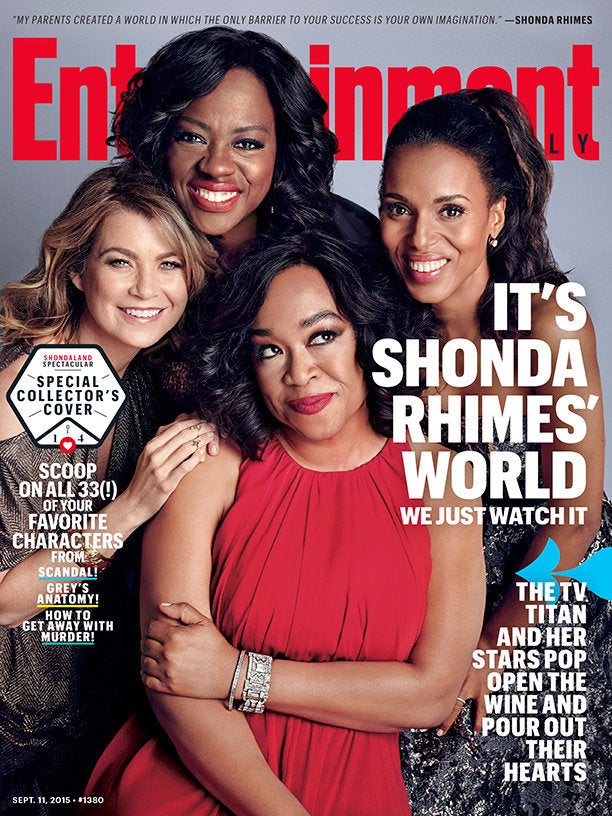 PHOTO GALLERY
Empowering Shonda Rhimes Quotes