The majority of K-12 students in the U.S. now live in poverty, a mark hit in 2013 for the first time in 50 years. For these students, poverty brings a host of other disadvantages, most beyond the school district's control: broken homes, transient living situations, and a lack of educational support at home. Between 30 and 40 percent of American students enter kindergarten not ready for school.
It may seem like the deck is stacked against schools that predominantly educate low-income populations. Once they start their education, those students have a wider variety of social and emotional needs and receive less educational enrichment outside of school. And when those students struggle to catch up academically, they risk falling even further behind their peers.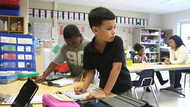 One district facing that very challenge is Middletown City School District, a member of the Digital Promise League of Innovative Schools. About 70 miles northwest of Manhattan, it's a place that many families move to from New York City, where effects of poverty like drugs and violence are more visible. In Middletown, those effects are more subtle, resulting in, as 6th-grade teacher Brandi Hundley says, "struggling families that are trying to do the best they can -- working hard but [without] the privileges that others have."
More than a decade ago, the district seemed helpless against the educational effects of poverty. About half of its students did not complete high school and all seven of its schools were classified by the state as "in need of improvement."
To turn things around, Middletown decided to go beyond the school district's traditional role in addressing poverty, and tackle it head-on. Its ambitious goal is to "erase the look and feel of poverty" in its schools, as Superintendent Ken Eastwood puts it. Seventy-five percent of its students live in poverty, half are Hispanic, and a quarter are African American.
Middletown works hard to make their students feel welcome by providing opportunities beyond academics, including extracurricular activities, athletics, music, and the building environment. The intent is to let students take part in all that a school offers, which is more than just the academics; it's also the athletics and the extracurriculars. All of these efforts are setting the groundwork toward a concrete goal. Eastwood wants each student to be proficient in math and reading before finishing 5th grade.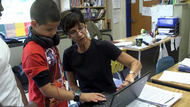 The district is working toward this goal through a wide range of bold initiatives that have been funded by various grants, which include offering two years of kindergarten, ending "social promotion," connecting every student to technology, and putting significant resources into athletic facilities and music programs.
"We want our kids to have the same opportunities as any other student, regardless of their zip code," says Eastwood, who is in his 12th year as superintendent.
The district believes that by making its students feel equal to those in more affluent communities, they will start to see the same outcomes. That even if no one in these students' families attended college, they can be different. Though the rate of low-income students in the district has steadily increased in the last decade, so have graduation rates, to 83 percent in 2014.
The rest of the country is starting to pay attention as well. In 2012, the district was one of 16 U.S. districts to earn a $20 million federal Race to the Top grant. That grant is a large bet that Middletown's progress is real, and that it will not only continue, but become a model for other districts educating low-income students.
The right investments, a commitment to teachers and its students appear to have a long term return in Middletown.
Related
Popular in the Community