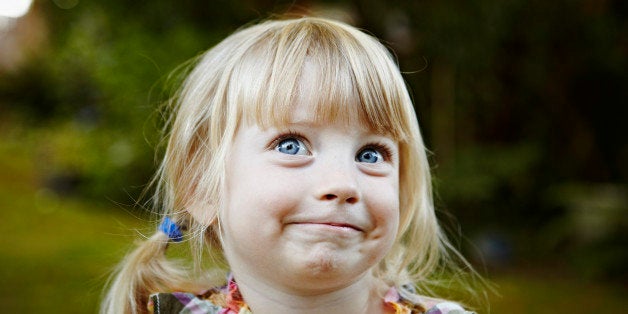 When it comes to education, the United States isn't getting all the bang it could for its buck, according to a new report.
GEMS Education Solutions, an education consulting firm, released its "Efficiency Index" and an accompanying report on Thursday, ranking the return on investment for 30 different nations' education budgets. The index "treats the educational system as if it were a company which attempts to obtain an output," according to the report.
Researchers looked at costs for teachers and educational outcomes, but not at socioeconomic factors or differences between countries. The report was created with the support of the Organisation for Economic Co-Operation and Development, the group behind the international standardized test called PISA. The report looked at 30 OECD countries, and the returns are based on PISA scores.
The United States ranked 19th out of the 30 countries, receiving an efficiency score of 72.66 percent. Finland, a perennial educational chart topper, came out at No. 1, with a score of 87.81 percent.
On the lower end were Indonesia at 51.13 percent, and Brazil at 24.45 percent.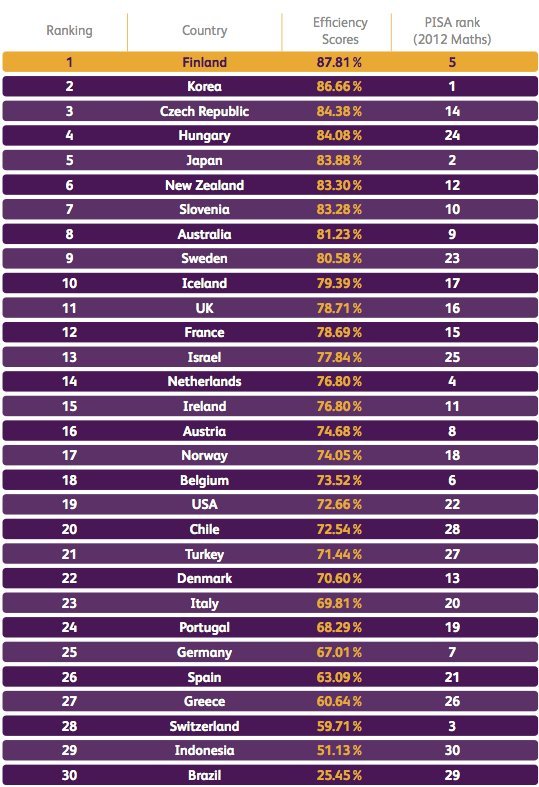 "If you're inefficient, then by definition you could be seeing even greater outcomes than you possibly get -- children could be learning more without needing any more system inputs," said Adam Still, one of the researchers who co-authored the report. "Or you could be achieving the same outcomes with a cut budget, which is very appealing to treasuries. The consequences are desirable either way."
The report said that in order to become more efficient, the U.S. would need to increase class sizes and reduce teacher salaries. But in an interview with The Huffington Post, Still cautioned against the U.S. against taking that advice literally.
"We're not saying that the U.S. should cut salaries or should increase class sizes in order to improve quality -- it doesn't make common sense," he said. "We're saying these are things which can change, these are things which drive outcomes. … You have to explore within a country's context what are you doing or what are you not doing that allows or does not allow you to recruit the highest-quality teachers or train them effectively."
The Efficiency Index considered 63 educational inputs, but found that only these two factors -- class size and teacher pay -- "have a demonstrable impact on education outcomes" in PISA scores, the report said. And while teacher pay is linked to outcomes, underpaying or overpaying teachers could undermine efficiency, the report noted. Paying teachers too little could prevent great teachers from entering the classroom, but paying them too much could encourage complacency and poor performance. (In the U.S., most experiments in "merit pay," paying teachers more for increasing student outcomes, have failed.)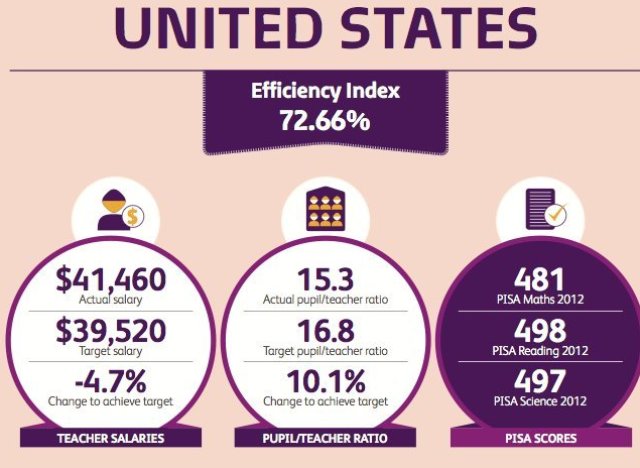 The report comes amid a newly ignited wave of concern about teacher quality in the U.S. This summer, a judge in California overturned tenure laws; the state's education chief Tom Torlakson has appealed. On the East Coast, former CNN host Campbell Brown has filed her own suit aiming to have New York's teacher tenure laws deemed unconstitutional. And two recent, much-discussed books by Dana Goldstein and Elizabeth Green tackle the history of teaching and the profession's best practices, respectively.
The U.S. has historically invested in decreasing class size, a reform that has been found to improve scores somewhat for only younger students. "It's not just that we've spent all this money on reducing class sizes," said Michael Brickman, national policy director at the right-leaning think tank Thomas B. Fordham Institute. "There are questions as to whether or not that is having the intended positive impact on student achievement."
Representatives for the nation's two largest teachers unions did not return requests for comment.
CORRECTION: An earlier version of this article misidentified Adam Still as "Andrew."
Before You Go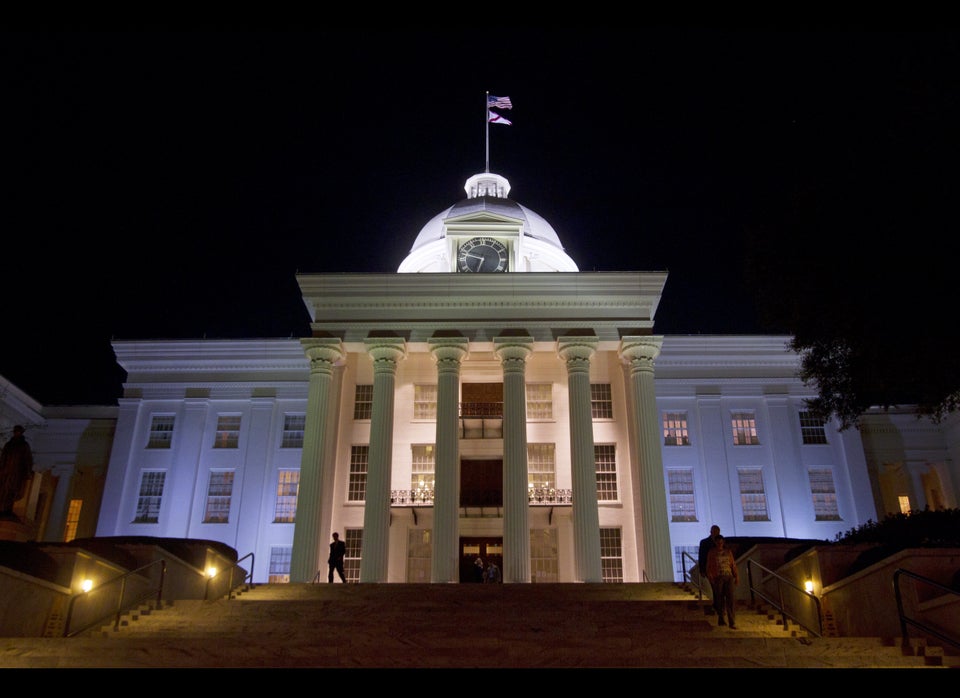 U.S. State Capitol Buildings
Popular in the Community