READING, Pa. -- The day before school starts, 8-year-old Tianna wakes up worried. She's worried about the cafeteria food that she receives for free, because usually "it's nasty." She's worried about making friends, since she'll be in a new school. But most of all, she's worried about where all the fired teachers will go.
"When we were at assembly, I learned that people didn't have enough money to let all the teachers come back next year, so they were kicking teachers out," explains Tianna, in a quiet, earnest voice as she bounces up and down on her chair. "There was this one teacher that I really liked, and she's getting kicked out."
Tianna's mother, Tashima, tries to ease her fears, but it doesn't help much. "Tianna's like an old lady -- she's really nosy," Tashima says, laughing. "She just gets upset."
Tianna does seem world-weary for a third-grader, maybe in part because she lives in Reading, Pa., until September the country's poorest city, according to U.S. Census figures. And her school is feeling the city's poverty.
When government budgets are tight, education is often the first thing to be shaved down. It can feel like a relatively painless fix, because the full effects of cutting education funds only crystallize years later. But such cuts scrape away at that most iconic expression of American democracy and opportunity -- the public schools.
Because of an outdated tax-based funding model, scholars say, it's the poorest regions that feel these cuts the hardest, making it even more difficult for America's poor to attain a better quality of life. Some advocates say it would be fairer to fund schools entirely out of state or federal coffers, insulating the finances of a public school from the relative poverty or prosperity of its locale. States have begun to move that way, but not sufficiently, they say.
Reading isn't alone in its troubles. As the U.S. economy hobbles along, schools across the country are still hurting. Twenty-six states will spend less per student in 2013 than the year before, according to a recent analysis from the Center on Budget and Policy Priorities. Arizona, Alabama and Oklahoma all have cut school spending by about 20 percent since 2008 -- the largest state decreases in the country.
A total of 35 states spend less today on education than they did before the recession began in late 2008. This reduction comes despite the $98 billion in federal stimulus money allotted for education starting in 2009. States relied on this one-time cash injection to close one quarter of their budget gaps and to save 420,000 education jobs between 2009 and the 2010-11 school year.
But those federal dollars dried up at the end of last year, and employment numbers among teachers now work out to a net loss. Since June 2009, a recent White House report noted, more than 300,000 teachers have lost their jobs. In August 2012 alone, schools cut 7,000 educators from their payrolls. The result: an increase in the student-to-teacher ratio for the first time in a decade.
"U.S. schooling may be on a historic glide toward lower per-pupil resources and significant labor-force reductions," James Guthrie and Elizabeth Ettema, researchers at the conservative George W. Bush Institute, recently wrote in an article for the Harvard journal Education Next. "A new normal of public-sector fiscal austerity is emerging."
The Reading School District looks nothing like it did just a year ago. A $43 million deficit this year has resulted in 13 percent fewer teachers on its payroll, and a scramble to fill those gaps. Many furloughed rehires are teaching in unfamiliar fields. For example, Brad Richards, a longtime sixth-grade history veteran, presides over a kindergarten class. The capacity of pre-kindergarten has been cut in half. Because Pennsylvania schools by rule can't fire teachers unless a school is closed or a program is shut down, certain vocational and technology classes simply don't exist anymore. Fewer security guards monitor student brawls and school safety inside the halls, and those who remain operate without the help of police officers, whom the district deemed too expensive to hire from the city.
More students jostle for less space. The intermediate schools and the high school are flooded with extra kids, the refugees of three defunct middle-school "gateways" opened a few years ago.
Similar woes are hitting low-income school districts elsewhere.
Cities in New York, Illinois and Pennsylvania generally feel the worst financial squeeze, according to the Education Law Center's school funding fairness report, because their local funding sources favor wealthier school districts over needier areas -- and because they sometimes spend more money than necessary in affluent suburbs. Taxpayers in poorer areas can only afford smaller school budgets for themselves before state aid kicks in. This is a problem, says the report's co-author Bruce Baker, a Rutgers University education professor, because districts with needier students have to pay a premium to recruit and keep good teachers. They also need additional funds to provide services that help close the gap between disadvantaged students and their better-off peers.
Reading is emblematic of poor cities nationwide, bruised not only by blows to education but also by a dearth of consistent leadership. According to numerous audits, the Reading school system has long been plagued with dysfunction, nepotism and administrative churn. As education reform leaders and unions fight over policies that mandate rigorous teacher evaluations and encourage the growth of charter schools, poor kids are losing out in the most basic of ways -- a situation that embeds them deeper in the cycle of poverty.
Because school funding depends on the property tax base, Reading can spend only $7,572 each year per student, versus $10,633 per student in West Reading, a tonier town only minutes away over the Penn Street Bridge. Reading, a city of 88,000, has a poverty rate of 40.1 percent -- the sixth largest share of residents living in poverty among American cities with populations over 65,000. (Reading was the nation's poorest city in 2010, but new Census figures put Camden, N.J., atop the list for 2011.) Only 10 percent of Reading residents have a bachelor's degree, and only 64 percent have a high school diploma. As the factory jobs dried up -- a trend that started in the 1970s when the storied Reading Railroad filed for bankruptcy and worsened sharply between 2008 and 2009 -- thousands of parents lost their livelihood, leaving them with few alternatives for work. Their children are now dropping out to support them and are unlikely to attend college. Reading, Pa., used to house the country's biggest railroad company,
but in 2010, it ranked as America's poorest city.
"Everyone is being laid off, and most of them don't have more than a high school diploma, so it's not like they have anything to fall back on," says Myriam Joseph, who recently graduated from Reading High School. "If more people had a diploma or more, unemployment wouldn't be so bad here."
The school system's leadership also faces serious upheaval. The Reading School District has cycled through four superintendents in the past three years. The school board fired all of its central managers this spring, ostensibly to save money, leaving the district with only one administrator (the human resources chief) for several months, as the district grappled with implementing budget cuts. After a nationwide search last year failed to produce a permanent superintendent, the school board finally brought in Carlinda Purcell, who recently led Alabama's Montgomery County schools. She began this summer.
Purcell has told teachers that the lack of money and the students' poverty should not affect their ability to teach effectively. "Administrators want to be able to say, 'Give me a rubber band and a paper clip, and I can do it [run a school],'" Baker, the Rutgers professor, said. "But you have to be able to recognize how much more resources can help."
Vaughn Spencer, a longtime teacher who recently took over as the city's mayor, knows that something is wrong. "At face value, it looks like somebody dropped the ball," he told The Huffington Post. "But I can't say whose fault it is."
A CITY OF CONTRASTS

Shortly after Tianna's mother, Tashima, turned 9, her father died from a drug overdose. Her mother, a nurse, raised seven children by herself in Reading. Tashima's family meandered from home to home, and often she felt trapped by the congestion and the instability. By 15, she was a pregnant dropout. By 16, she'd been to jail, charged with jumping a girl and permanently scarring her face. After dropping out twice, she graduated from high school a year late, at 19.
A small black woman with straight hair pulled back tightly from her face, Tashima tells her story in a no-nonsense voice. She says she's seen her fair share of people dying in street fights.
Today she has three girls of her own -- Tianna, Arianna, 12, and Dre-Lynne, 18. They've grown up much like their mother did: Their father is mostly out of the picture, and their mother is homeless, currently raising them in her mother's house after losing her job. Tashima tried to move 60 miles away to Harrisburg last year, "to get out of Reading," she says, but her car was totaled and she had to come back. "I don't know how to survive sometimes," she says. "The more good I try to do, the more something brings me back."
When Tashima did secure a job as a helper in a home for psychiatric patients, it was her high school diploma that gave her an edge over Reading's many dropouts. She says she graduated mostly because of the close relationship she had with her teachers, who she felt cared about her. "I've been blessed by the people at the school," she says.
With the Reading School District cutting down on staff, her kids might not have even that support. Class sizes grow, and it's harder to connect. "I don't know why they waste money on building buildings and then closing them, and then pulling the teachers out," Tashima says. "It makes no sense."
At first glance, Reading looks like many other low-income, mid-size American cities: Brightly painted row homes are surrounded by sprawling trees, public buses whiz by, and cop cars are everywhere. But talk to someone active in government, and they'll tell you that the trees don't belong there. In fact, they're major storm risks with branches that get tangled up in power lines, and they only stand because the city is too poor or preoccupied to deal with that particular problem. The knowledgeable also tell you that families as large as 10 sometimes live on one floor of the narrow, 8-foot-wide row homes that line Reading's streets. And that 5,000 of the city's 24,000 residences -- and countless factory buildings -- are unoccupied, untended and left to fester.
Reading is a city of contrasts -- with huge, historic Victorian homes minutes away from homeless shelters and junkies -- and so are its schools. Reading High School, commonly known as "The Castle on the Hill," rises beautifully in the skyline, a reminder of a time when Reading Railroad and the factories supplied by its trains provided residents with more jobs and higher incomes. But only slightly more than half of the students who enter the stunning school these days ever graduate. A mural in downtown Reading.
Less than a week before school starts, Michelle Katzenmoyer, a mother, addresses the school board at a meeting in the district's administrative building. The elected board members and 20 spectators convene in the wood-paneled boardroom, which has signs bearing words such as "responsibility" and "accountability." Yvonne Stroman, the board's president, leads with gavel in hand.
The meeting revolves around a sudden gift. On the order of the state senate, the district has just received an extra $3.7 million for "distressed" school systems. Though the sum is dwarfed by the district's gaping $43 million deficit, there are decisions to make. Purcell, the new superintendent, tells the board she would spend the money on reinstating pre-kindergarten, diagnostic exams, a program for English language learners, and district computers -- but not on teachers' jobs.
A few minutes later, when Katzenmoyer speaks, she says that during earlier budget deliberations, the school board promised not to cut music. In Reading, a place where many can't afford private music lessons, school bands are prized for keeping kids off the streets, according to Reading Education Association union president and music teacher Bryan Sanguinito. But because of the school closures, the firings, and the shifting around of students, two middle schools will have no band at all this year, Katzenmoyer says. A total of 475 area students will lose music lessons. Another school has no choral instructor, and 1,500 kids will lose individual instrumental instruction, she adds indignantly.
It's too late to change that, Purcell says, and the tweaks to the music program are simply a consequence of the budget shortfall. "I don't think we can respond to the music issue," she says. "When you make the drastic cuts [the district] made, I'm not sure anything will look exactly the same."
When school started a few days later, Cindy Miller-Aungst, a music teacher at Southern Middle School, made the same observation. She stood in the auditorium, explaining that she now has to teach double the number of general music classes and give 125 children individual music lessons due to larger scheduling shifts that came from eliminating classes like home economics. "They need an extra time slot filled so the kids have something to do," she says, her hands on her hips. She's glad more kids will be learning about music. But she's also upset that the change will force her to cut back the individual lessons, a program that Reading prizes for the creativity that learning an instrument builds in students and the one-on-one relationship with a teacher that develops during the process. "These kids can't afford private lessons," Miller-Aungst says.
Music is not the school's only problem area. As Sanguinito walks into the building, past the large concrete promenade and a metal detector, to make his first-day-of-school rounds, Todd Conn, the facilities manager, stops him to talk fungus. "We have two buildings with rooms that we've discovered have mold in them," Conn says. "It's not up to Department of Health standards."
Last year, Sanguinito led a CNN crew into the Southern Middle building to film a segment on schools that need help. When it rained outside, it also rained in room 303. When Sanguinito walks into room 303 this year, he pumps his fist to see that ceiling tiles have been replaced. But when he gushes to teacher Chris Meyer, he learns that the paint is still "peeling majorly" and that the leak has since sprung again.
Still, the small mercy of the new tiles inspires Sanguinito to look skyward thankfully. "This building was in dire straits," he says. "I'm having a moment." A view of the railroad tracks that once brought Reading prosperity.
Upstairs, Kristine Donnelly is orienting her sixth-graders to life in middle school. Previously, these students would have been at one of the middle-school gateways, but they were rerouted after those closures. "If someone in your class passes away, that's a valid excuse for missing class," she informs the students, fanning herself. The school is sweltering on the hot summer day, since the air conditioning has broken down. Several fans spin, making it hard to hear the teacher's remarks. "It's very easy to get caught doing something bad in the hallways, so be careful," she continues.
A few minutes later -- not long after noon -- the bell rings, and Meyer is in the hall, advising the throng of unruly kids to "get a good night's sleep." The miniature stampede flows around him, as if he's not there.
Inside the throng is Ja'Nya Brown, who's starting her first day of middle school. Ja'Nya is 11 years old, has high-functioning autism, and lives in a row home with her mother, Kelly, and Kelly's grandmother Esther. A few days before school starts, Kelly sits on the porch, her hands busy fixing her daughter's tie-dye dress, musing about the school year. Ja'Nya is down the street at the "Los Primos Crocery Store," where she buys ginger ale to calm her upset stomach. Shirtless, tattooed men with do-rags and low-slung cargo shorts walk by.
As Kelly tells it, elementary school was trying enough for Ja'Nya. According to Kelly, her daughter was bullied and physically harassed, and it was a full week before anyone called home to inform Kelly. For days, a student allegedly poked Ja'Nya with pencils, took her books, and said out loud, "I must destroy Ja'Nya." Kelly only found out when Ja'Nya's out-of-school aide told her. When Kelly complained to the principal, according to her, he said, "I thought you already knew."
But it was more than the bullying that enraged her, Kelly says. The law requires that all special education students receive individualized education programs (IEPs), lesson plans implemented by a team of professionals. When Kelly took a closer look at Ja'Nya's school day after the bullying incident, she says, she found the district wasn't giving her daughter what she was entitled to. "So much stuff in her IEP wasn't set up," Kelly recalls. She says it took a conversation with a lawyer to learn about Ja'Nya's rights as a special education student. Kelly worries that other parents might also be in the dark with regards to the legal right of special-needs children to an adequate education.
With such errors going unnoticed in elementary school, Kelly fears that middle school may only bode worse -- especially with the sixth-graders no longer in the gateway schools.
"A lot of districts are getting cuts, but ours is getting hit with more," she says. "If you tell me a teacher will have 30, 40 kids, kids like that [the one who bullied Ja'Nya], what about safety?"
The roots of this inequity, says Linda Darling-Hammond, an influential education professor at Stanford University, stretch far back to the 18th century when the country's earliest public schools were jump-started with local fundraising. That's why disparities in local property tax bases translate into similar gaps in school quality and resources.
"It may be an irony, in that we were a country that was trying to provide public education earlier than some others," she says. Today, though, the practice of tying school funding to a district's wealth is "totally antiquated, out of date, and unlike what societies typically do," she adds. Other countries, Darling-Hammond says, fund education at the federal level to make sure all public schools are equitably financed.
Reading's problems only worsen in the upper grades, according to students. "For the most part, we're doing fine in elementary, fine in middle, but there's something within eighth and ninth [grade] that's broken and we're not seeing what that is," says Joseph, the recent graduate. While many students make it to high school, between 40 and 50 percent don't graduate on time.
Sarah Velez just began her senior year as one of Reading High School's nearly 3,000 students, but she didn't start there. She's from Brooklyn, N.Y., originally, and the flaws of her new school system haven't escaped her. "When I came here, I noticed differences," she says. "They were less focused on our goals. They don't have expectations for us."
Sarah discusses this seated at a dining room table with her best friend, Reading native Elizabeth Thomas. They're in Elizabeth's godfather's house, where Elizabeth recently moved after her mother lost their apartment. The best friends have something most Reading students don't: parents who know what it's like to live outside that city. Sarah's father served in the military, and her mother is a crossing guard. Elizabeth's mother recently lost her job at a Turkey Hill gas station because of an injury, and Elizabeth grew up knowing she "didn't want to end up working at McDonald's." They believe kids in Reading with similar values stick together, either on the streets or off. They belong to the latter crowd. In their free time, "we hang out and play Monopoly," Sarah says.
During the school day, students playing hooky hang out at the gas station across the street, from morning to afternoon. "The schools could be doing more," Sarah says. "They don't do anything if you don't come." When the high school doesn't have students' schedules ready -- and, Elizabeth says, it often doesn't -- kids just sit around in the auditorium all day.
"I see these people walk right out the front door," Elizabeth says.
Sarah says that kids are friendly with the security guards, "very few of [whom] do their job." Their job is, among other things, to keep the children in school during class time.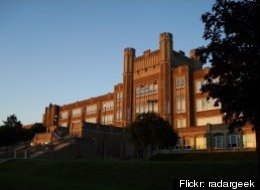 Reading High School is also known as "The Castle on the Hill."
But teachers believe that the mere presence of the guards at least curbs violence and crime. Russell Diesinger has been teaching criminal justice and history at the high school for 12 years, and he says not a day goes by when he doesn't see "a black limousine with New York tags" loitering outside the school, with a driver looking to sell drugs.
"For the kids here, education is hope," Diesinger says, sitting at his classroom desk. "It's the way to beat the poverty cycle." He pauses. "Two dozen kids make it out every year. They deal with more problems at 17 than I've ever had." He says he routinely invites students to sleep at his house so that they don't have to sleep in the park.
He recalls one student who had to fend for himself after his mother moved to Delaware to be with her boyfriend. Diesinger, who is now running for state representative, tells the story as he makes the case against austerity in schools. He says the boy's mother left no way to trace her, not even a phone number. He remembers a phone call from the student, saying he'd come home from school to find his mother's house, where he was living by himself, boarded up. "Do you think I should break in?" the student asked. Diesinger eventually tracked down the student's father, who has since moved in with his son. "That's the environment these kids are living in," says Diesinger.
Veronica Cambria, Reading High School's Latin teacher, thinks that the problems aren't limited to the home and that teachers owe it to students to focus more on them. "It's all in the hands of teachers -- you can do miracles," she says. "People always ask me, 'You're teaching Latin to those kids? To kids in Reading?' It's possible to turn things around. You just have to want to."
But it's hard to do that when the district is in chaos. In the weeks leading up to the start of the school year, schedules weren't set. As the district called teachers back from furlough, confusion over who was teaching what made it near impossible to plan lessons. There was a sense among parents and teachers that the Reading Education Association was holding things together, with Sanguinito fielding calls for days, helping to set things straight. "I believe that God put me here at this time to be able to help," he says.
On the first day back to Reading High School, the 10th-graders didn't have their schedules. So in the early afternoon, they roamed the building's labyrinthine halls, wondering where exactly their next classes were. Within the span of three minutes, five students stopped Diesinger, asking him to help them figure out where to go. They were already late to class.
At least 100 students crowded in the first-floor hall, waiting to find their class assignments. The principal was nowhere to be seen. A few teachers stood in the hallway amid the chaos, scolding some students. When one saw a girl wearing a mostly see-through shirt walk by with a huddle of friends, he said, "You have a hole in your shirt." She turned around, flashed him a thumbs-up, and just continued walking.
On the second floor, austerity's sting was also visible. There were no security guards in view, and kids were loitering. In one corner, a student with low-slung pants stood atop an otherwise unoccupied red podium marked "Reading High School Security." He looked down at his friends, smirking.
"We're like a deer in headlights -- nobody knows what's going on," said Jim Wright, a world studies teacher, as he took in the scene around him. "Everyone is confused."
Two weeks later, on Sept. 12, the impact of weak security and overburdened classrooms became very real. At the city's intermediate high school, the Citadel, a major fight broke out when students brawled over a cafeteria seat, leaving two kids injured and one in handcuffs charged with rioting and disorderly conduct. Five more students received misdemeanor charges. The next day, police handed out three more citations.
And so begins the school year in one of America's poorest cities. Largely because of the inequities that come with funding schools based on local property taxes, there's little order, not enough money and more cuts on the horizon. The Reading School District is reaching the limit on the amount of debt it can accrue as it struggles to get its finances in shape.
A broad solution has been proposed, but even its developer calls it "a radical idea." Cynthia Brown, who leads education policy at the Center for American Progress, envisions a system that moves school entirely funding to the state level. States would dole out school money based on student need, a process that would be fairer, she says, since it would be blind to the financial differences between poor cities and affluent suburbs.
School funding has begun to move that way, but not enough, experts say. A slew of lawsuits in the 1980's and 1990's caused states to increase their share in funding education, and now school districts across the country have three main revenue streams: local, state and federal funding. But property taxes still affect school funding. In 2011, school districts across Pennsylvania on average funded their schools with 34.1 percent of their money from the state and 8.57 percent from federal sources; 56.09 percent of the money was locally funded.
The state contributed a higher proportion of money to poor districts like Reading. That year, Reading received 64.48 percent of its education budget from the state, 19.50 percent from federal sources and 14.72 percent from local sources. But experts say moving funding entirely to the state level would give the state more money to help level the playing field. In states have taken steps to fix the situation, in some cases, they haven't accurately accounted for the greater needs of poor districts when compared to affluent districts with larger tax bases. For example, according to a recent report from the Center for American Progress, about 20 school districts in Pennsylvania unnecessarily receive $712 extra per student in state funds, money that "could be allocated to higher-need districts."
Canada uses a system like the one Brown proposes to finance its schools, and Canadian students perform better than their U.S. counterparts: In the most recent administration of the Programme for International Student Assessment math exam, Canada came in at 10th place, and the United States ranked 25th. But the last time state-level school funding came up for consideration in the U.S., the year was 1972 and it was the product of a committee cobbled together by President Richard Nixon. "Watergate came shortly thereafter," Brown says.
She plans to release a paper on the topic in December, and she's not sure what reaction to expect. "It's politically very difficult, but I think we'll work that way over the next 10 years," Brown says. "We need to get over treating [high-needs children] poorly or we're going to have an unprepared workforce."
For now, Reading struggles. Pennsylvania Gov. Tom Corbett (R) offered a budget last year that cut education funding, saying his cuts would "sort the must-haves from the nice-to-haves." Democrats altered its terms so that education funding merely flatlined, preventing deeper harm to the state's schools. But the residents of Reading expect even worse cuts next year, and attempts to engage the state are so far going nowhere.
"I wish the governor would return my calls," Mayor Spencer says.
CORRECTION: An earlier version of this article did not correctly state how public schools in Pennsylvania are funded. Over the last few decades, Pennsylvania has significantly increased the state's contribution to education in poor districts like Reading. Federal contributions have also increased to local schools in Reading and elsewhere in Pennsylvania. The story incorrectly asserted that Reading relied primarily on local property taxes to fund its school district. In 2010-2011, Reading received 64.48 percent of its education budget from the state, 19.50 percent from federal sources and 14.72 percent from local sources. By comparison, school districts across Pennsylvania on average funded their schools with 34.1 percent of their money from the state and 8.57 percent from federal sources; 56.09 percent of the money was locally funded.
Popular in the Community