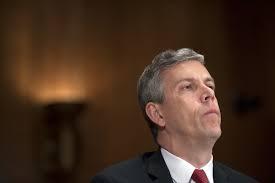 On December 16, 2008, when President Obama held a press conference to announce Arne Duncan as the new US secretary of education, he did so at Dodge Elementary in Chicago, a supposed Duncan success of "school turnaround."
Dodge Renaissance Academy was a failing school on Chicago's West Side that the city shuttered in 2002. Duncan reopened the school as an academy where candidates for advanced degrees in education work in the classrooms. Duncan and Obama visited the school three years ago and hailed it as a successful model for teacher residency programs that could be replicated in the toughest schools nationwide.
Hold that "replication" thought.
As WBEZ notes, by 2013, a number of Duncan's "renaissance" schools were facing closure. Dodge Renaissance was relocated but survived; two others were closed (Williams and ACE Tech), and one, threatened with closure (Bethune):
...All three of the schools that would eventually help to launch Duncan's signature Renaissance 2010 initiative are getting shaken up by the current CPS administration.

Williams Elementary and Middle School will close. (Drake Elementary will take over the building.) The Dodge building will close. (Dodge will technically continue to operate but will move 1.3 miles west to share a building with Morton Elementary.) The school that now operates in the old Terrell building, ACE Tech Charter School, was placed on an academic warning list in February, and district officials have warned if it doesn't improve they will close it down.

And for the first time, CPS is pulling the plug on a "turnaround" school, Bethune Elementary. Just four years ago, all Bethune staff was fired and the privately run, nonprofit Academy for Urban School Leadership took over-another example of the school reform strategy that says a clean slate can lead to better schools. AUSL also operates Dodge and Morton.
So much churn. So much shuttling of students, of disrupting their young worlds.
Dodge made it through to 2014; however, Dodge's 2013-14 report card shows mixed results, with Dodge's reading scores in decline on the Illinois Standard Achievement Test (ISAT) (more so than the rest of the state) and Dodge's math score, right on the border of what is considered acceptable (and slightly below the state average).
Will Obama take "successful model" promotional photos with Duncan at Dodge in 2015?
Likely not. But Illinois is following the Obama-Duncan-hailed lunacy of raising cut scores to "better prepare students":
The Illinois State Board of Education has raised the performance expectations for the Illinois Standards Achievement Test (ISAT) as part of the ongoing effort to better prepare our students for college and careers in the 21st century.
How did American manage in the 19th and 20th centuries without having standardized testing seated on the throne of the educational process?
And those cut scores: The royal ring on the standardized testing pinky.
Raise cut scores; call it "better preparing students"; flunk more schools, and keep "turning around," a corporate reformer dog ever chasing his (surprisingly) moving tail.
While no Chicago Public Schools official would comment on the apparent failure of Duncan's strategy with these four schools, an official who ran the Office of New Schools for Duncan until 2005 said, "I think we have to keep trying until we find some things that work."

One mother whose children will be affected by the closings said: "Sometimes I think that we are all pieces in the game that they're playing, and the game doesn't affect their lives. It affects our lives."

A study by the University of Chicago in 2009 found that school closings under Duncan did little, if anything, to improve student achievement.
Admit "churn," but never admit defeat. Just move on to the next renaissance.
Originally posted 01-13-15 at deutsch29.wordpress.com
Related
Popular in the Community