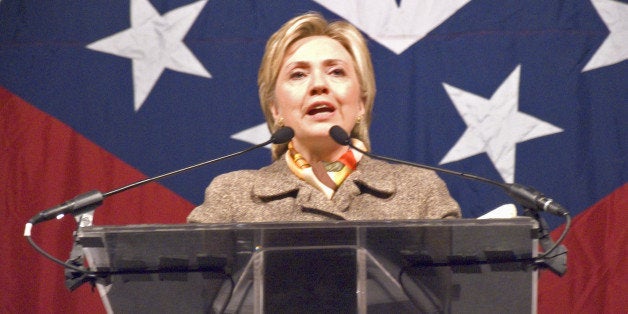 Americans are disgusted by presidential politics. Manufactured drama over speed boats or softball uniforms are disguised as meaningful discussion of issues. No one cares. Campaigns often feign "righteous indignation" to divert attention from the fact that candidates don't have any real ideas.
So when Hillary Clinton engaged in substantive discussions with the nation's top two teachers' groups, I'll admit, I was happy.
I can never forget that it was great teachers who enabled me to get the education that lifted me from the poverty that plagued my family for generations. As Governor of Mississippi, I saw how quickly investments in education lead to a better-equipped workforce, how directly that spurs economic growth, and how dramatically lives can be changed.
Accountability in American education is at a critical juncture. Sec. Clinton is absolutely right: testing and accountability are very important. The question is how we balance the need for accountability with the imperative to help children fall in love with learning, guided by passionate teachers who are free to teach their hearts out.
Secretary Clinton was right to point out that the financial cost of over-testing can drain the ability to pay for other important programs. School administrators should not have to choose between putting 40 students in a classroom and providing enriching experiences that promote improved learning and social skills. And those decisions are best made through ongoing dialogue between parents, teachers, business leaders and their elected representatives.
Our highest priority in education should be to train and support great teachers. People become teachers because they want to make a difference in children's lives, and I'm living proof they can make all the difference in the world. Every student in America deserves the experience of being awed by a skillful teacher who makes academic content come alive and who leaves him or her longing to know more.
We must prepare our teachers with the knowledge and skills they need to meet the needs of diverse learners, and support them as they continually hone their skills like fine craftspeople. We must treat them as partners in building our workforce. And we must build a culture of admiration and respect for the dedicated professionals who hold the future of our children and our nation in their hands every day.
Mrs. Clinton's commitment and passion for education are nothing new. Even still, I appreciate her speaking out to say that, for every child in our nation, "Yes, you will have the best chances we can give you."
Calling all HuffPost superfans!
Sign up for membership to become a founding member and help shape HuffPost's next chapter