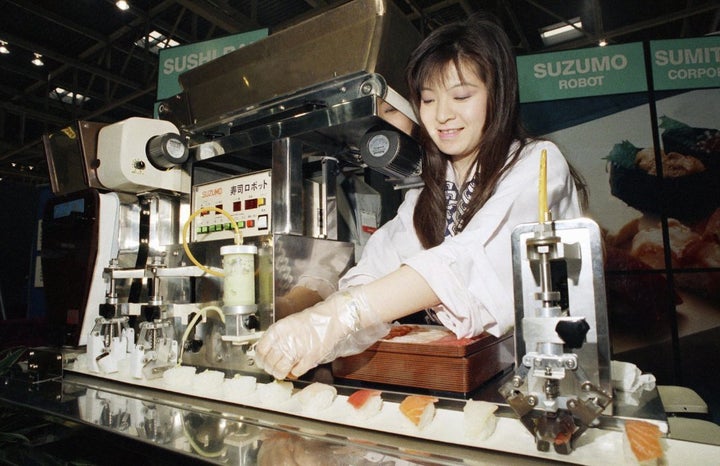 The new USDA requirements include whole grains, loads of fresh vegetables and fruits, fish and lean meats and low-fat substitutions like skim milk and soft margarine. The plan is expected to cost $3.2 billion over the next five years, and schools will receive increased funding for implementation. The changes will begin in time for the next school year.
And the plans are substantial: Pizza sticks and whole milk will be replaced by a chef salad and skim milk, burritos and applesauce will make way for lean turkey sandwiches with raw jicama and green peppers, and breaded beef patties will be ditched for oven-baked fish nuggets with steamed broccoli and peaches.
But in the Bay Area, many schools are planning to go above and beyond the requirements. According to the Oakland Tribune, Oakland's nutrition services director has proposed upgrades to dozens of school kitchens, as well as the development of a 44,000-square-foot central facility, complete with an organic farm outside.
The Oakland Tribune also reported on ways local districts are getting creative. In an effort to improve the taste of supplied commodity pork, Hayward Food Services Department Director Robin Jones supplied some schools with inexpensive crock-pots. But our personal favorite idea has got to be the Hayward School District's proposed "sushi robot" that would specialize in California rolls.
Creative approaches to school lunch programs are nothing new in the Bay Area -- Alice Waters's Edible Schoolyard Project has been a national model for 16 years, and was an inspiration for Michelle Obama's aggressive campaign against childhood obesity in schools. But with the new guidelines, healthy food will now be available to children everywhere, including Bay Area schools where pricey garden projects have not been an option.
"As parents, we try to prepare decent meals, limit how much junk food our kids eat, and ensure they have a reasonably balanced diet," said Michelle Obama in a statement during the USDA announcement. "And when we're putting in all that effort, the last thing we want is for our hard work to be undone each day in the school cafeteria."
Check out a Fox video about the upcoming USDA changes below: