I'm often asked how to pack warm items, like grilled sandwiches and quesadillas, inside a school lunch. I never seem to have the perfect answer.
The truth is, that you simply cannot pack a hot item in anything other than a thermos and expect it to hold its temperature for long. You can prolong the heat retention; like in this post, where I show you how to pack a baked potato in a lunchbox.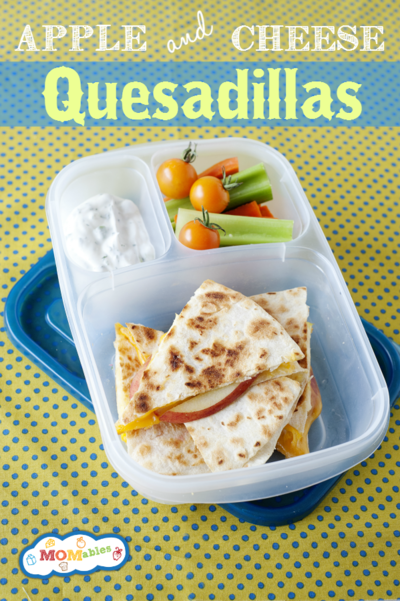 Essentially, it comes down to this: if you wan the food to stay hot, you must find a way to put it in a thermos. So, if it doesn't fit in a thermos... it's not going to stay hot. Warm items are a completely different story.
If you want to know how to safely keep foods warm inside a thermos, check out this post I wrote.
So then, what's the point of grilling a quesadilla in the morning and packing it in a lunchbox? When you grill a quesadilla (or a sandwich) for a school lunch, you do so to "marry" the flavors together. When the cheese melts, it also holds the food item in one piece.
We all know that grilled sandwiches and quesadillas are delicious. I attribute much of the yum-factor to the grilling process that makes the cheesy flavor ooze its way into the other foods inside the tortilla.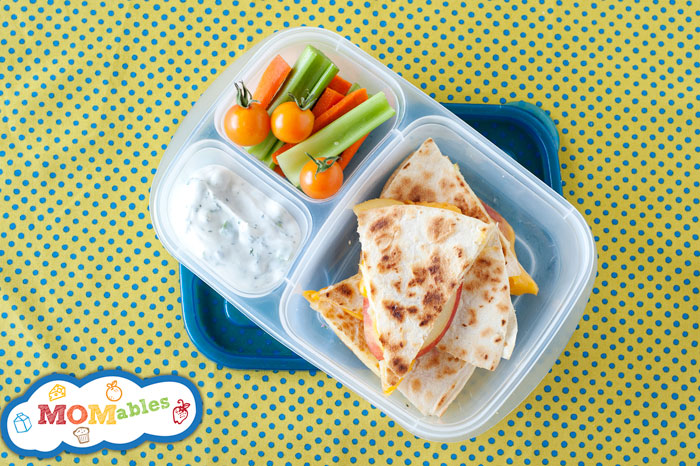 Example: these apple and cheddar quesadillas. Who doesn't love apples and cheese? Take that combination and now...grill it! It completely changes the flavor and texture of the apples+cheese combination.
Apples are abundant in our grocery stores year round. For this recipe, choose your child's favorite variety and use it in this quesadilla. For this recipe, I used unprocessed American Cheese.
A few weeks ago I discovered unprocessed American cheese and I could barely believe it! Last year I spent over $300 on cheese trying to come up with a homemade velveeta recipe that performed as good as the real thing.
So, when my community emailed me with concerns regarding processed cheeses I used to say that I was using mild cheddar instead. Of course, people argued that the "melt factor" and flavor wasn't the same (I agree).
I'm happy to share that I finally found an unprocessed American cheese that is real cheese (no processed cheese food), has that mild cheesy taste kids love, melts like just those singles and for the foodies: made with certified organic milk, no antibiotics, pesticides, hormones or GMOs.
So how exactly do you pack a quesadilla in a lunchbox as shown? You grill it quickly, remove it from the pan and allow it to cool down to room temperature prior to slicing and packing inside the lunch box.
Apples and Cheese Quesadillas
Recipe: MOMables for Organic Valley
Yields 1 serving
Ingredients:
• 2 8-inch tortillas
• 1/2 apple, sliced thin
• 2 slices unprocessed American Cheese
Directions:
1. Heat a large skillet on medium-high heat. Place one tortilla in the skillet, top with American cheese slices, thin apple slices, and second tortilla.
2. Press down gently on the tortilla with the spatula. Lower the heat to medium.
3. When the cheese inside the quesadilla begins to melt, flip quesadilla over, grill for another minute to crisp the outside of tortilla, and remove from pan onto a cutting board.
4. Slice quesadilla into 6 triangles, pack in lunch container(s) and inside insulated lunch bag.
MOMtip: assemble quesadilla the night before and quickly grill in the morning.