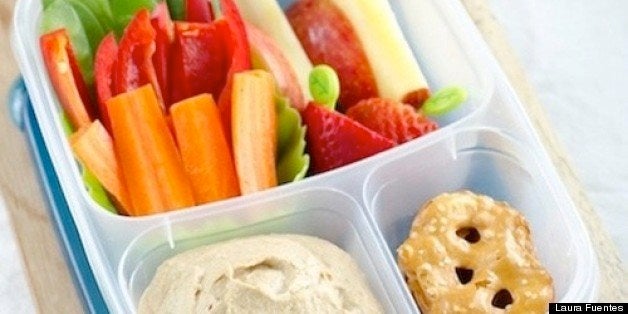 The morning after mom returns from a business trip isn't always the best time to think about packing lunches unprepared. While I was gone, dad used all the deli meat and sandwich bread designated for school lunch on easy dinners.
This morning, I reminded myself that lunch doesn't have to be about sandwiches and that there are lots of other options out there! So I opened up my MOMables menu binder for some non-sandwich inspiration while I scanned the contents of my fridge.
Suddenly, I noticed my tub of Sabra hummus hiding behind the bag of field greens and under the large tub of yogurt. Score! Today's school lunch would consist of an assortment of fresh veggies to dip in a large serving of hummus.
This lunch took minutes to assemble since the vegetables were already cleaned and chopped and the hummus was ready to come to my rescue.
Ok, so maybe you've never heard of hummus and don't know how to serve it. Here are a few ways I use hummus in our school lunch menus.
•As a dip: kids love to dip things and by giving them their favorite veggie or cracker to try new things with there might be less resistance.
•As a spread: I often use hummus instead of mayonnaise in my sandwiches.
•Grilled: oh yes. If you haven't had a chance to try a grilled hummus and pesto sandwich... you are missing out.
•As a dressing: that Greek salad you love? Try thinning out a tablespoon of hummus with olive oil or water and mix it with your greens. Delish!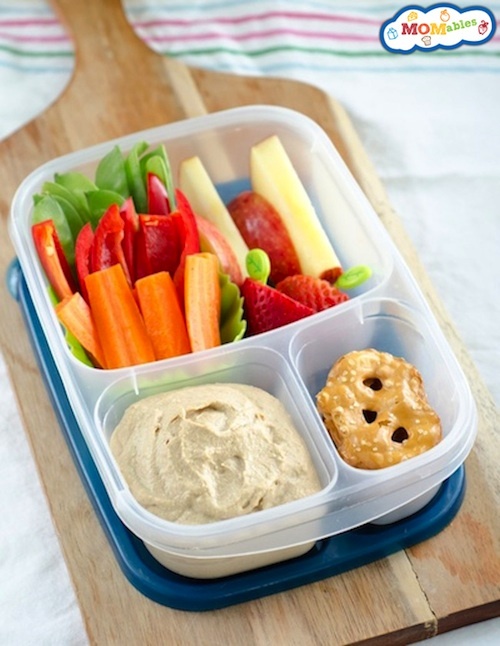 Ingredients:
•1/3 cup Sabra Hummus, or
•homemade hummus
•1 cup fresh veggies
Shown: 1 large carrot, peeled & cut
¼ red bell pepper, sliced
¼ green bell pepper, sliced
•½ apple, sliced
•2 fresh strawberries
•¼ cup pretzel thins
Directions:
1.Wash and prep veggies.
2.Measure a serving of Sabra Hummus and place inside a lidded lunch container.
3.Slice your pita into wedges and place in a separate compartment of your lunch container.
4.Assemble remaining dipping and snacking ingredients inside of lunch container.
Why MOMs love hummus:
Kids love to "dip" their veggies and if this means they will eat more of their share, I'll pack something to dip more often. Hummus is a great high protein and high giber item that packs a lot of nutrition in a single serving; like vitamin C, thiamin, B6, folate, zinc, phosphorus, iron and Omega 3s.
Packing Tip:
Many kids don't mind hummus at room temperature; but if your child prefers it cold, consider purchasing the single serve containers or storing your homemade version in a smaller container. You can place the single serving of hummus inside the freezer while you are getting your kids ready in the morning before packing it inside the lunch box.
Support HuffPost
A No-B.S. Guide To Life
Related
Popular in the Community