Are you looking for more delicious ways to send veggies to school? Look no further. This creamy delicious soup is one your kids will love.
I really like sending warm school lunches. I've filled my kids thermoses with lasagna, spaghetti, rice, soups... and they are typically very receptive. On the other hand, should I have the bright idea of filling the thermos with leftover grilled vegetables from dinner, the thermos would come back untouched.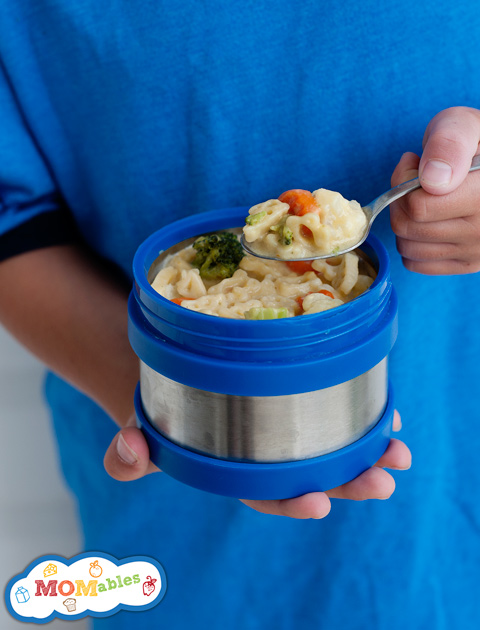 I don't know what it is about the kids + veggies combination. Why does it have to be so hard to get them to eat more veggies?
My kids are very picky... so I am constantly trying to find ways in which I can sneak more of them in their diet (hidden, cooked differently, in their favorite recipe, baked... you name it I'll try it).
I love my thermos containers. I can pack a filling meal that is easy to eat in their 20 minute short lunch period.
Some of the other things I am always keeping in mind when creating MOMables menus are ways to revamp leftovers, help my subscribers stay on a budget and use real and convenient ingredients.
I wrote a post in this column about why I am on a mission to help others feed their kids better. One of the reasons the use of more real ingredients in our diet plays a big role is because my daughter is allergic to disodium phosphate and chemically derived nitrates. For this reason, I don't buy things have orange powdered cheese or processed cheese (those triangular chips, orange puffs, blue box mac and cheese, fake block cheese... it seems to be everywhere!) or processed meats cured with chemical nitrates.
If I'm purchasing a "boxed" anything, the product can't have artificial flavors, synthetic preservatives or GMO ingredients (the final one is by choice). I thoroughly scan each label before they go in my grocery cart, a quick process that can save me a trip to the emergency room.
As a full time working mom who often travels, I also have a few items in my pantry that dad can whip up quickly, insert in their lunch or pull out of the freezer for lunch or dinner.
This soup is a delicious and hearty dinner for the family but also perfect for a school lunch. Last month, I had 368 moms in my recipe testers group perfect the recipe so your kids could enjoy it too. Bonus: it's just $1.24 per thermos! Win-win.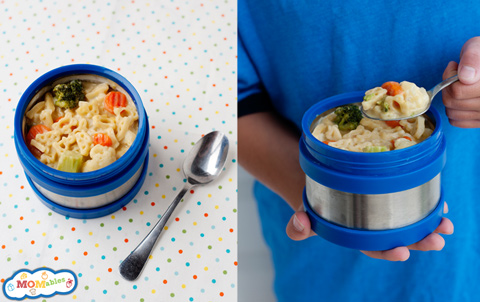 Veggie Mac and Cheese Soup
Yield: fills 6 lunch thermos containers
Ingredients:
• 1 6oz box natural or organic macaroni and cheese
• 1 32oz package reduced-sodium chicken broth/stock
• 1 16oz bag frozen broccoli, cauliflower, and carrot blend
• 1/4 cup whole milk or half and half
• 1 cup shredded cheddar cheese
Directions:
1. Cook macaroni and cheese according to box directions.
2. In a large saucepan, bring broth/stock to a boil over high heat. Add vegetables and cook until vegetables are tender, about 5 minutes. Reduce heat to medium heat.
3. Add cooked macaroni and cheese to veggies and broth, add milk, and add cheese. Stir well to combine until cheese is melted, turn off heat and serve.
Substitutions:
If you can't find the frozen vegetable mix, substitute for 2 cups of your favorite veggies.
For the Lunchbox:
In the morning, preheat your thermos while you warm up a cup of veggie mac and cheese soup. Pour soup in thermos, close lid and store in lunch bag.
Serving suggestions:
This hearty soup goes great with fresh fruit. Try making your own fruit cups and you have the perfect school lunch!
Popular in the Community