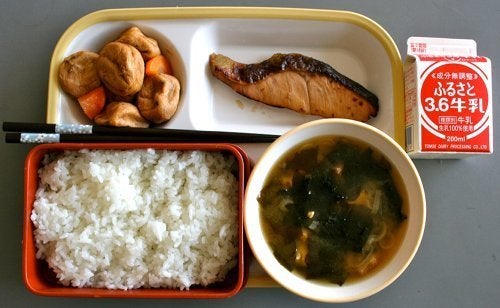 School lunch has been a contentious issue this year, ever since First Lady Michelle Obama and Agriculture Secretary Tom Vilsack rolled out their new school lunch initiative last spring.
But the attention on what schools are serving isn't unique to the States. Scotland's 9-year-old Martha Payne garnered international headlines for her school lunch blog that chronicled dismal school meals. The blog drew so much attention that local officials ordered her to stop taking pictures of her lunches -- a mandate she ultimately successfully repealed.
And over the last couple days, another version of school lunch exposure of sorts has sprouted on Reddit, where users are sharing images of what they're being served around the world.
Below, a slideshow of what we've seen Reddit users post to the forum -- let us know how you think they compare in the comments, and add your own! (We've tried to filter out the ones that were obvious hoax posts, or "school lunches" that students brought or purchased outside the school.)
The new federal requirements stateside, the first major nutritional school meal overhaul in over 15 years, offer less sodium and trans fats, more whole grains and a broader selection of fruits and vegetables to the 32 million students who take part in the National School Lunch and Breakfast programs. The rules also place a calorie cap on lunches: 650 calories for elementary school lunches, 700 for middle schools and 850 for high schools.
That's where students across the country are waging war against the first lady. Teens from Kansas to Wisconsin have staged protests against the new school lunches, launching Twitter campaigns, boycotting cafeteria meals and filming videos in hopes of bringing widespread attention to their cause: the new rules are too restrictive, leaving kids hungry. Growing adolescents, teens say, require more calories because they're burning more through sports and other activities.
The current regulations not only double the amount of fruits and vegetables served to students, but also permit children to get second servings of fruits and veggies.
The latest guidelines come at a time when 17 percent -- or 12.5 million -- of America's children aged 2-19 are obese, according to figures from the Centers for Disease Control and Prevention. Another 16 percent or so are overweight and at risk of becoming obese.
A recent report by the Centers for Disease Control and Prevention revealed that more than a third of high school students were eating vegetables less than once a day -- "considerably below" recommended levels of intake for a healthy lifestyle that supports weight management and could reduce risks for chronic diseases and some cancers.
Related
Popular in the Community