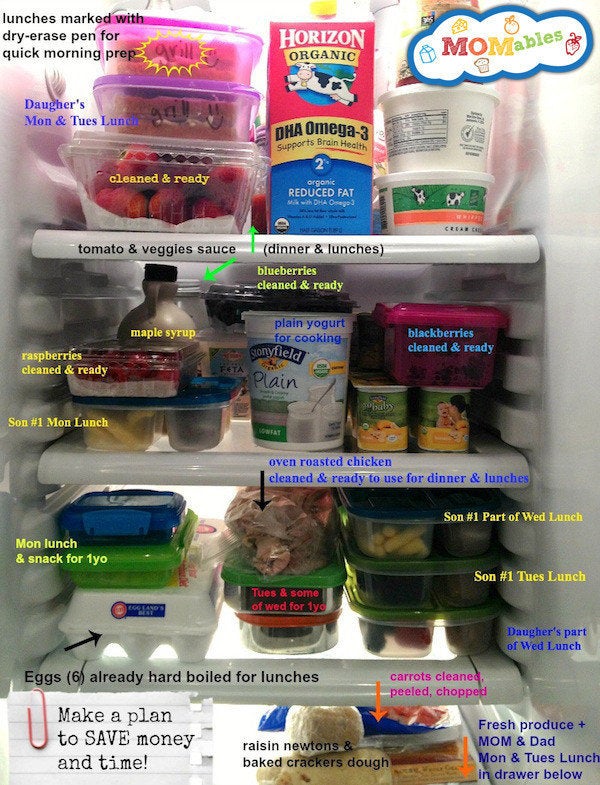 Not all children have the same dietary requirements, precisely why I believe centralized planning and mass production of school lunches isn't the best option for every child. Parents should take responsibility and pack fresh lunches for their kids.
Before I start a full-on comment war, let me explain. The National School Lunch Program plays an important role for many kids, but it's not necessary for a lot of them.
In 2012, the School Lunch Program served more than 5 billion school lunches with 31.6 million kids participating. However, according to the Congressional Research Service, about 40 percent of those school lunches are paid at full price. In other words, that's 12.4 million meals paid by parents capable of packing fresh school lunches but don't.
The truth is that most of us (parents) are just trying to do our best at managing our homes. We work inside the home (this includes stay-at-home-parents) or outside the homes, chauffeur our children to school and activities, help with homework, housework and still try to put a decent meal for dinner for our families.
I will show you that with a little planning and a couple of hours one night per week, your fridge could look organized and ready for your week, just like the one you see here.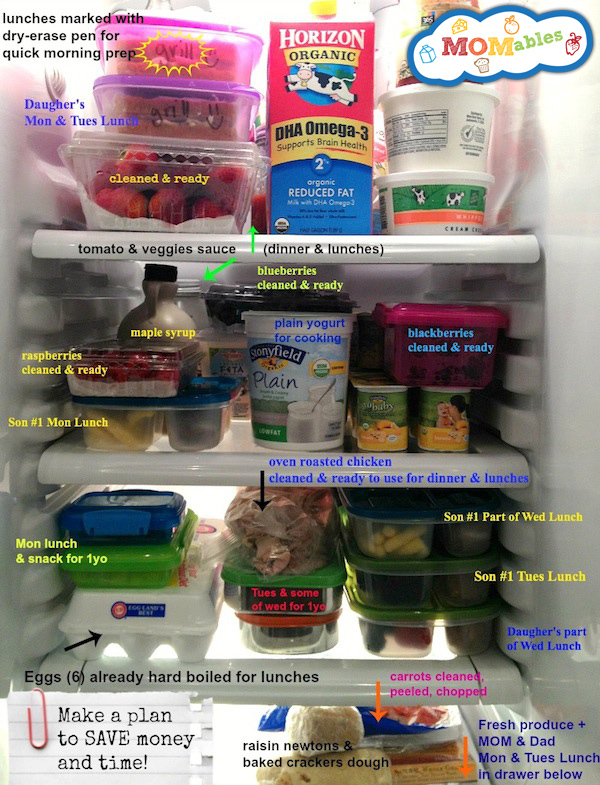 What you see above is my personal fridge packed on any Sunday night. I make five lunches daily -- for two adults and three kids. There are a lot of containers there, but as soon as I take out Monday's lunches, there is room for dinner leftovers and any of our other meal prep items for the week.
More than 80 percent of my MOMables subscribers came to the website seeking a solution to feeding their picky eaters food they will actually eat. Whether they arrived via the free blog posts or seeking out healthy school lunch meal options, they were, at least, actively seeking a solution.
Here are my tips to get your fridge organized on Sunday night and lessen the stress load during the week:
1.Wash all produce when you get home from the grocery or farmer's market. It's a myth that you are supposed to wash your produce right before you eat it. There are many great products that rid your fruits and veggies of pesticides and waxes and actually help things like berries last longer. I personally use EatCleaner Fruit and Vegetable Wash, but you can grab your favorite at your local market.
2.Proper produce storage is key. OK, so now you have cleaned fruits and veggies, and you put them back in the same bag from the grocery? I think not. Lettuce gets washed, rinsed, dried and then stored in an airtight bag with a dry paper towel. Carrots are peeled and chopped and stored in an airtight container. Every fruit and veggie that comes in a plastic storage crate gets a good cleaning, the crate is thoroughly washed and the plastic liner removed. I replace that liner (which can harvest bacteria) with a clean, dry paper towel.
3. Assess your eggs. Will you need hard-boiled eggs for a salad, snack or lunch? If so, quickly boil your egg, cool and mark an X on it with a permanent marker.
4. Pre-cook your pasta. Why not boil your pasta for the week, toss it with some extra virgin olive oil and store it in an airtight container? This will reduce your 30-minute dinner in half; plus, you can cook extras for a quick school lunch.
5. Pre-make sandwiches. You can pre-make some of your school sandwiches, insert them in the lunch box and label any special instructions with a dry-erase marker. In the morning, all you have to do is grill, toast or insert in the lunch box. If you want to prevent the bread from drying, insert ¼ of a moist paper towel inside the container. You can also make freezer sandwiches that kids love with healthier ingredients at home.
6. Prep your chicken. I grill or roast all my chicken on Sundays, and once it's cooled, I clean it and pack it in a zip bag. This cooked chicken is great to have handy to speed up dinner or assemble lunches. Any meat or fish that needs to be marinated goes in the fridge as well.
7. Make dough. Do you like fresh baked goods or pizza? I make my dough ahead of time and either freeze it or store it in the fridge.
8. Pre-assemble lunches. Pre-assembly means partially filling the lunch box with some of the lunch items and fill the rest with cooked ingredients leftover from dinner.
9. Label everything. I use dry erase markers on any container and
masking tape on plastic bags or food items that need labeling. This way, I know which items are supposed to be used with each of my recipes.
10.Give your food a purpose. I am in the habit of going to the grocery with a shopping list and a master meal plan. I purchase items that we will consume. Since I plan lunches for a living, I make my master lunch list and I add dinner ideas to go along with my ingredients.
I know it can seem overwhelming at first to "get organized." The truth is that you do not need special equipment or gadgets to do it. If you look at the fridge above, all I use are the containers I already have in my kitchen.
I do all of my prep work on Sunday nights and only pack Monday through most of Wednesday's lunches. As I cook dinner and empty some of the fridge, I pack for Thursday and Friday sometime mid-week. If you need more lunch packing or prep-ahead ideas, feel free to drop me a line.