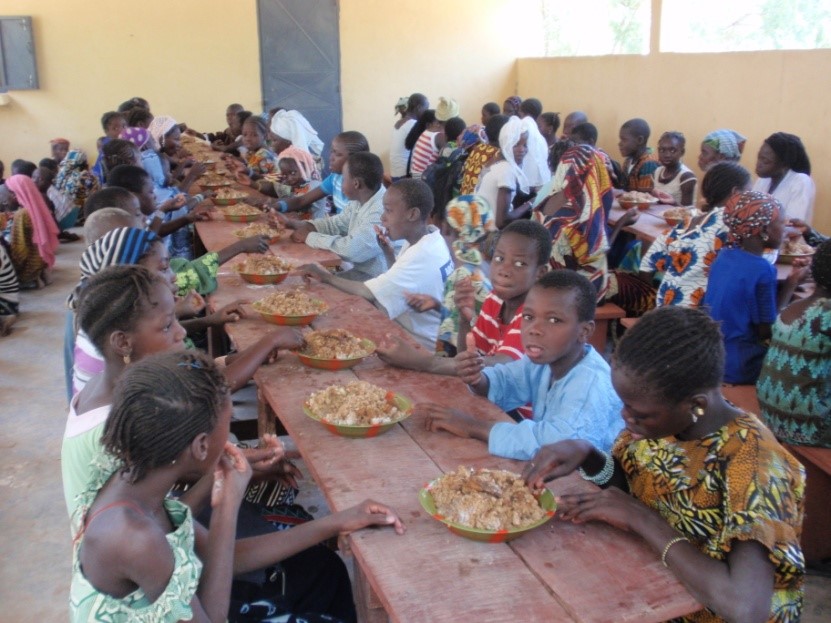 As Congress gets back to work on the Farm Bill, it's vital they support the Food for Peace and McGovern-Dole programs. Both initiatives fund school meals around the world in partnership with charities like Catholic Relief Services.
From World War II to conflict and drought recovery today in West Africa, Catholic Relief Services (CRS) has been providing aid.
In Austria, after World War II, CRS teamed with the U.S. Army and UNICEF to give school meals to children. More recently CRS has been organizing school feeding in Mali and Burkina Faso, two nations suffering from extreme poverty in West Africa.
Mali has been struck by conflict in the North and a nationwide drought. Food production is reduced across the country. The UN World Food Programme says, "69 percent of the population lives below the national poverty line, and according to 2010 National Statistics, more than one-fifth of school-aged children do not attend school."
A report from the Famine Early Warning System shows that "north of Kayes and in some parts of the Mopti, Koulikoro, Ségou, and Timbuktu regions, rain shortages have affected crop development, which will likely reduce yields at these locations." Hunger is a growing problem in Mali and aid is desperately needed.
CRS provides school meals in the Mopti and Koulikoro regions to help families cope with the crushing strain of poverty. The meals are funded by the U.S. Dept. of Agriculture's McGovern-Dole program, named after former U.S. senators George McGovern and Bob Dole.
CRS is reaching around 80,000 children in Mali with this food. Children can count on a hot meal of rice, peas and vegetable oil every day at school. When your family is struggling for food, this is an absolute treasure.
Kristina Brayman of CRS Mali says,
Without that food, many students would not eat a square meal at all. It motivates parents to send their children to school, especially girls, and means the children are able to grow, develop, and maximize their learning potential. It really is essential.
In Mali, CRS also has an initiative where local farmers provide the school meals. This is key because the goal is for each country to be able to run its own school feeding. CRS helps form School Management Committees. Fairs are established where farmers can bring their crops, which are inspected to ensure quality. The School Management Committees then purchase foods from the farmers to use for the meals.
Students and parents were very pleased with the taste and content of the local school meals, and the School Management Committees' capacity and sense of ownership increased significantly.
In Burkina Faso CRS is also providing school meals using McGovern-Dole funding. Anne Sellers of CRS says McGovern-Dole is "a huge help," as Burkina Faso tries to develop a national school feeding program. They need help along this road.
McGovern-Dole and CRS are feeding 145,000 children in 688 schools and 28 preschools. Take-home rations and de-worming are also provided. Burkina Faso has suffered from drought and also the strain of hosting refugees from the war in Mali. The country has high poverty and very low literacy rates. Support for education is extremely vital.
The U.S. Food for Peace program is also funding CRS to feed another 40,000 children in primary school. There are also 700 children in preschool who receive meals. Take-home rations are given to 4500 girls with rates of attendance. The food is a powerful incentive for attending school. The Food for Peace plan is to help Burkina Faso as it develops more capacity to take over the school feeding.
Local production of food is also part of the Burkina Faso plan. CRS and the U.S. Dept. of Agriculture combined on a local purchase project that fed 58,000 children. Cornell University helped with monitoring and evaluation.
The future of these school feeding projects will rely on funding that will be determined, in large extent, in the next Farm Bill. It's important citizens let their representatives in Congress know about funding the Food for Peace and McGovern-Dole programs.
Related
Popular in the Community