An audience is the final touch of magic that truly distinguishes live entertainment from film and television. The house lights dim and every individual in a plush theatre seat blurs together, becoming a unified mass intent on experiencing one story. For this reason, it should be no surprise that audiences, in particularly Broadway ones, are incredibly powerful. Their reactions can make or break a show, but do they realize how much their energy can actually affect the actors on stage?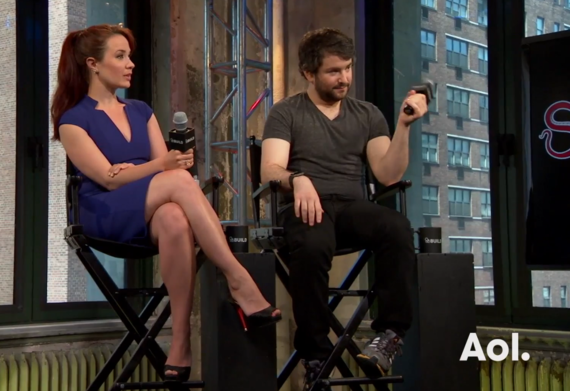 School of Rock the Musical stars Alex Brightman and Drama Desk winner Sierra Boggess hit on the topic during their visit to AOL BUILD last week. "Audiences certainly are the last character involved," Alex began. "The last piece. We don't get to see what they're like before."
Alex went on to joke about how there is no "warm-up" guy for Broadway. Of course, having some dude with a mic come out to "test the crowd" would certainly be an odd switch from the bewitching tones of an overture. But no matter how prepared and energized the performers are, if the audience is on a separate page the whole show is off. Everything must connect.
"Quiet and with us is all that we need [in an audience]," Alex continued as Sierra nodded. "We had one [audience]... They were identity-less. Pockets of hilarity, followed by shushing, followed by crying, followed by some people getting up... It was just this weird flea market rather than an audience. It made it really hard. We didn't know who to do the show for."
Moral of the story: when you're seeing a live performance of any kind, be present. Don't sit on your phone the whole time or intensely whisper to the person next to you about how much the lead keeps spitting (that's what intermission is for). Be in the moment, because that moment solely exists for you. There will never be another performance or connection quite like that again. So don't miss out.
Watch the full AOL BUILD interview here.
Popular in the Community