Who can forget Alfred E. Newman, the face of Mad Magazine? For me, he perfectly captures the goofy school photos of my kids throughout their school years. You know what I mean. We all bought the package so hopeful that this year's would be better. But most of the time, they looked like this: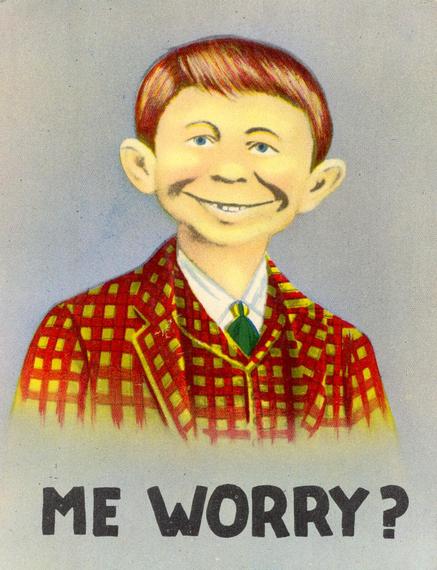 While photography has undergone so many changes since it went digital, and while parents have tons of cute pictures of their children on their phones, they still plunk down their money for a package of school photos they know won't look much better than Alfred E. Newman's. If they are lucky, their child's eyes will be fully open and the expression will be a step up from a mug shot.
With school in session all over the country, kids are showing up for picture day in their best outfits. But by the time someone takes the photo, their hair is a mess and they may not be much in the mood to smile. Or perhaps they have perfected the huge, cheesy-grin approach to formal pictures. Whatever happened between leaving the house that morning and taking the actual photo, the results can be hilarious.
My daughter just texted me a really goofy school photo of my grandson, complete with a toothless grin, that was a gem. Her comment: "Can't deal with this," accompanied by several of these: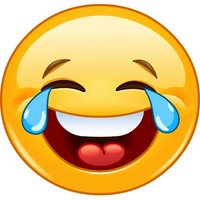 I should have texted her back with one of her toothless second grade school photos. Or perhaps she would have enjoyed the one of her brother whose hair stood on end. Then there was the picture of her sister wearing what now appears to be a blouse from Little House on the Prairie.
I thought my granddaughter's school photo was pretty good, but she hated it. Apparently, she has a problem with how her upper lip looks. And now every kid in her fourth grade will see it in the composite class picture. So embarrassing.
My other daughter wonders why she pays for these every year when they are usually awful. But how can she not participate in school photo day? And since she can't see the pictures until her check has cleared, there is always the hope that at least one of the three girls will take a decent picture, right?
Over the past month, I have been scanning some of my favorite pictures, and these often include school photos. Of course, there were a few with glasses askew, crazy hair, or somber mug shot expressions. But for the most part, I still love them. I guess they capture something about each of my kids as they progressed through elementary school. And, as the years go by, I get a chuckle over the choices of clothing that now seem so outdated. So I tell my daughter to buy the pictures. Just the small package because we can scan and print extras if they comes out great. Even though I know that is rarely necessary. Still, they will become more precious as the years go by.
So I'm going to ask for one of my grandson's huge, toothless grin pictures, even if he looks a bit like Alfred E. Newman.
PHOTO GALLERY
Awkward Grandparent Photos
REAL LIFE. REAL NEWS. REAL VOICES.
Help us tell more of the stories that matter from voices that too often remain unheard.