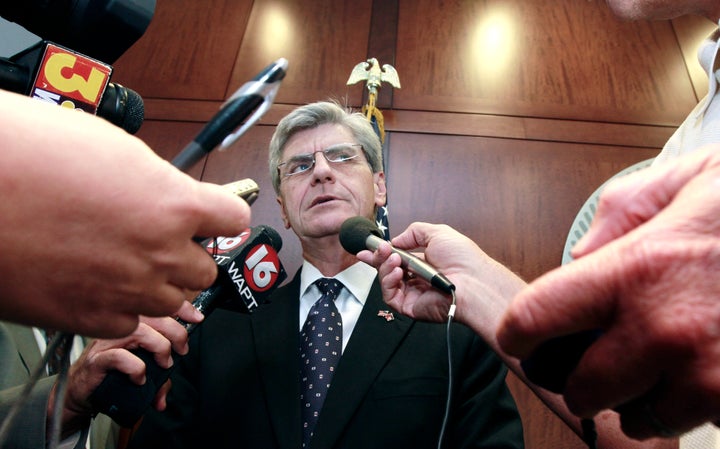 Mississippi Gov. Phil Bryant last week advocated for nondenominational school prayer in front of an audience of teenagers, the Clarion Ledger reports.
"I don't think it hurt us at all," the Republican Methodist governor told about 300 high school students at the American Legion Boys State last Tuesday. "I think it built our character, and I think it is what we should continue to do."
Bryant, who attended both public and private high school, told reporters after the Boys State speech that school prayer would "let people know there is a God," adding, "those children should know that he does care about them, particularly within their classroom."
"I think at some point at a moment of enlightenment in the future, the federal government and perhaps a future Supreme Court is going to say it's not a bad thing for children to hear prayer in school," he said.
Governor Bryant's comments come at a time when the Bible belt is swarming with alleged infringements on the separation of Church and State.
In nearby South Carolina, the Freedom From Religion Foundation and one of its local members has filed a lawsuit against School District Five of Lexington and Richland counties over a district policy that sets benediction and invocation practices for school events. The plaintiff, Matthew Nielson, filed the lawsuit after an initial letter of complaint voicing constitutional concerns was rejected by the district. The legal complaint indicts the district for "excessive governmental entanglement with religion."
In April, Arizona's Republican Gov. Jan Brewer signed legislation that requires the state Board of Education to design a high school elective course titled "The Bible and its influence on Western Culture," which would include lessons on the history, literature and influence of the Old and New testaments on laws, government and culture, among other aspects of society.
In Louisiana, the state government has approved $2.7 million of taxpayer money to fund a church school -- the New Living Word School -- in Ruston. The church-run school can take up to 315 students under the state's new Minimum Foundation Program, which permits low-income students at failing public high schools to attend alternate schools, be they public or private.

Popular in the Community