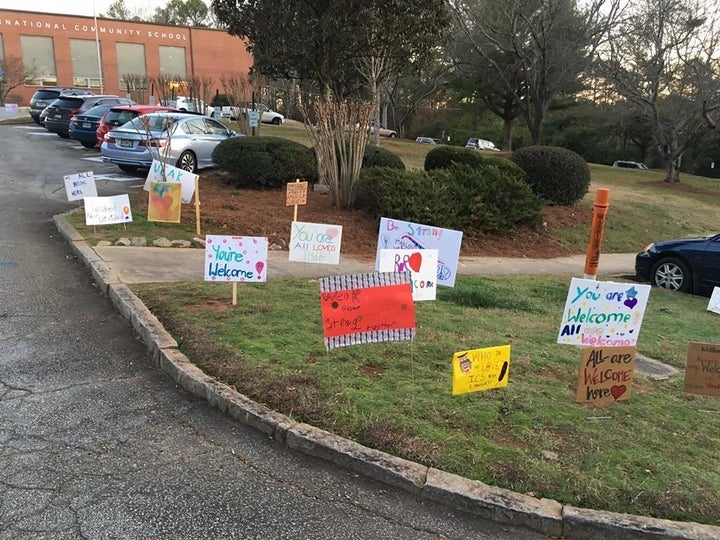 The International Community School, a public charter school that seeks out and teaches refugee and immigrant children in DeKalb County, Georgia, was plastered with positive signs made by its neighbors Monday morning.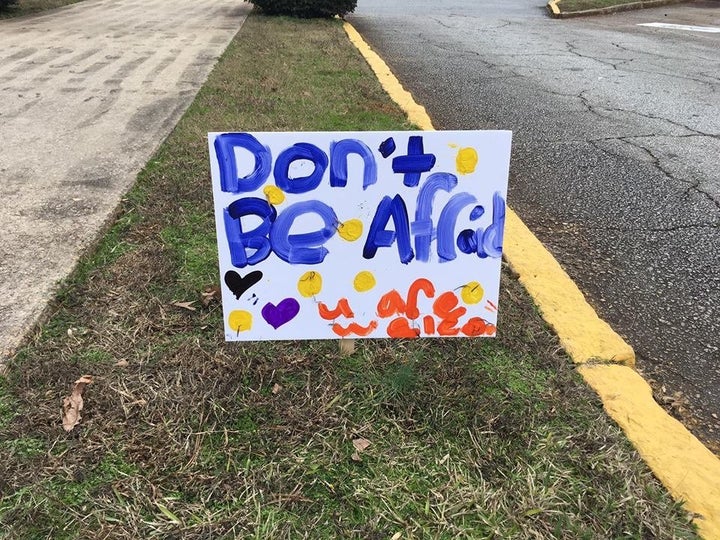 The handmade signs, planted in the school's lawn and along its sidewalk, carry messages including "You're home," "We are one" and "We are glad you are here."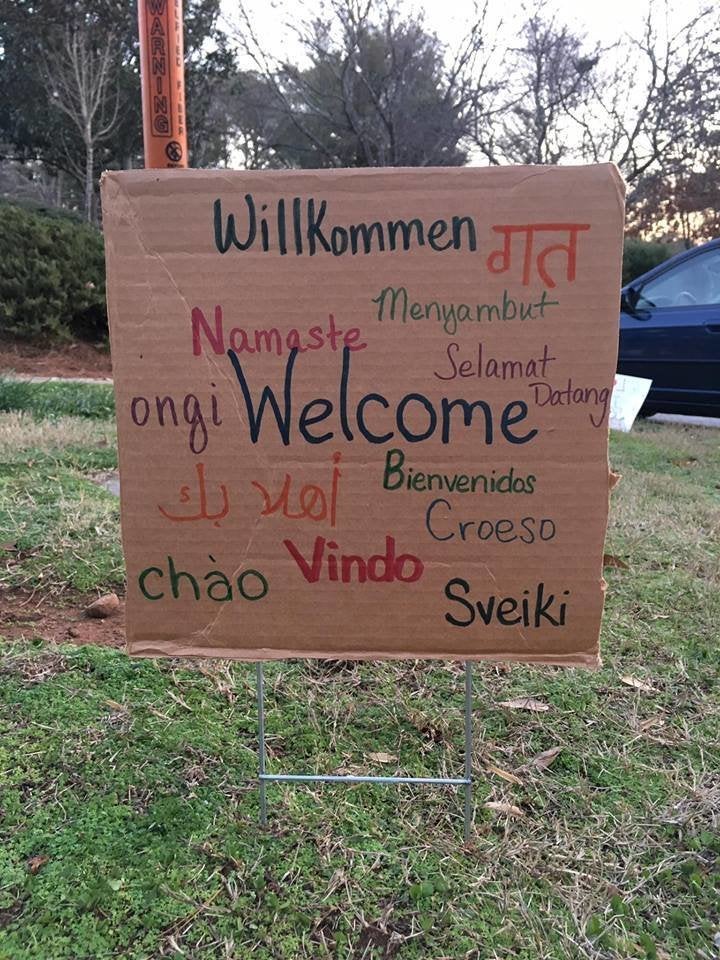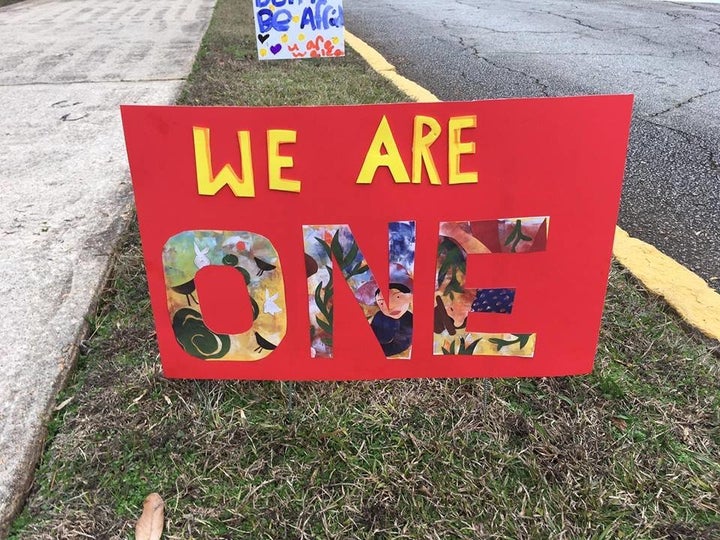 "It restores some of my faith in humanity," Danny Vincent, a mother who lives in the area, told The Huffington Post. "It's a reminder that that's where this change has to happen. And that's where we could do the most good, by taking care of the people around us."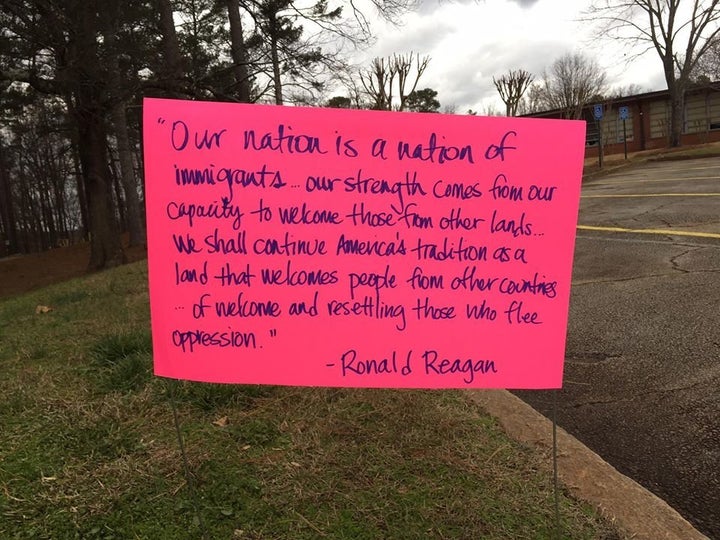 Vincent told HuffPost that after Trump's first turbulent week in office, she had had enough. She decided Saturday that she couldn't take any more news from social media and was going to unplug on Sunday.
"But because I don't have any will power, I checked social media first thing on Sunday morning with my coffee," she told HuffPost. "I was like, 'I'll check it once in the morning and then I'll put it down."
But that's when she saw a post in her neighborhood's Facebook group that caught her eye. It was by a neighbor she didn't personally know. The neighbor had made a sign and put it on the Decatur school's lawn. She posted a picture of it to the group and said that she had been thinking about the kids at the school all weekend and was worried about them and their families and how they felt.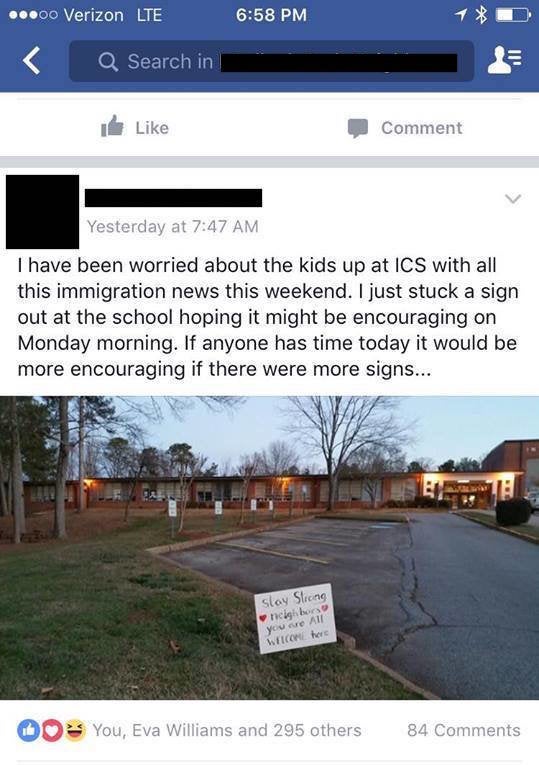 "She said she had done this in support and was hoping that others in the neighborhood would do the same," Vincent said. "And it grew from there."
Inspired, Vincent asked her 8-year-old daughter, Amelia, if she'd like to make a sign to put in front of the school.
Amelia happened to be playing with a neighbor her age, a girl named Abby, and Vincent asked if Abby wanted to make a sign as well. Then Amelia asked if she could invite more of her friends over to make signs.
So Vincent threw a sign-making party.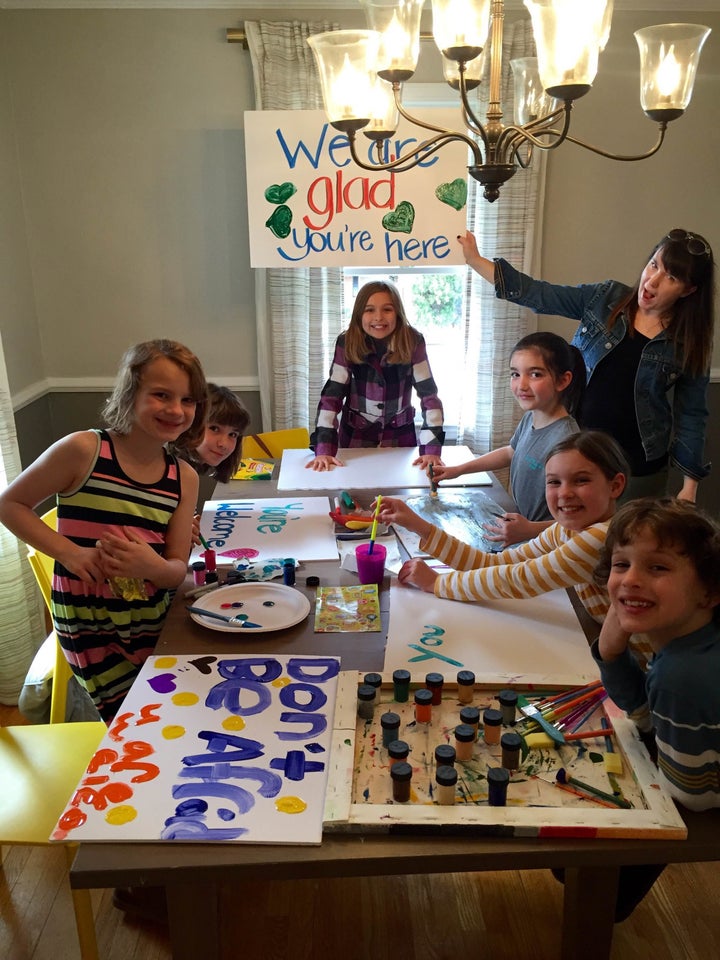 By 1 p.m. Sunday, Vincent had rallied about 20 people to come to her house to make signs.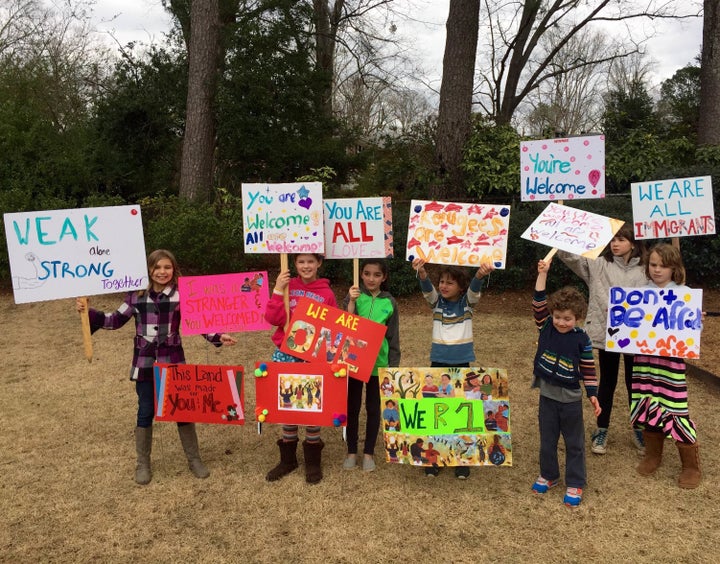 At 4 p.m., the party planted the signs in the lawn of the International Community School.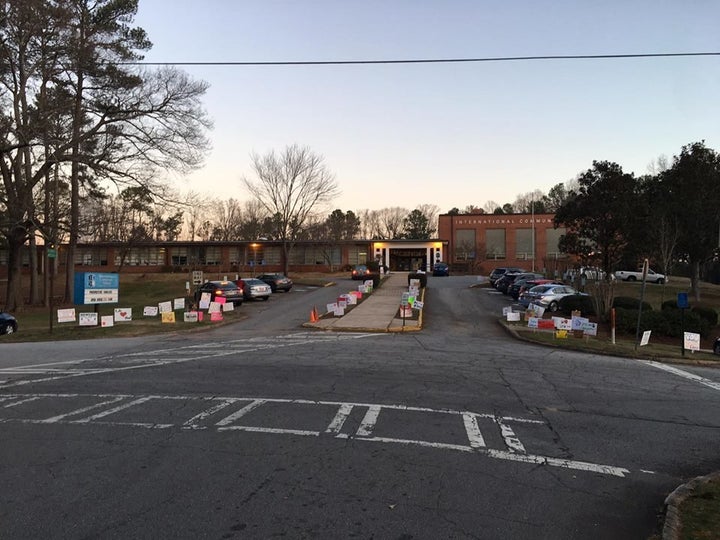 "There were six or seven signs when we got there, and we probably added 12 or 15," Vincent said. "When we went by this morning, there were well over 40 to 50 signs on the walkway."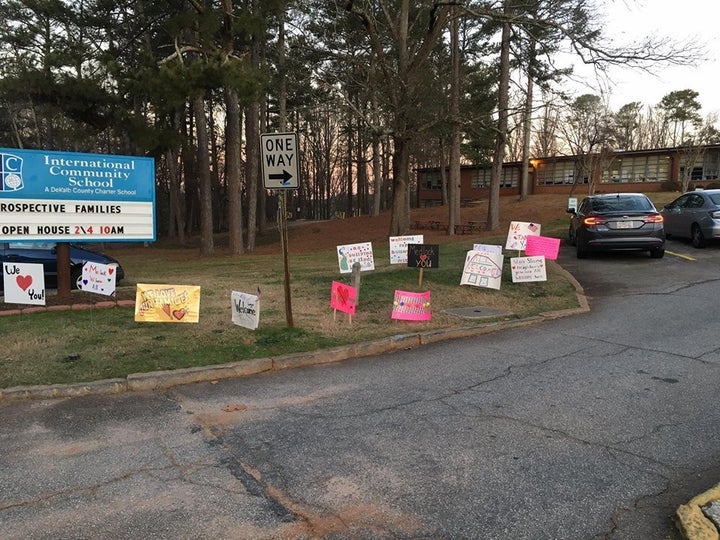 Vincent said that the current political climate has left her feeling helpless and pessimistic but that this experience has given her hope.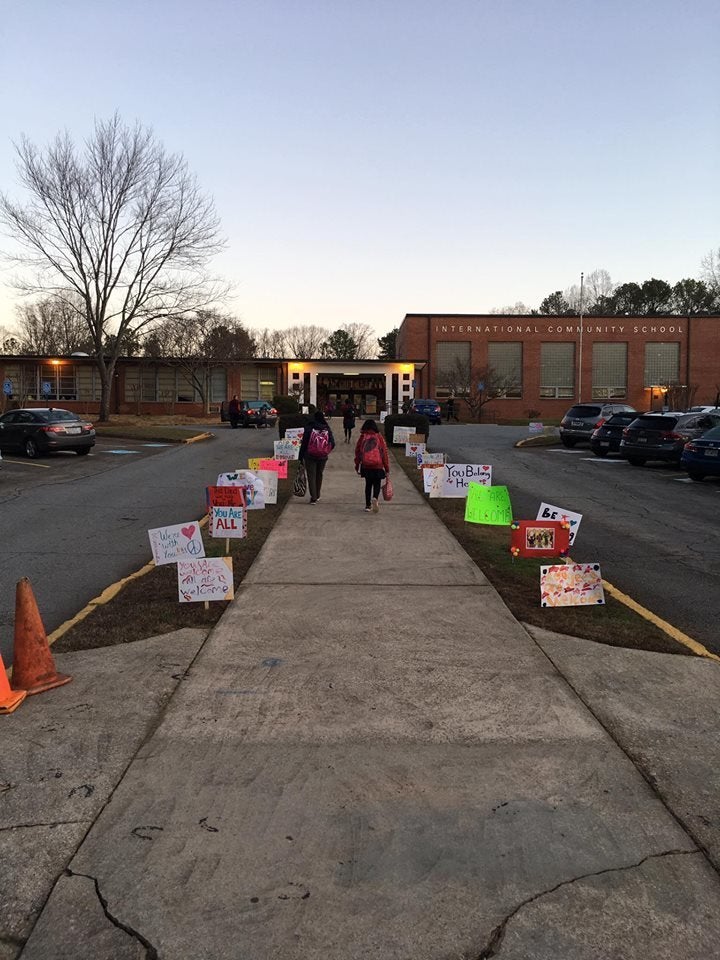 "When I went by that school this morning and I saw those signs and I saw those kids walking and reading those signs," Vincent said, choking back tears. "I thought, 'I can do this. We can do more of this.' It's knocked some of the cynicism out of me."
The Huffington Post reached out to the International Community School but were unable to get comment. We will update this story accordingly.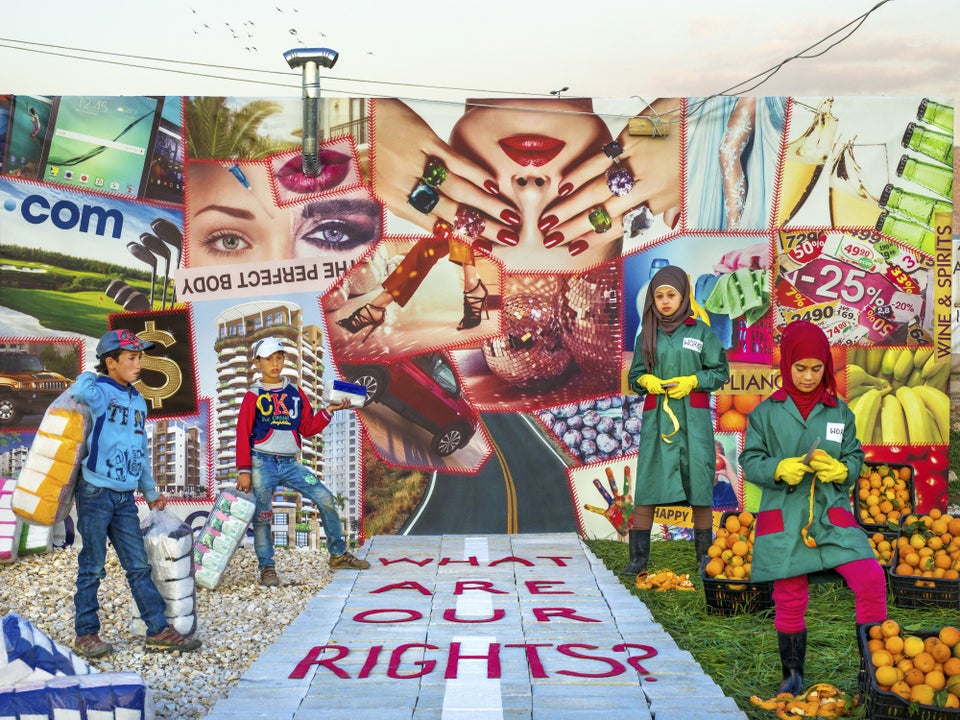 Child Refugees Stage Their Stories
Popular in the Community