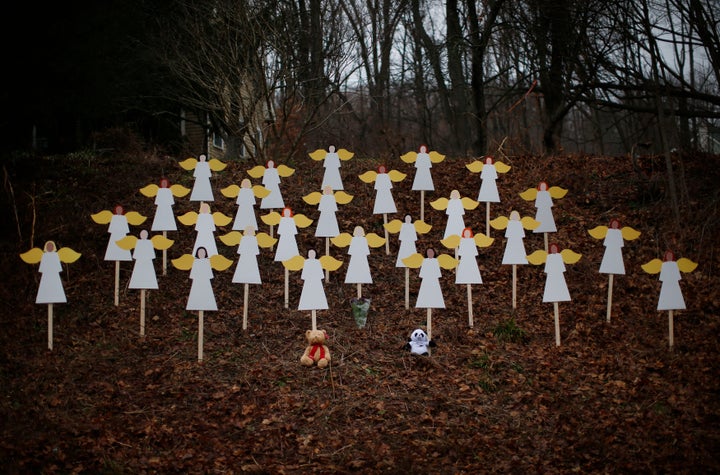 On the morning of Nov. 14, staff members at Rancho Tehama Elementary School in Corning, California, heard the sound of a single gunshot in the vicinity of the campus.
After two more shots rang out, the school secretary issued a verbal command over the loudspeaker to implement lockdown procedure. The whole school was on lockdown within 47 seconds. 
The gunman crashed his truck into the school gate and entered the grounds. After failing to gain entry into any buildings and firing shots from the quad, he left the premises. Only one student was injured. The whole incident lasted around six minutes. 
We want to make our hindsight the foresight of others.

Michele Gay, co-founder of Safe and Sound Schools
They have no relationship with the school, but this is the kind of swift and effective crisis response that Michele Gay and Alissa Parker like to hear about.
Gay and Parker both lost children on Dec. 14, 2012, when a gunman entered Sandy Hook Elementary School in Newtown, Connecticut, and killed 20 students and six teachers. Gay's daughter, Josephine, was 7 years old; Parker's daughter, Emilie, was 6.
In the aftermath of this heartbreaking tragedy, the women came together with a common goal: improve school safety and emergency preparedness so that other families don't have to suffer this kind of loss. In 2013, Gay and Parker founded the nonprofit Safe and Sound Schools to help them reach that goal. 
"We want to make our hindsight the foresight of others," Gay told HuffPost.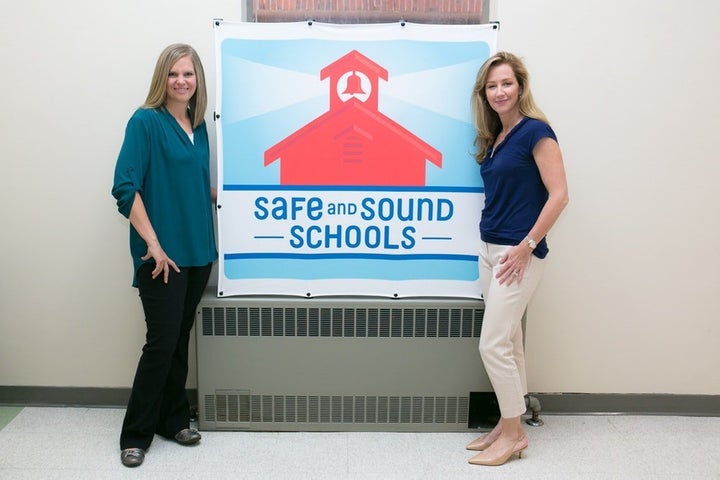 The organization follows a "Straight-A Safety Improvement Model" with three phases: assess, act and audit. The first phase involves assessing a school's safety and emergency preparedness procedures. The next step is to act on that assessment by developing a new plan or making changes that would solve existing problems. Once the new systems are in place, the third step is to audit the plan by testing and refining it repeatedly.
"We've talked with a lot of security and safety professionals, educators, students, administrators, psychologists, and parents," Gay said. "We want to make sure that all of these stakeholders are on the same page and speaking the same language, that we're planning and preparing and practicing together."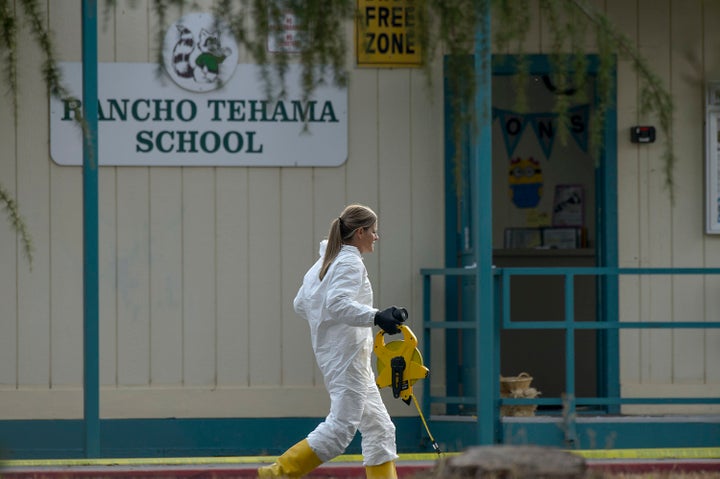 Seconds Matter
In the case of Rancho Tehama Elementary School, collaborative preparation was the key to saving lives. 
Rick Fitzpatrick, the superintendent of the Corning Union Elementary School District, told HuffPost the school had been doing regular lockdown drills for years.
On the morning of the incident, most of the children were playing in the quad. The shots rang out about seven or eight minutes before the bell was due to ring. The school secretary perceived a threat and sprang into action to issue the lockdown, and adults on campus shepherded students into classrooms. 
"In this situation, seconds saved lives," Fitzpatrick said, noting that both the Sandy Hook shooting and the shooting at Columbine High School in 1999 fundamentally changed the way schools think about safety.
"Columbine showed us we couldn't take anything for granted," he said. "And there was a huge shift in our focus after Sandy Hook. Sandy Hook taught us that we had to look at this issue tactically. A lot of people did things the right way, and people died anyway. So we had to look closely at what we were doing on a school-to-school based on different threats, different circumstances, different points of entry."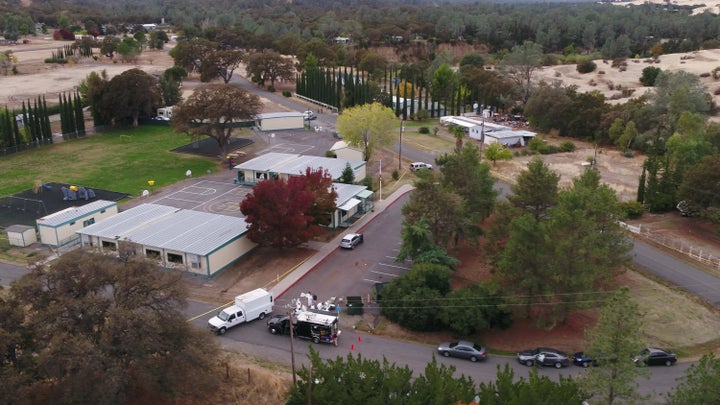 Fitzpatrick said he looked at school facilities differently after the Newtown massacre. His office worked with law enforcement to devise procedures based on different locations, times of day and other varying factors in compliance with California's school safety planning standards. The procedures were implemented at the district level. 
"I have no doubt whatsoever that the knowledge from the experience at Sandy Hook informed our response that day," Fitzpatrick said. 
Making Schools Safer
Safe and Sound Schools is just one of many organizations working to improve school safety in a post-Sandy Hook world.
The Secure Schools Alliance advocates for infrastructure improvements as a way to make schools safer. Robert Boyd, the group's executive director, said such changes are as important as safety drills. 
"The way we look at Sandy Hook, it wasn't the failure of the school to do preparedness drills but a failure of the facility to be ready," Boyd said. "The shooter was able to shoot out a glass window and get in. The classrooms didn't lock from the inside, and even if you wanted to lock them, you needed a key."
The average age of the main building of a public school is about 44 years old, according to a 2014 study by the National Center for Education Statistics. Such schools are generally "soft targets" for people who want to do harm, Boyd said, so his goal is to turn the buildings into "hard targets."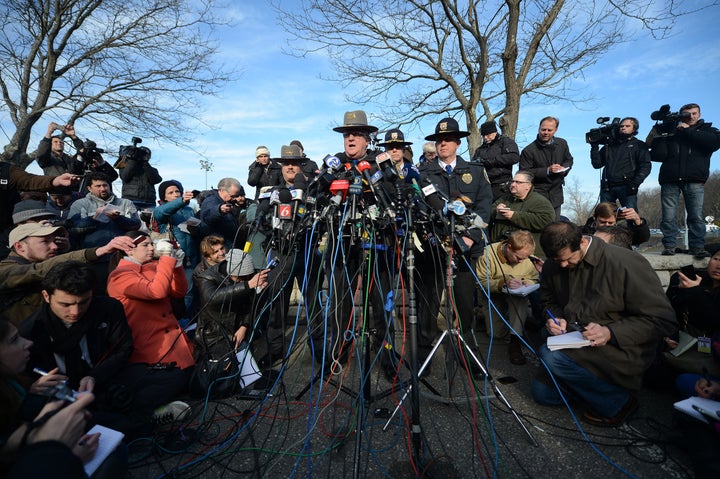 Protective measures don't have to be grandiose or expensive, according to Boyd.
"Shooters aren't brave people," he said. "They're looking for soft targets with a high probability of mass casualties ... even a locked door can be a deterrent."
Securing a school's perimeter is the first step, he said. He advocates for ballistic-rated glass in windows around the entryways, or shatterproof window film if special glass isn't feasible. Improving security procedures so administrators always know who is on campus can also help, as can limiting who has access to a school building. 
School resource officers (SROs) can also play a major role in securing the facilities.
Ultimately, he said, school security decisions depend on the resources available and community culture: "Everyone can't afford to put a officer in every school, and it might not always make sense."
But other school safety advocates caution against putting too much emphasis on infrastructure changes.
"While physical security measures can play a role in an overall comprehensive school safety program, the first and best line of defense is a well-trained, highly-alert school staff and student body," said Kenneth Trump, president of National School Safety and Security Services.
Trump, who is often called upon for expert witness and litigation consulting on school security incidents, said he has found that most school safety lawsuits involve allegations of failures of people and procedures rather than failures of equipment and hardware.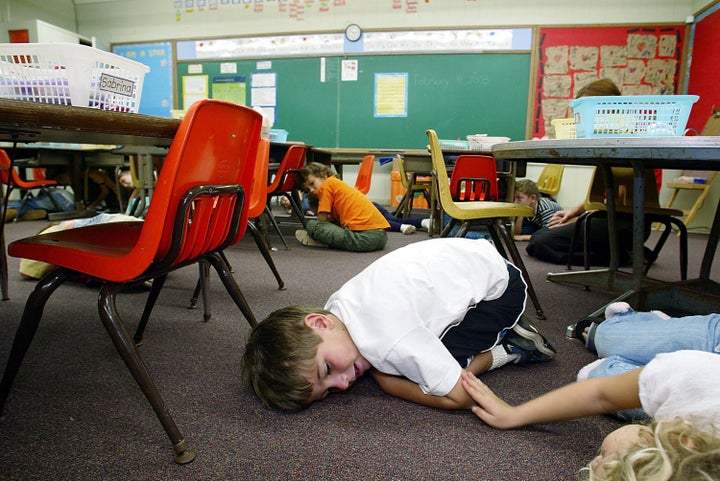 The Shift Post-Sandy Hook
Following the Columbine shooting, school safety programs took a comprehensive approach focused on emergency preparedness, threat assessment, prevention, mental health support, reasonable security measures and personnel like SROs, Trump said. 
But he noted that federal funding for school safety programs was repeatedly cut under the Bush and Obama administrations ― and after the Sandy Hook shooting, he said, "no substantive efforts were made to restore those post-Columbine prevention to preparedness programs that had been eliminated."
Instead, the response was politicized.
"At the state and federal levels, and in the media, the conversations after almost every school shooting go to gun control-vs.-gun rights issues, extreme and questionable ideas of arming teachers, and other gun-focused conversations," Trump said. Armed teachers are a reality in some states and school districts. 
Do active shooters need to be one recognized point on the school safety threat continuum and its corresponding preparedness continuum? Absolutely. But should it be the only point of focus? Absolutely not.

Kenneth Trump, president of National School Safety and Security Services
At least 450 school safety-related bills were filed in the months following the Sandy Hook school shooting, according to an Education Week report from April 2013. Of those, 178 were related to school emergency planning.
But codifying standards isn't a foolproof approach. Nearly half of the school districts in Connecticut are violating some aspect of the state's safety law that requires them to submit school security information, according to a new investigation from the Hartford Courant. Boyd said it's likely that many schools don't have the funds or resources to comply with state legislation.
In April, SSA co-signed a letter to President Donald Trump calling for greater school safety infrastructure funding ― the group asked that one-third come from the federal government, one-third come from states and one-third come from local districts. Boyd also said the funding should come from homeland security, not education, budgets.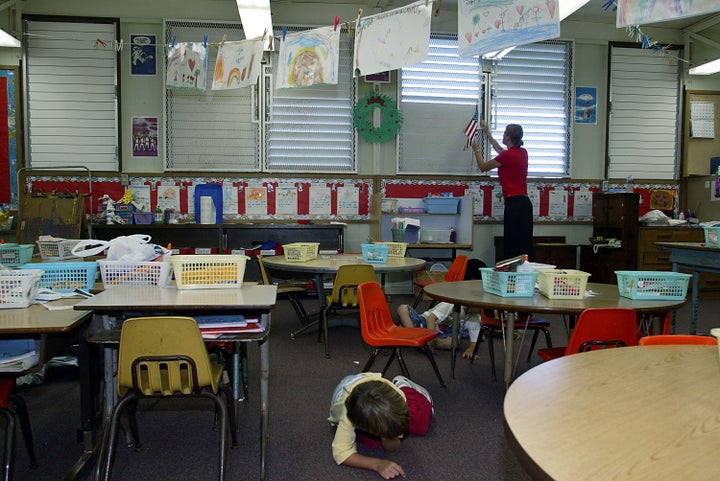 Following the Newtown massacre, there has been an uptick in the number of schools conducting active shooter drills, as well as in the frequency of such procedures. But Kenneth Trump said not all schools perform these drills in productive ways. In fact, he said, some schools have "emotionally driven, high-risk and high-liability" training processes that might even harm participants. 
He said he's also worried that a tunnel-vision focus on preparing for active shooters has caused administrators and crisis teams to neglect preparations for other incidents that are more likely to occur.
"Do active shooters need to be one recognized point on the school safety threat continuum and its corresponding preparedness continuum? Absolutely," he said. "But should it be the only point of focus? Absolutely not."
"Often school administrators come up to me when I am presenting school safety workshops and they tell me that they have conducted multiple active shooter drills during their school year," he said. "My response is, 'That's great. When is the last time you did a non-custodial parent drill or your crisis team has discussed places in your school where you are at greater risk of a rape or other sexual assault occurring?'"
The Bulletproof Backpack Proposal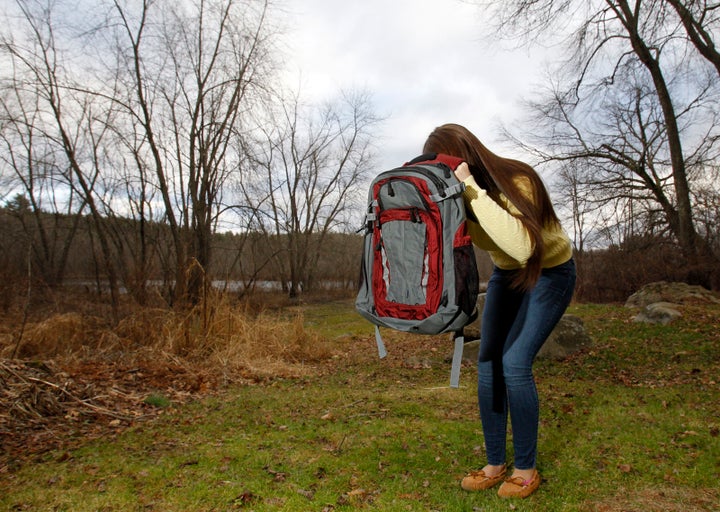 Parker and Gay said a lot of parents have reached out to Safe and Sound Schools to ask about bulletproof backpacks, an item some people have offered as a way to protect kids in the event of a school shooting. 
Parker said the backpacks are expensive, not well-tested and likely not appropriate or manageable tools for children to use to protect themselves from danger.
"If there is some type of attack, do the children have their backpacks on at that moment?" she asked. "What's the likelihood that they're going to be able to get to that shield and be able to use it as a shield?"
Boyd said he wouldn't recommend bulletproof products for children, but noted that lightweight bulletproof panels can be built into walls and doors or placed over windows during crisis situations.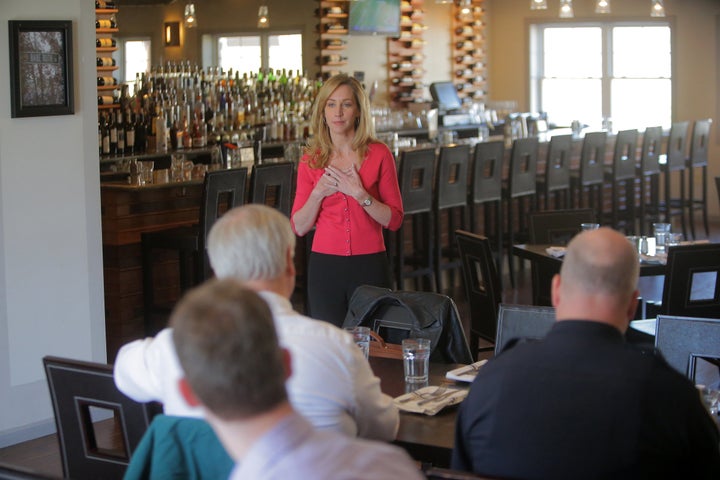 The Psychological Toll
Mental health experts must be involved in the school safety and emergency preparedness process, said Ben Fernandez, the lead school psychologist for Loudoun County Public Schools in Virginia. He's also the chair of the National Association of School Psychologists' school safety and crisis response committee, which has produced a variety of school safety literature, prevention guidelines and recommended best practices.
Fernandez said it's important to keep participants' histories with trauma in mind, and that educators must be careful in how they present safety procedures to students. 
"We have to keep our schools safe, but adults' perception of threat is so high, it's going to come out," he said. "Kids are going to feed off the adult reactions, so how they communicate and teach the safety is critical."
"The balance [between mental health and school security] is tricky," he added. "You want a safe and supportive learning environment, but you don't want a school to be prison-like, with barbed wire and armed guards roaming the hallway."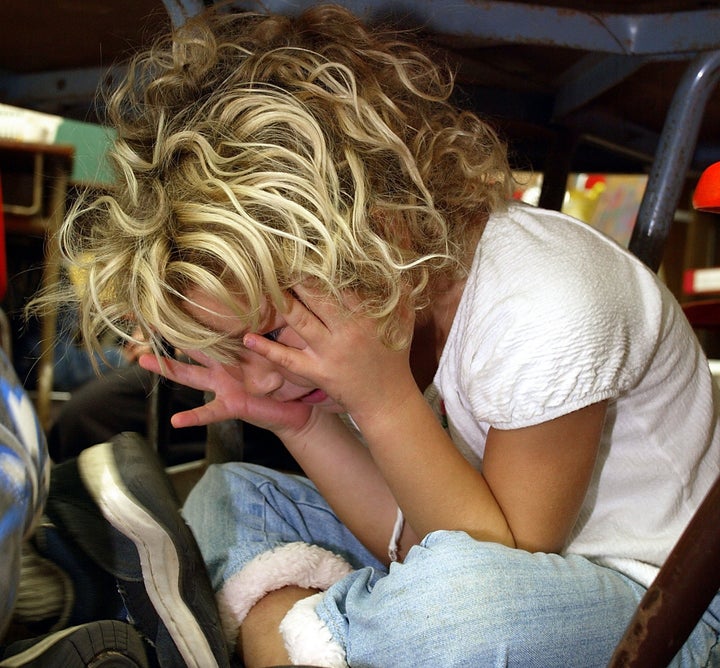 He recommends calmly speaking to students in an age-appropriate way.
"With children, you need to give concrete examples of how schools are very safe places with lots of adults focused on keeping kids safe," he said. "You can point out doors that lock and school resource officers." 
As a parent, Fernandez has found this mindful approach has helped assuage kids' paranoia. 
"To my 14-year-old, a lockdown drill is just 'a thing.' It's just like a fire drill," he said.
The way Gay and Parker see it, school safety is an ongoing process.
"It's ever-evolving, and you always have to be working on it," Parker said. "It's just part of the living, breathing entity of schools that they have to always be developing, evaluating and improving their systems. There's no finish line."
Calling all HuffPost superfans!
Sign up for membership to become a founding member and help shape HuffPost's next chapter