Lily-Grace Hooper, a 7-year-old girl who is blind and gets around with the help of a cane, isn't someone you would perceive as a threat.
Yet her school has banned her from using her walking aid on school grounds because they think it could be a threat to other students.
"It is utterly ridiculous!" Lily-Grace's mom, Kristy Hooper, told The Huffington Post. "That is discrimination hiding behind health and safety rules."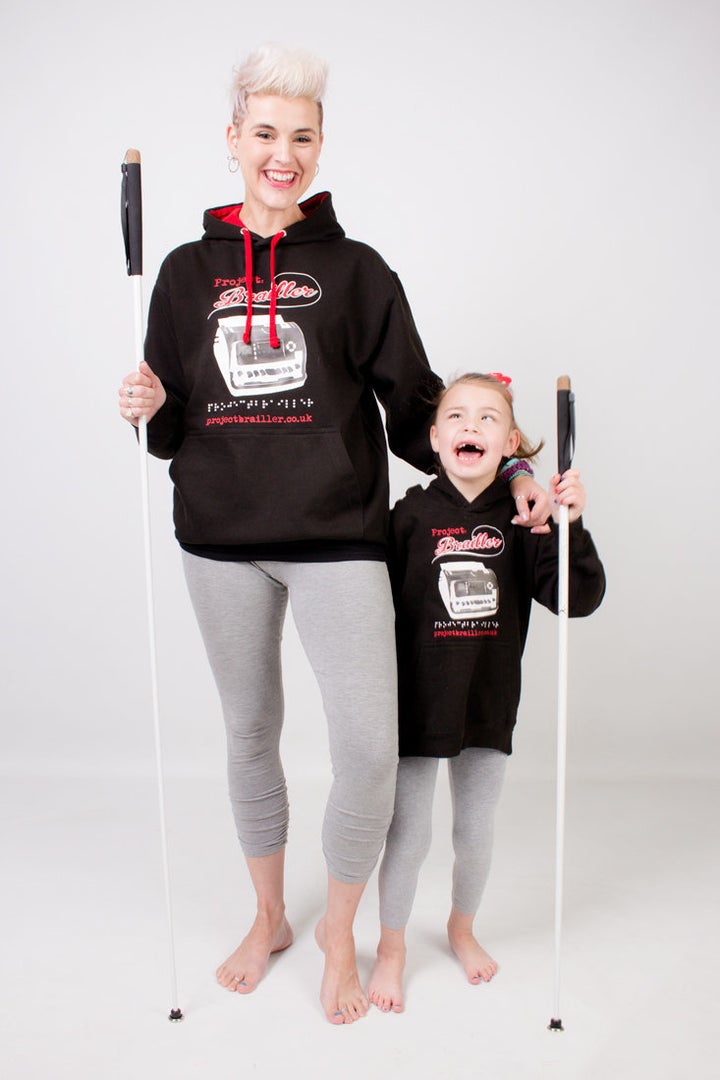 A safety assessment done on behalf of Hambrook Primary School, Lily-Grace's school in Bristol, England, deemed her walking cane a high risk to teachers and fellow students because it could potentially trip them, a concern, according to the Bristol Post.
Her mother finds this unacceptable.
"I have found parents and students extremely supportive," she said. "Many of them have complimented Lily-Grace and celebrated her cane."
The school suggested that instead of using her cane, Lily-Grace should have full adult support at all times, depend on handrails and "walk carefully over all surfaces."
This proposition infuriated her mother because she feels that having an adult accompany her daughter 100 percent of the time will make Lily-Grace too dependent on others. "Her cane gives her more independence. She is growing up and doesn't want to hold an adult's hand all the time."
Lily-Grace was rendered blind when she suffered a stroke only four days after she was born. She also suffers from mild cerebral palsy, and the fiberglass cane, which was given to her by Common Sense Cane, a charity for blind children, is the third she has attempted to use. It is lightweight and longer than the average cane, which make it the best fit for Lily-Grace.
The Bristol Post reports that the risk assessment advised Lily-Grace to use a shorter cane, but her mother told HuffPost that she hadn't heard anything about this, and that her daughter needs a longer cane anyway.
"We have tried other [canes]. She found them too heavy and her hand quickly grew tired," said Hooper. "Within ten minutes of using this lightweight cane it was like she had had it years."
Hambrook Primary School sent HuffPost the following:
The pupil has not been banned from bringing in their cane, we have simply asked them to not use it around school as a temporary measure until we have the chance to meet with the parent and discuss the situation. It was initially hoped that we would have this resolved within a day or two. The school's mobility officer raised health and safety issues around the new cane following a recent risk assessment. We have to consider all of our pupils, so it is important that we have an opportunity to discuss the situation before we make any decisions. We are very keen to resolve this issue as soon as possible and have been actively seeking to engage with the parent to bring this to an agreeable conclusion.
According to Hooper, no one has reached out to her from the school yet.
"All I was told was that they were sorry and she was no longer allowed to bring it into school."
For the time being, however, leaving the cane at home may not be much of an issue for Lily-Grace. Soon after the incident, Hooper recalls that her daughter "Did not want to take [her cane] to school because she did not want to get me or her to get into trouble."
Related