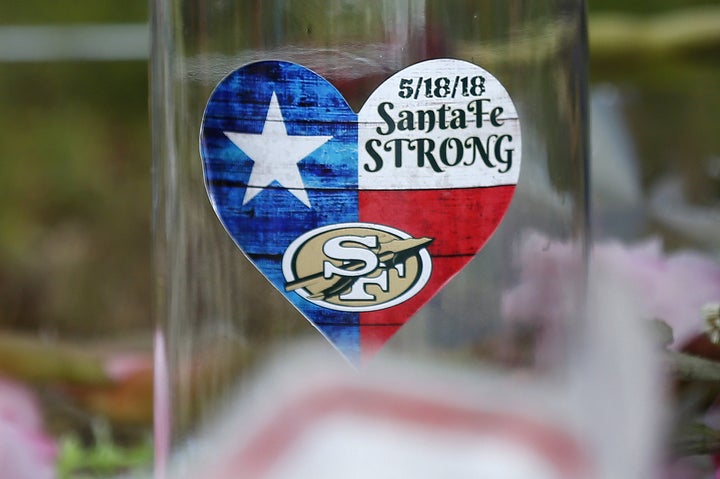 Last week's school shooting in Santa Fe, Texas, that killed 10 students and teachers isn't significantly reviving the momentum for gun control that followed the February massacre in Parkland, Florida, new HuffPost/YouGov polling suggests.
Slightly more than half of the public now calls gun violence a very serious problem, down from 60 percent in February. A 56-percent majority say it's possible to pass new gun laws without violating the Second Amendment, down from a high of 65 percent. And, regardless of how they personally feel about the subject, just 40 percent now think passing new gun laws is politically possible, down from 50 percent.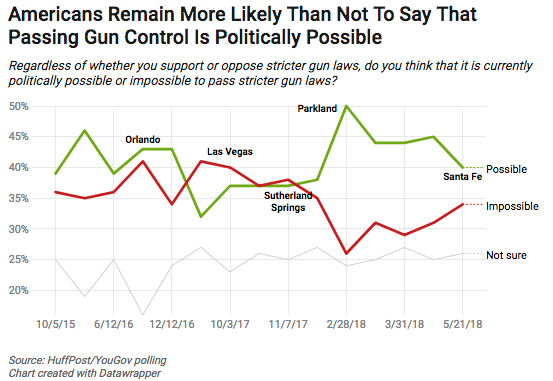 Concern about gun violence and a desire for Congress to take action are now several percentage points higher than they were in April, when most of the post-Parkland wave had already abated, but it's difficult to say how much of that represents a genuine uptick, rather than the variability inherent in tracking polls. Either way, it's clear that the energy around crafting new gun policies isn't near the heights reached earlier this year.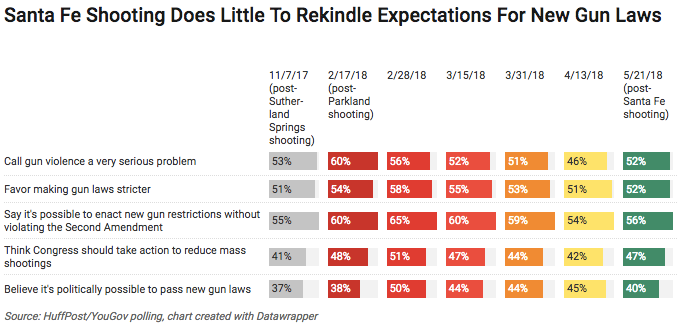 Similarly, tracking data from the progressive pollster Civiqs showed voters' support for gun control spiking after Parkland, but then slowly declining. Santa Fe, it found, at most seemed to modestly stanch that decline.
Google Trends, which tracks how often people query the search engine on varying topics, shows that comparatively little attention has been paid to gun issues following the lastest school shooting.
The difference in public opinion following the two school shootings isn't entirely surprising: It mirrors the difference in how each community responded. Although Americans were shocked by the Parkland massacre, the shift in public opinion it produced didn't gain steam until the weeks that followed, when the surviving students spearheaded a gun control push. Their advocacy kept the debate over gun laws in the news, even after the immediate details of the shooting had faded.
Although student activists nationwide led walkouts earlier this year in protest of gun violence, polling of teens finds that such attitudes aren't universal among their generation. In largely rural Santa Fe, last week's shooting didn't spark the same kind of push for gun control. There were no local protests, and little talk of guns,the Los Angeles Times reported.
"I don't think guns are the problem — I think people are the problem," a 16-year-old Santa Fe high school student told NBC. "Even if we did more gun laws, people who are sick enough to do something like this are still going to figure out a way to do it. So it doesn't matter."
Gun restrictions proposed in the wake of the Parkland shooting, meanwhile, remain broadly popular, according to the HuffPost/YouGov poll. Americans, 78 percent to 11 percent, say that they favor strengthening background checks for buying and selling guns. They also say, 64 percent to 22 percent, that they favor raising the age for gun purchases to 21.
A plurality, 43 percent, say President Donald Trump is not doing enough to pass gun laws, while just 6 percent believe he's done too much.
Use the widget below to further explore the results of the HuffPost/YouGov survey, using the menu at the top to select survey questions and the buttons at the bottom to filter the data by subgroups:
The HuffPost/YouGov poll consisted of 1,000 completed interviews conducted May 18 to May 21 among U.S. adults using a sample selected from YouGov's opt-in online panel to match the demographics and other characteristics of the adult U.S. population.
HuffPost has teamed up with YouGov to conduct daily opinion polls. You can learn more about this project and take part in YouGov's nationally representative opinion polling. More details on the polls' methodology are available here.
Most surveys report a margin of error that represents some, but not all, potential survey errors. YouGov's reports include a model-based margin of error, which rests on a specific set of statistical assumptions about the selected sample rather than the standard methodology for random probability sampling. If these assumptions are wrong, the model-based margin of error may also be inaccurate. Click here for a more detailed explanation of the model-based margin of error.
Popular in the Community