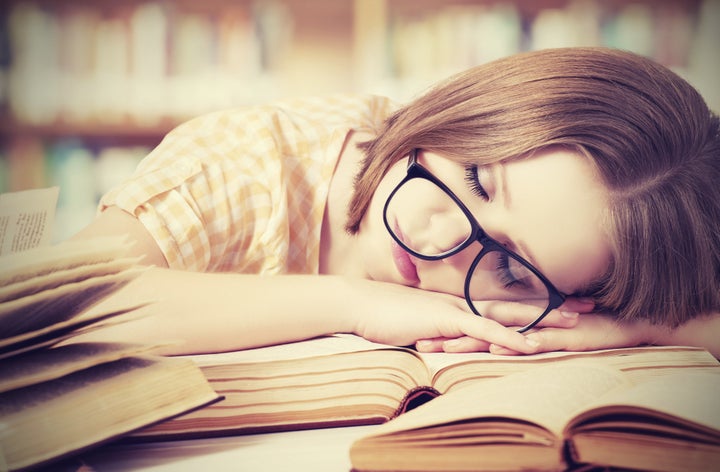 Around the country, more school districts are moving to delay their start times. Here's why: Teens currently aren't getting enough sleep. And this lack of sleep is having a detrimental effect on their grades and mental health.
Terra Ziporyn Snider, co-founder of the nonprofit Start School Later, has been documenting this problem and advocating changes to fix it since 2011. She started the organization after posting an online petition asking authorities to establish 8 a.m. as the earliest allowable school start time. Within a month, she'd received nearly 2,000 signatures from all over the country. Now, there are close to 75 local chapters of Start School Later, all educating communities about the importance of making school hours compatible with teens' sleep needs.
"I think educated public opinion is very much in favor of this. Even a vast majority of people who know anything about the issue, if they've done any homework or read about it, are for later start times, in theory," said Snider. "When it comes to specific changes in their school system, there's much more debate."
Here's why Snider, pediatricians and the Centers for Disease Control and Prevention think more districts and states should follow suit.
Most Schools Start Really Early
According to Department of Education data from the 2011-2012 school year analyzed by the CDC, only a small share of districts were doing so. About 17.7 percent of middle and high schools started after 8:30. The average start time was 8:03 a.m., with 75 to 100 percent of schools in 42 different states starting classes before 8:30 a.m.
Sleep Deprivation Is Bad For Learning
A lack of sleep can have a devastating impact on kids' futures. Sleep-deprived students are more likely to be overweight, anxious, depressed, have suicidal thoughts, perform poorly academically and engage in risky behaviors, according to the CDC.
Later school start times are proven to improve academic performance.
A 2012 study found that students who started school an hour later than usual saw their math scores on standardized tests increase an average 2.2 percentage points and reading scores increase an average 1.5 percentage points. They also watched less television, spent more time on homework and had fewer absences, the research found.
"Start times really do matter," Finley Edwards, author of the study, told The Huffington Post in 2012. "We can see clear increases of academic performance from just starting school later."
Snider, who has a Ph.D. in the history of medicine, first learned about this issue as a medical writer in the 1980s, but it started to hit home as she raised her three kids.
She learned that schools didn't always start so early and that this type of sleep deprivation was a relatively new phenomenon.
"Nobody is going to tell you it's good for kids' health or safety or learning to start class at 7 in the morning," Snider said.
The Reason There's Resistance To Changing The System
When Snider's kids were in school, she worked hard to push school times later, with little success. School start times deeply impact many aspects of community life and are difficult to change, she learned.
"School hours affect everybody in the community, whether or not you have kids. The time the public school runs will affect what time the parks and recreation department can have after-school classes, what times the sports leagues can run, what times school athletics can practice, what time daycare hours are, what time traffic gets bad because of the school buses, what time local employers can hire kids after school; it affects the whole town," she said.
"It's those sorts of interests, which are perfectly understandable, and fears which lead people to say, 'Don't change, because I had to jump through hoops to make my life work, and now you're going to change my life,'" Snider said.
Still, delaying school start times doesn't always mean that kids will get more sleep. Students may just stay up later, according to a study published this year in the journal Sleep. The efforts can also end up being costly. In 2015, Fairfax County spent $5 million to delay school start times nearly an hour, according to the Capital Gazette.
But advocates argue that the benefits outweigh the costs.
"Many people are for this change, but they might say it's impossible to do, they're going to tell you it's too expensive," said Snider. "We do have so many success stories. The real issue isn't those things. It's more fear of change and failure of imagination, because people don't realize that when you fix a problem, there's not one way to do it."