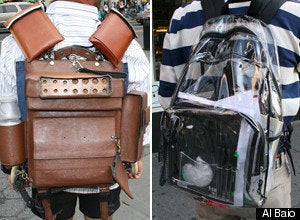 I couldn't fully grasp the magnitude of Luis Garcia's (Co-Founder) enthusiasm the afternoon he returned from a four-month, 13-country global circumnavigation. Fresh off a 14-hour redeye from Hong Kong, he threw his bags on the apartment floor, and found himself sitting at my kitchen table 10 minutes later. He was physically exhausted, yet couldn't get the words out fast enough.

The journey brought him to the guts of some of the world's most destitute locales, inside our most challenged countries -- India, Laos, Nepal, Cambodia, and Tanzania. He spent time at the schools and orphanages there, volunteering and seeking to understand first-hand, the struggles of the children that lived within. What he didn't expect was that he'd be so drawn to the kids -- their optimism, warmth, and genuine character. In fact, he was so moved that he chose to dedicate himself to doing more.
The revelation came near the end of the trip, as Luis realized that at every school and orphanage he visited, and in every country, the children lacked backpacks and supplies. Many were writing on every tiny square inch of paper, with whittled down pencils, housed in makeshift bags that had been hand-sewn time and again. This was their only option. For these kids, there was nothing more.
Luis vowed to help change these circumstances. But it wasn't until the plane flight from Kathmandu to Bangkok that he discerned exactly how. It was on that trip that he crafted the idea of utilizing his 20 years of packaging design experience to create backpacks and school supplies for kids in the U.S., and for every bag sold, one bag with supplies would be given to a child in need, like the many he met before.
I told Luis just before he embarked on his journey, that he'd return with a "spark," an epiphany that he would have never envisioned before. Sure enough, he came back with a big idea, one with the potential for great impact. For me, the concept resonated in theory. I understood the need and could empathize with the recipients. But I have to admit, not until my trip to Belize did it truly hit home.
I remember the exchange; two pencils for a ticket across the bridge. To me they were just pencils. I had so many more. To the bridge attendant, a thin, sun-parched island man, they symbolized something different; a rare opportunity to help educate his children. He has four.
His partner soon ran to me from the toll booth. As I handed over a few more yellow number twos, a look of hope bore itself in her eyes... her children could take their math test this year. She has three.
With a smile and a wave, I turned the key to my cart (there are few cars on the island) and headed on my way, over the bridge and to my destination, Holy Cross School. I thought about those seven kids and what was to come. Their education secure only for now.
Finally arriving, I parked the cart on a dirt patch off to the side of the Administration Building and announced that I was there to make a delivery of schoolbags and supplies. Lifting the black duffel over my shoulder, I walked through what I presumed to be the reception doors. I opened the bags on the counter and was greeted by radiant faces. It had been awhile since I'd seen such pride.
We proceeded to take a tour... learning of the founding of the Holy Cross School -- how volunteers had built a 60 student strong educational reservoir out of swampland, and that the population had grown to over 400 in the years to follow. What struck me more deeply was that 150 still remained on the waitlist. Many still couldn't afford to attend.
UNICEF states that 101 million kids worldwide don't attend school. That's nearly one-third of population of the entire U.S. For most, it's because of the simple fact that they cannot afford tuition, supplies and uniforms. Often times, it's a choice between the classroom and food. There is no alternative.
Luis and I founded Schoolbags for Kids to provide children with the tools they require to empower themselves through education. For every schoolbag sold, we will donate one schoolbag with supplies to a kid in need, like those we met in our travels; a seemingly simple idea... yet to millions around the world, extremely underserved. To-date, we have given to schools and orphanages in India, Thailand and Belize. Yet much is left undone.
While on my trip to Belize, I spent time hosting diving competitions for some local island kids -- ones who couldn't afford to go to school. Instead of taking their weekly social studies quiz, they sprinted down the pier, full-steam ahead, jumping into the turquoise abyss, after a Coke bottle I'd thrown, surfacing to gaze across the horizon for my 1 to 10 ranking.
I hope to tell them they can go back to school.
Kalon Gutierrez is the Co-Founder of Schoolbags for Kids.™
Schoolbags for Kids was founded in July 2011. For every schoolbag sold, one schoolbag with supplies will be given to a child in need. One here. One there.™
Calling all HuffPost superfans!
Sign up for membership to become a founding member and help shape HuffPost's next chapter