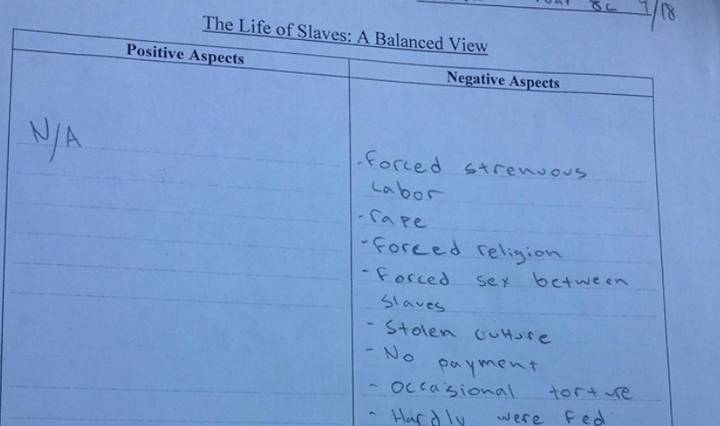 A charter school network has apologized for an assignment asking students to list the positive and negative aspects of slavery, calling the worksheet a "clear mistake."
On Wednesday, Roberto Livar posted a photo of a worksheet he said his son, Manu, was asked to complete in his eighth-grade American history class at Great Hearts Monte Vista in San Antonio. The worksheet is titled, "The Life of Slaves: A Balanced View."
Livar told HuffPost that his son was uneasy about the nature of the assignment and felt compelled to bring it home and show his parents. Livar said he was "pissed" as soon as he saw the worksheet.
"We are fully aware that there is a concerted effort by the far-right nationally to reframe slavery as being 'not that bad' and trying to revise the civil war as being about 'states rights' and not about slavery," he told HuffPost in a Facebook message. "We were concerned that this assignment fell in line with that ideology and were naturally concerned, as well as other parents."
Other families and members of the community upset about the worksheet began sharing Livar's post, including Rep. Joaquin Castro (D-Texas). Castro called the assignment "absolutely unacceptable" in a tweet on Thursday.
Kindel said in his statement that the incident was "limited to one teacher at just one campus," and that the teacher has been put on leave while Great Hearts "collect[s] all the facts." He added that Great Hearts will "conduct an audit" of the book that inspired the worksheet to see if it should be permanently replaced.
Livar told HuffPost that Great Hearts staff invited his family and other concerned parents to a meeting on Thursday to discuss the matter, and that Manu was "commended for his action of bringing this to light and was even told he was 'very brave.'"
However, he noted that his son has been "attacked by many at his school" for supposedly harming its reputation.
Livar, who said he and his family are Mexican-American and identify as Chicano, chalked the whole ordeal up to a lack of diversity at the school among the student body and staff.
He added that he sees what happened as a sign of problems stemming beyond his son's school.
"These issues are not isolated to one school or one book," Livar said. "These issues are systemic and continue up the chain all the way to the Texas School Board of Education."
Popular in the Community