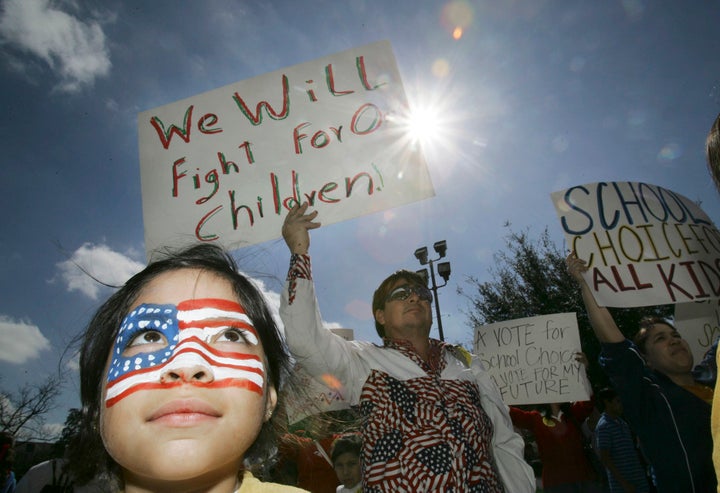 The Milwaukee School Choice Program, which was not only the first but also the largest school voucher program in the country, has fallen under fire after voucher students failed to surpass their public school counterparts in state tests.
As reported in the Milwaukee Journal Sentinel, the program provides disadvantaged students a lottery-earned voucher, totaling up to $6,607, to escape failing public schools and attend higher performing private schools. The state spends over $128 million on vouchers, which proponents argue is cost-effective compared to expenditures on students who attend public schools.
The program was largely regarded as an experiment when it started as a solution to failing public school systems in the 1990s. Now critics are citing it is a failed one.
According to the Sentinel, after voucher schools were required to participate in standardized testing, the results did not show growth, as advocates had hoped. Rather, students participating in the voucher program were outperformed, in regard to proficiency in reading and math, by those who remained in Milwaukee Public Schools.
"There was no meaningful differences over three years in student achievement growth in either math or reaching between a matched set of voucher and MPS students."
According to The Wisconsin State Journal, testing scores indicated that program participants were 34.4 percent proficient in math and 55.2 percent in reading, which was lower than public school students who scored 47.9 percent and 59 percent respectively.
Both sets of students achieved far below students statewide, who collectively scored 77.2 percent proficiency in math and 83 percent in reading.
Despite these findings, Wisconsin Governor Scott Walker has moved forward with a budget proposal that would expand the Milwaukee School Choice program, eliminating income constraints and including more schools. The program currently includes 111 private schools and provides over 20,000 low-income students with vouchers to attend them the Sentinel reports.
The Wisconsin State Journal reports that the proposal has sparked controversy among democratic leaders, amid the current state findings that the program has failed to produce academic achievement.

"The fact that we've spent well over $1 billion on a failed experiment leads me to believe we have no business spending $22 million to expand it with these kinds of results," Rep. Sondy Pope-Roberts, the top Democrat on the Assembly Education Committee said. "It's irresponsible use of taxpayer dollars and a disservice to Milwaukee students."
Proponents of the program argue these test scores offer only a "snapshot" and are not substantive enough to accurately evaluate it. They insist that competition is key to fixing the problems with the education system at a lower cost, and cite statistics from other studies to advocate the program's expansion.
The Sentinel reports, however, that though overall costs may be lower, Milwaukee residents will pay the price without the promise of increased proficiency.
Robert Costrell, an Arkansas professor who analyzed the study, estimated that $37 million is saved each year through the voucher program. Unfortunately, the impact is not allocated evenly.
"$30 million a year saved in state income and sales taxes, and $52 million a year saved in local property taxes everywhere in the state except Milwaukee. But Milwaukee property taxpayers are paying an extra $45 million a year."
These findings come amidst a contentious federal debate over the potential of private-school voucher programs sparked by Speaker Boehners proposed SOAR act -- legislation that has already passed in the house, which would reinstate the D.C. voucher program, expired in 2009 because it also failed to show academic growth.
The D.C. Opportunity Scholarship Program, signed into legislation by President Bush in 2005, included instituted mandates for yearly monitoring by the Department of Education, and provided scholarships of $7,500 to needy students to attend local private schools.
The Department of Education, which evaluated the program yearly, reported that it did not have as much of an impact as advocates had hoped.
"The evaluation found that the OSP improved reading, but not math, achievement overall and for 5 of 10 subgroups of students examined."
The study also showed that students applying to the program from schools in need of improvement (SINI), which were labeled as highest priority by Congress, had no achievement impacts.
Critics are also concerned about the constitutionality of such programs, as 80 percent of private schools in the program are religious.
The ACLU has issued a letter petitioning policy-makers to dismiss the bill on these grounds.
"Schools that participate in the voucher program are exempt from complying with laws like the Individuals with Disabilities in Education Act and Title IX of the Education Amendments of 1972. Since the principal recipients of these federal voucher funds are private religious schools, Americans' tax dollars are going toward schools that bring specific religious content into their curricula."
President Obama has also stated his disapproval of the program.

"Private school vouchers are not an effective way to improve student achievement. The Administration opposes targeting resources to help a small number of individuals attend private schools rather than creating access to great public schools for every child."
As policymakers in Washington, and around the country, debate the best solution for failing American Schools, Milwaukee continues to face tough decisions.
The Sentinel reports that Milwaukee public schools are currently facing $74 million budget shortage.
Other cities around the country are looking to Milwaukee as an indication of how voucher systems perform, and advocates continue to see the silver lining in the somber statistics.
Rep. Robin Vos, who is behind a push to create voucher programs in other cities explained his position to the Wisconsin State Journal:
"Obviously opponents see the glass half-empty," Rep. Vos said. "I see the glass half-full. Children in the school choice program do the same as the children in public school but at half the cost."