Students across the country walked out of their classrooms Friday to protest gun violence, coinciding with the 19th anniversary of the gun massacre at Columbine High School in Littleton, Colorado.
According to organizers, students at about 2,500 schools had planned to hold walkouts at 10 a.m. in their respective time zones, a somewhat smaller number than participated in a similar walkout on March 14.
Friday's events were the third major student-led action since the Feb. 14 school shooting at Marjory Stoneman Douglas High School in Parkland, Florida, which catalyzed a nationwide movement of students demanding legislative action to prevent gun violence.
Last month, hundreds of thousands of people attended the March For Our Lives in Washington and companion marches in cities and towns around the country, as well as in several international cities.
The series of major protests are meant to continue the momentum started by the Parkland students and keep the issue of gun violence in the headlines. So far, a handful of states have taken some legislative action in response, but there has been little movement on the national level.
However, the student activism has also turned its attention toward this year's midterm elections and longer-term political action, such as registering young voters, supporting candidates for elected office, and creating a new generation of activists and leaders.
Columbine and Stoneman Douglas students led a rally to promote voter registration Thursday night in Colorado.
On Friday morning, students in some schools held walkouts before the school day began.
Just as they did on March 14, students in the Washington area gathered in front of the White House for a walkout, before marching toward the U.S. Capitol.
At Butler High School in Matthews, North Carolina, outside of Charlotte, a student read an account of the Columbine shooting. "The students received their weapons through unlicensed dealers at a gun show. Enough is enough," the student said.
Other students held walkouts and rallies at major landmarks, such as these students at the New York Capitol in Albany, Oregon Capitol in Salem and San Francisco's City Hall:
Some students in Chicago headed toward Grant Park during their walkout:
At a rally in Atlanta, Clare Schexnyder, who started the Facebook group Stop School Shootings, told the crowd: "Maybe some of you can't [vote] yet, but you need to get the adults in your life to vote the right way."
Georgia state Sen. Elena Parent (D) told students: "If you look at the U.S. Senate, they're all super old. … None of these people in the United States Senate ever worried about school shootings and guns. That impacts your learning experience."
About 130 celebrities and activists announced Friday the formation of a new group, the No Rifle Association initiative, or NoRA, that will work to combat the National Rifle Association's political influence with help from policy experts and other anti-gun groups.
Celebrities including Patton Oswalt, Julianne Moore, Jimmy Kimmel, Amy Schumer and Michael Moore signed a letter addressed to NRA Executive Vice President Wayne LaPierre on Friday that read, in part: "You lied, and you purchased politicians, and you fought every single basic gun reform measure that might have saved lives."
"Your time signing checks in our blood is up," the NoRA letter continued.
In concert with the walkouts, some students also held events to educate each other on gun legislation and advocacy, such as these students in Pittsburgh and in Urbana, Illinois.
Ten-year-old Delilah Rose Matrese begged her parents to let her participate because she'd missed last month's protest, her mom, Melissa, told HuffPost. But she was the only one to do so Friday at Hamilton Elementary School in Carlisle, Pennsylvania.
"No faculty or other students joined her, but she said she didn't care because 'Mommy, this is too important to be embarrassed!!'" her mom wrote to HuffPost. She noted that the fourth-grader hears about many topics in the news through John Oliver's HBO show "Last Week Tonight" ― she "LOVES it," her mom wrote ― and Samantha Bee's TBS series "Full Frontal."
Delilah's dad, Steve, checked her out of school and stood nearby while she held her handmade sign, not budging as passersby on their way to a car show adjacent to the school grounds gave her dirty looks.
In Portland, Oregon, a 16-year-old student told local news outlet KATU that she was motivated to participate in part because her younger cousin once threatened to commit a mass shooting at his school.
"Automatic weapons should really be banned," she said. "It pains me to see he could have gotten his hands on a weapon like that."
This story has been updated throughout.
Before You Go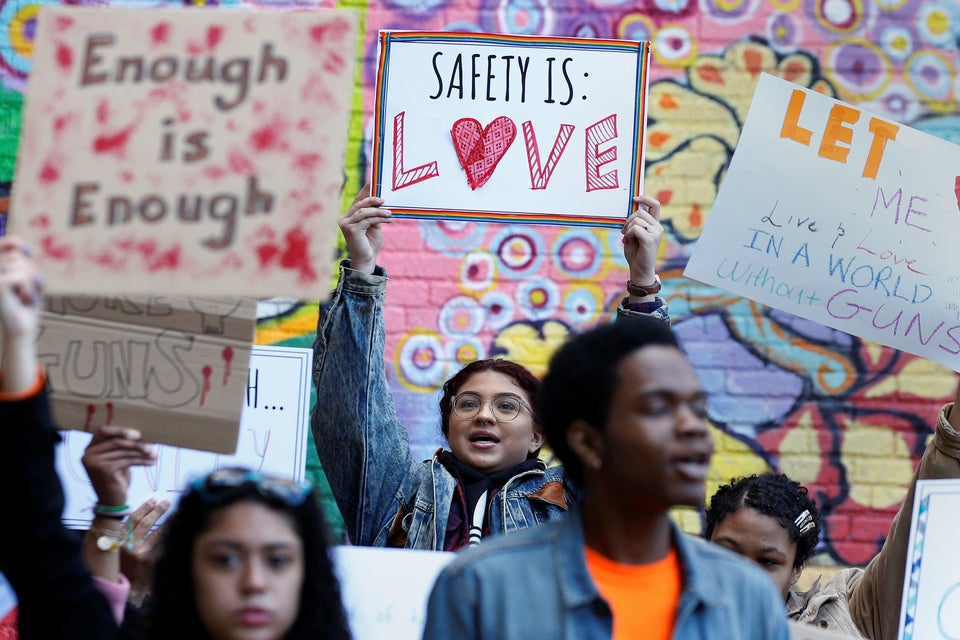 Student Walkout On Columbine Anniversary
Popular in the Community