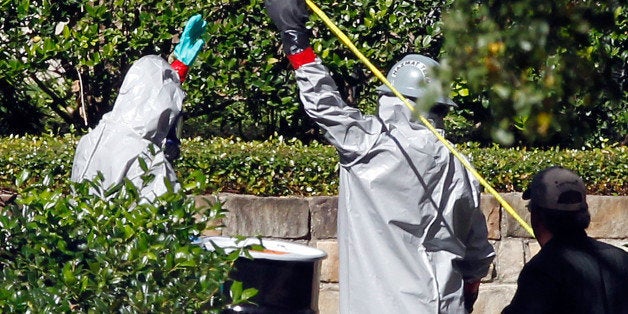 Several schools across the country have temporary closed their campuses for a thorough cleaning in the wake of potential exposure to Amber Vinson, a nurse who contracted Ebola after caring for Thomas Eric Duncan, the deceased patient who was the first to be diagnosed in the United States.
Vinson traveled to her hometown in Ohio to plan her wedding on Friday and stayed there for three days. On Monday, when it was time to fly back to Dallas, she had a low-grade fever of 99.5 degrees Fahrenheit -- and got permission from Centers for Disease Control and Prevention to board Frontier flight 1143 from Cleveland, Ohio to Dallas/Fort Worth, Texas.
While the flight crew said Vinson showed no signs of sickness, director Dr. Tom Frieden now admits that allowing her to fly was a mistake. She began showing symptoms and checked into Texas Health Presbyterian the day after her flight, where she was isolated and diagnosed with Ebola.
In response to the news of Vinson's diagnosis, schools in Texas and Ohio cancelled classes because students or staff were either on the same flight as Vinson or were in the same airplane used in later flights, reports USA Today.
Some schools didn't close their campuses, but had students and staffers who may have had contact with Vinson, her flight or the airplane, stay home. Those schools wrote letters to parents to let them know that affected community members would stay home from school for three weeks (the Ebola incubation period lasts from two to 21 days) out of an abundance of caution, according to USA Today. Those schools are Lake Pointe Elementary School in Texas and John F. Kennedy High School and Hathaway Brown School in Ohio.
CDC guidelines state that only people who come into direct contact with Ebola patients and directly touch bodily fluids like blood, diarrhea or vomit are at risk of contracting the virus. Because Vinson was not showing signs of sickness on the flight, Frieden maintains that the risk Vinson transmitted the virus to anyone is "extremely low."
Yet the schools' decisions to close campuses or bar certain people from campus reflect the general public's anxiety about the deadly but rare disease.
According to a poll published Thursday by Kaiser Family Foundation, almost all those surveyed (97 percent) knew that direct contact with an Ebola patient's bodily fluids can pass on the virus, and the majority of people (66 percent) knew that Ebola wasn't transmitted through air or that the virus couldn't be transmitted by shaking hands with someone who was exposed to Ebola but doesn't have symptoms (55 percent).
Despite this, a relatively large amount of people didn't know that an Ebola patient must be showing symptoms to pass the virus on to others (36 percent), while 48 percent incorrectly thought people who are incubating the Ebola virus can pass it on to others before showing symptoms. Perhaps this explains why 45 percent of those surveyed say they're worried that they or a family member will catch Ebola.
The survey polled a nationally representative sample of 1,503 people from Oct. 8, the day Duncan died, to Oct. 14, after nurse Nina Pham was diagnosed with the illness.