Close your eyes and imagine a place where harmful chemicals, pollution and toxins are nonexistent. In this haven, drinking water is completely pure, and fresh local food is prepared on the scene. As you walk through vibrant green fields, you are greeted by wildlife, blossoming flora, and friendly forest creatures, all while feeling overcome by a sense of positivity and tranquility. This is the Omega Center, a sustainable living institution and learning facility in Rhinebeck, New York.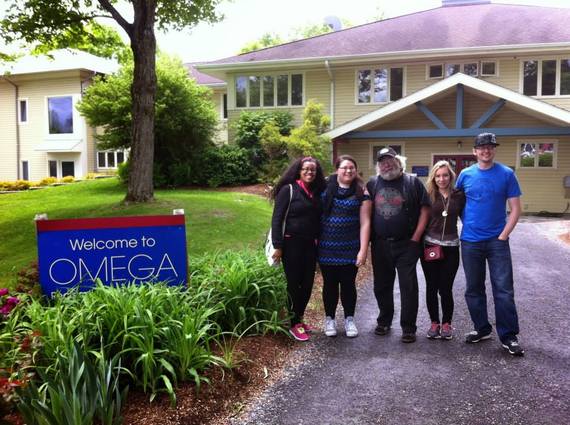 In the photo from left to right: Alyssa Ramos-Reynoso, Jacqueline Crutchley, Bob Hamberg, Kimberly Weller, and Quintin Todd

On our visit to the Omega Center, Schools for Sustainability (S4S) experienced how to live in harmony with the environment. At S4S, our goal is to build environmentally sustainable schools which give students the skills, the experience, and the education to either launch their own green businesses or go to college. Our students will learn living essentials, such as organic farming, waste management, renewable energy engineering, and environmentally-sustainable water purification and reclamation. Touring Omega was the perfect chance to learn about an environmentally net-positive water purification system, a technology that we will emulate and teach in our schools.
At Schools for Sustainability, we envision our schools to possess many of the same qualities as the Omega Center. Like Omega, we strive for our schools to be: a vibrant learning environment, a model for positive impact living, and importantly, we aim to create a place that exemplifies a healthy interdependence between humans and the planet.

Executives Jacqueline Crutchley and Alyssa Ramos-Reynoso, organized S4S long awaited visit to the Omega Center. A small group trekked a total of 7 hours to visit the facility, an experience well-worth the long journey. On arrival, we were greeted by Robert "Skip" Backus, CEO of the Omega Center. Backus provided us with an incredibly informative 2-hour tour fit with details about facility operations and information regarding the famous water-purifying EcoMachineTM. He welcomed all of our questions while providing us with detailed answers.

The Omega Center for Sustainable Living (OCSL), is a shining example of green building at its finest, holding the first Living Building Challenge certification and a Platinum LEED certification. The OCSL generates 100% of its energy on site, and all construction material comprising the center is natural and sustainably sourced. The facility is completely free of "Red List" chemicals and materials such as Lead, Mercury, Polychlorinated Biphenyls (PCBs), Phthalates, Volatile Organic Compounds (VOCs), Bisphenol A (BPA) and Chlorofluorocarbons (CFCs), to name a few. We learned that all-natural sourcing was no easy task. Chemical-free materials are often hard to find and expensive, two obstacles that S4S will face once in the construction phase.

In addition to hosting conferences, retreats, and educational programs on green living, the OSCL inspires sustainable action worldwide. For instance, business groups from Bangladesh and Singapore have visited the OCSL in efforts to create their own water purification systems based on the EcoMachineTM.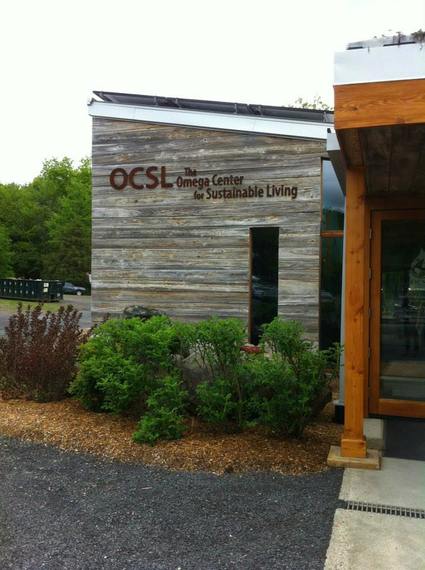 Learning about the EcoMachineTM was a highlight of our trip. Every drop of faucet, toilet, and shower water from the estate is efficiently purified through the Eco MachineTM in the following 7-step sequence:

1. Solid Settlement Tanks - Solids from waste-water form a sludge which is broken down by beneficial microorganisms.

2. Equalization Tanks - Two 6,000 gallon equalization tanks balance the water stream which prevents the water from overflowing. Equalization keeps the water moving at an appropriate pace for efficient and effective filtration.

3. Anoxic Tanks - After it is balanced, the water streams through two underground 5,000 gallon anoxic tanks, where natural microbial organisms digest ammonia, nitrogen, phosphorus and other materials.

4. Constructed Wetlands - Water is then dispersed among four wetlands where microbes and indigenous plants minimize biochemical oxygen demand, eliminate gases, harvest nutrients, and further reduce nitrates. This process boosts water clarity by 75%. Each wetland is the size of a basketball court.

5. Aerated Lagoons - Within the lagoons, tropical plants, fungi, algae, and other microorganisms transform toxins into innocuous base elements. The lagoons symbolize the beauty in "wastewater", as represented by the colorful flowers and tropical plants sustained by the water from which they grow.

6. Recirculating Sand Filter - From the lagoons, the water drains through sand, where native microorganisms digest any residual particulates and nitrates.

7. Dispersal Fields - Lastly, the clean water is purified even further in dispersal fields. Water flows through an aquifer, where it is again sanitized and drawn up through the groundwater table into wells.

The entire water reclamation system is completely free of chemicals, and runs entirely on solar energy. The EcoMachineTM can produce nearly 52,000 gallons of clean water daily. With the help of engineers, contractors and architects, Schools for Sustainability aims to implement a similar water treatment system in the Dominican Republic.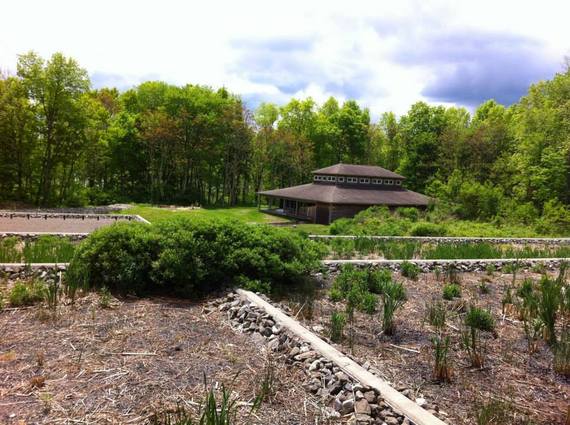 Although this undertaking will be expensive, labor intensive, and time-consuming, our drive as environmental stewards is far too strong to let these obstacles stop us. We have the willpower to bring this vision to life, and we will do what it takes to make it happen.
After the informative free tour and many questions, we explored the grounds. We drank deliciously pure Omega water, met a groundhog, wandered through a labyrinth, and said a prayer for our schools. As part of our prayer, we offered a Band-Aid as a symbol for the healing we strive to impart on those in need.
From our visit, we developed a relationship with the Omega Center which will help us in our journey. We also learned about upcoming workshops in leadership and team building, which we plan to attend. Seeing a successful green-living teaching facility energized us to push forward wholeheartedly.
We would like to thank the Omega Center for offering an excellent free tour and for letting us explore the beautiful campus. Also, we would like to graciously thank Robert "Skip" Backus for being so generous with his time and insights.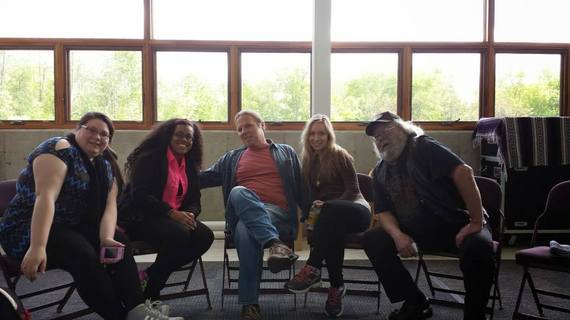 In the photo from left to right: Jacqueline Crutchley, Alyssa Ramos-Reynoso, Robert "Skip" Backus, Kimberly Weller, and Bob Hamberg
This article was co-authored by Kimberly Weller (also known as Kimmy). She is our Volunteer Grant Writer and Curriculum Team Member. She recently received her Master's of Science in Public Health from the Johns Hopkins Bloomberg School of Public Health. In her coursework, Kimberly focused on health behavior change program planning, implementation and evaluation. Kimmy earned a Certificate of Environmental and Occupational Health while attending the Bloomberg School and completed her master's final paper on Encouraging Environmentally Protective Behaviors. Kimmy has conducted research on marketing electric vehicles, green sports teams, climate change and its public health impacts, green buildings, and chemicals in plastics. For years, Kimmy has dreamed of teaching future generations about the importance of protecting human health and the environment through mitigating the effects of climate change. She is excited to be part of the Schools for Sustainability team, as she believes in the necessity of fostering an eco-conscious mindset among youth.
Related
Popular in the Community