The shock of Tuesday's Germanwings plane crash has reverberated around the world this week. Families from Argentina to Israel grieved after 150 passengers and crew members plunged to their deaths in the French Alps on flight 4U 9525.
Among them were 16 German high school students -- most of them 15 and 16 years old -- and two teachers on their way back from eight days in Spain. "It was a Spanish language exchange program and they were flying home after having what was probably the most wonderful time of their lives," Sylvia Loehrmann, education minister for Germany's North Rhine-Westphalia region, told The New York Times. "It's so tragic, so sad."
The two schools in Spain and Germany are now joined in mourning. This week, they have had to grapple with how to help dozens of children wrought by grief, under the glare of media attention.
Haltern
On Friday, German President Joachim Gauck was the latest visitor to Haltern, the town about 50 miles north of Dusseldorf where the students' high school is located. In the midst of crisis, we find ourselves "in a society of humans and not just one of functioning beings," he said at a memorial service for the young victims, pledging that their surviving classmates will receive the support they need.
Joseph Koenig High School is still reeling. On Thursday, students returned for the first classes since the crash and held a minute of silence for their absent friends. The town has rallied around the school, with students and parents from nearby schools contending with the mob of TV crews to come and pay their respects. Dozens of candles, letters and photos adorn the school's front steps in a makeshift memorial to the students. In the center, a sign in German reads: "Why?"
"Many students can't really understand what happened. These were their friends," headmaster Ulrich Wessel told CNN this week. The news on Thursday that prosecutors believe co-pilot Andreas Lubitz deliberately crashed the plane sent further shockwaves through the German town. "I told [my colleagues] it is much, much worse than we had thought," Wessel said. "It doesn't make the number of dead any worse, but if it had been a technical defect then measures could have been taken so that it would never happen again."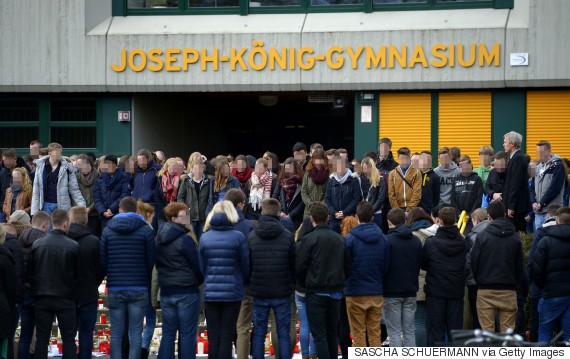 Ulrich Wessel, principal of the Joseph-Koenig-Gymnasium secondary school, stands amid his school's students as they observe a minute of silence on March 26 in Haltern am See. (SASCHA SCHUERMANN/AFP/Getty Images)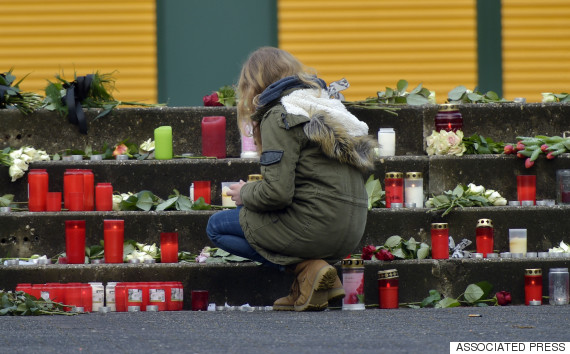 A student kneels down at candles placed in front of the Joseph-Koenig Gymnasium in Haltern, Germany, on March 25. (AP Photo/Martin Meissner)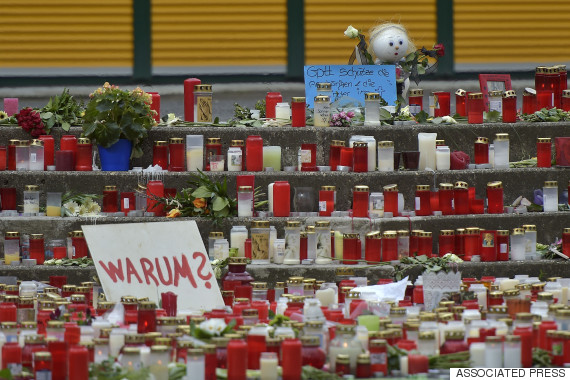 People look at flowers and candles placed in front of the Joseph-Koenig Gymnasium in Haltern, Germany, on March 26. (AP Photo/Martin Meissner)
Llinars del Vallès
In Spain, the village that hosted the German students is also in a state of mourning. Hundreds of people gathered Wednesday in Llinars del Valles, 25 miles northeast of Barcelona, to grieve the German students and teachers. A private memorial was held at the Giola high school in which students read a poem and sang a song taught to them by the German students, the BBC reported. "The school is completely destroyed," a female student told The Telegraph after the ceremony.
Giola students at first hoped that the German group had missed their flight after leaving some of their documents behind, and were shaken when they heard the news, Spain's El Periodico newspaper reported.
"You have this child staying in your home, you take them on excursions to Barcelona and in the end you've looked after this child as if it were your own for the week -- there's a lot of pain in this community today," the town's mayor Martí Pujol told The Guardian. Psychologists from the Red Cross have been brought in to aid the students in coping with the disaster, according to the newspaper.
The day after the crash, 30 more German students who were on an exchange at another school in the village returned home. Some of them decided against flying and took the train back to Germany, the mayor said.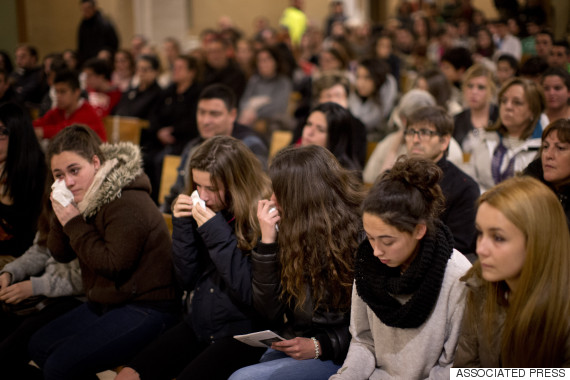 Friends of the German students from the crashed plane attend a mass in Llinars del Valles, near Barcelona, Spain, on March 24. (AP Photo/Emilio Morenatti)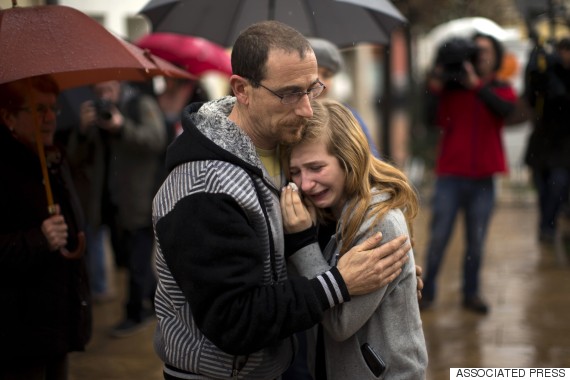 A student who knew some of the German students involved in a crashed plane, reacts during a minute of silence in front of the council building in Llinars del Valles, near Barcelona on March 25. (AP Photo/Emilio Morenatti)
Calling all HuffPost superfans!
Sign up for membership to become a founding member and help shape HuffPost's next chapter
BEFORE YOU GO
PHOTO GALLERY
Germanwings Flight 4U 9525 Crashes In France