Students across the country united for a day of action on Wednesday to challenge the racial inequities they face on campus. Calling it #StudentBlackOut Day on social media, student activists from more than 37 colleges led their peers in protests.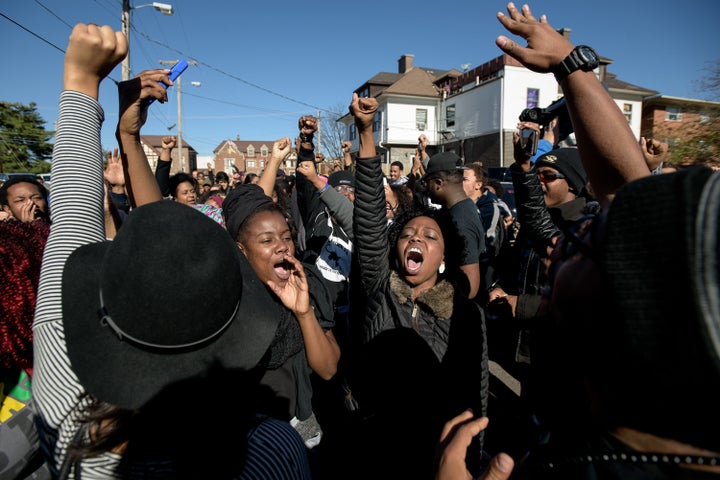 Protests at Mizzou created a domino effect, causing black students nationwide to fight the injustices on their campus. Many of the leaders of #StudentBlackOut Day are members of Black Liberation Collective, a group of about 100 student activists who are working toward safer, more racially inclusive spaces at colleges. Students at Michigan State University, Emory University, Ohio State University, Spelman College, Morehouse College, Princeton University, among others, participated. 
"We hope that black students organize and participate in actions that really challenge white supremacy and anti-blackness on their campuses," University of Connecticut student Yamiesha Bell told NBC News. "Every school is [unique] and has different needs and wants; however, we know oppression takes place at every institution in this country and white supremacy is embedded all through higher education."
 Students at participating colleges presented a list of demands to their university officials, outlining specific actions they want university officials to take toward social equality. 
Students at Towson University in were able to successfully engage with their university president after an 8-hour sit in, getting him to sign on to their demands, which included increasing the black faculty on tenure-track by 16 percent by 2018. Students who held a sit-in at Princeton, however, were told by the university president that he needs to be convinced that racism exists, according to a tweet by activist Zellie Imani. As of Thursday morning, the students are still holding their sit-in. 
While black students are still being called racial slurs and receiving death threats (most recently at Kean University), these protests are the first steps for these students to reach social equality.
"Our goal is to empower students," Imani told NBC News. "They themselves are the leaders they've been looking for."
PHOTO GALLERY
Scenes From The Protests At Mizzou
Calling all HuffPost superfans!
Sign up for membership to become a founding member and help shape HuffPost's next chapter