Over the weekend, The Hetrick-Martin Institute (HMI) held their annual School's Out event in the Hamptons. Celebrating its 15th year, School's Out marks the beginning of the Summer Programs with a cocktail party raising funds to help HMI to continue to provide a safe and supportive environment for more than 2000 lesbian, gay, bisexual, transgender and questioning (LGBTQ) youth between the ages of 13 and 24 and their families. Through the thousands of meals served, the hundreds who attend the Harvey Milk High School and those who participate in HMI's after-school programs, job-readiness training, and academic support, the youth are able to achieve their full potential and are provided with opportunities that may not have been previously available.
Joining HMI and its board members for the event at the Further Lane home of seasonal hosts, Designer Scott Sanders and Peter Wilson were New York's elite including Honorary Chair and Watch What Happens Live TV host Andy Cohen, Malcolm Carfrae of Calvin Klein, John Wattiker of Esquire Magazine, CFDA Womanswear Designer of the Year Joseph Altuzarra, Shoe Designer Brian Atwood and Celebrity Hair Stylist Scotty Cunha. Also in attendance were the reason for the organization itself, the amazing HMI Youth Alumni, to talk about the effect HMI has had on their lives. In particular, A'lani Houston spoke to the crowd of pastels about her personal struggle with her sexuality and her experience joining the HMI family: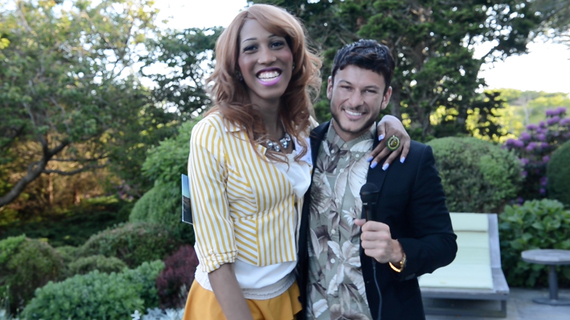 A'Lani Houston & Daniel Garofali
I needed guidance and the right words to express myself. When I entered at HMI they immediately provided me with guidance, resources and hospitality. Little did I know, I was joining the HMI family. The way I felt did not match with the way that I presented myself physically. HMI directed me to Transgendered Services where I was able to learn and understand about being transgendered. Not to long after, I started my journey as a transgendered woman and I stand proud now to look back and realize that my transition was one of the best decisions that I made in my life and luckily for me, I have my HMI family to support me along the way.
Listen to A'Lani's full speech here:
I first became involved the HMI during my coverage of Jeffrey Fashion Cares over the last few years. There I met Thomas Krever, the CEO of HMI, and from the very beginning I knew that a family environment was extremely important to the organization. He invited me to take a tour of the HMI premises in New York City for what he describes as "an average cup of coffee but an inspirational tour." I couldn't tell you how the coffee was but I can say that walking through the facilities of HMI and seeing the programs in action and how the donations are funding the nation's oldest and largest LGBTQ youth service organization was one of the most inspiring experiences. I immediately wanted to be involved in a greater capacity.
I know I am not any different from anyone else who has taken this guided tour before me. Everyone would come out feeling motivated to help make a positive change for a cause that is bigger than ourselves. In fact, the members of the board of directors of HMI told me about their own similar experiences of taking a tour of HMI, or meeting a staff or youth member at one of the events and then becoming not only involved in supporting, but becoming part of the HMI family.
The HMI Youth Alumni's presence at this years event illustrates HMI's greatest achievement. "The true testament to a good program is not just what you do for young people but what will they go out and do for others in return," explains Thomas Krever. And that is exactly what they are doing whether it is as interns, staff, academic support or as advocates. Board member Joan Katz sums it up well, explaining that "once you're here you're part of the family for life."
So you can imagine how honored I was when Thomas Krever shared "I'm glad you're part of the HMI family."
School's Out and other events have enabled HMI to begin to offer their free services on Saturdays for the first time. To donate, volunteer or support in any way, contact HMI at www.hmi.org. All donations processed in the month of June will be matched dollar for dollar up to $150,000.
This years sponsors include MINI, IC! Berlin, Barry's Bootcamp, Ketel One Vodka, Gant, Armani Exchange, T Magazine, Johnnie Walker and the Hamptons Magazine.
Popular in the Community