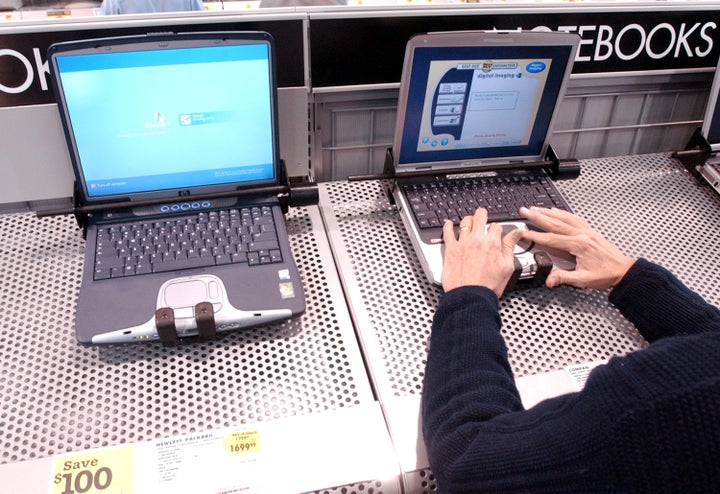 TWIN FALLS -- For Twin Falls High School biology teacher BJ Price, using mobile devices in the classroom isn't anything new.
His students use their own devices -- such as smartphones, iPads and iPods -- to do schoolwork.
Price also has computers in the back of his classroom. And in a couple of years, each student could each have access to a laptop.
State officials announced Tuesday that Hewlett-Packard was awarded an eight-year, $180 million contract.
Under Students Come First reforms, every Idaho public high school teacher and student will receive a HP ProBook Notebook 440s.
Will the contract announcement affect the conversation about Prop. 3?
The contract announcement comes just two weeks before the Nov. 6 election when voters will be asked to decide on the future of Students Come First. The technology portion of the laws is on the ballot as Proposition 3. The $180 million contract with Hewlett-Packard is void if voters vote "no" on Proposition 3.
Opponents of the law believe voters will still say "no" and proponents think the laptop announcement will answer any questions voters might have had in a positive way.
Mike Lanza, chairman of the "Vote No on Propositions 1, 2, 3" campaign, said he's confident that voters will overturn the law.
When it comes to HP, he said the company has a good reputation. And the "Vote No" group doesn't have a problem with the computers or the company chosen, Lanza said.
The issue is the top-down mandates on school districts, he said, noting that districts didn't ask for one-to-one mobile computing devices.
"Many districts already have a technology component in their curriculum," Lanza said.
Ken Burgess, campaign manager for "Yes for Idaho Education," said the contract helps bring a little more clarity to what was a concept in the past.
"I suppose it will help voters make a more informed decision about Proposition 3," he said.
The "Yes for Idaho Education" group supports the Students Come First laws.
After Tuesday's laptop contract announcement, Burgess said voters know exactly what the device will be, and there's a definitive cost attached to the one-to-one mobile computing device initiative.
"That cost issue was part of question mark in peoples' minds," he said.
Also, Burgess said the fact HP is a U.S.-based company with strong Idaho ties "has some strong value to it."
The one-to-one device is only a piece of Proposition 3.
The law also includes $9 million per year distributed to school districts for classroom technology, the requirement that high schoolers have to take two online classes in order to graduate, and the Dual Credit for Early Completers Program.
How are school officials reacting to the contract announcement?
Twin Falls superintendent Wiley Dobbs said school districts were notified they'd receive laptop devices, so yesterday's announcement wasn't a surprise.
"It lines up with what we had heard from the (technology) task force," he said.
One new piece of information, though, was how much the state will pay per laptop.
"The price came in better than I thought," Dobbs said.
It will cost the state $292.77 per student or teacher. That figure includes wireless infrastructure and employee training.
Dobbs said he's waiting on a more specific timeline of when teachers and school administrators will receive laptops.
Originally, the devices were supposed to go out this month or in November.
Melissa McGrath, spokeswoman for the Idaho State Department of Education, said about 6,500 laptops will now go out early next semester.
If voters keep the Students Come First technology law in place, one-third of high schools at a time will receive laptops starting during the 2013-14 school year.
Jerome superintendent Layne wrote in an email to the Times-News that school districts didn't know if the laptop would be a Windows-based operating system or Apple based.
Since it's Windows based, Layne said Jerome teachers are "very familiar with these systems."
"There won't be much of a learning curve for our high school teachers with the selected device," he said.
What happened during the bidding process?
The Idaho Division of Purchasing negotiated with five total vendors before awarding a contract to Hewlett-Packard.
Bill Burns, Administrator for the Idaho Division of Purchasing, confirmed the number of vendors Wednesday. He said he's asking those who want more information to file a public records request.
Earlier this year, the state put out requests for proposals for laptop devices.
Only three vendors responded and just one met the qualification requirements, the Associated Press reported in June.
The state put a stop to the bidding process. Instead, state officials negotiated directly with vendors.
What if the laptops get damaged?
Parents: If your child damages or loses their laptop, you won't have to pay for it.
McGrath said the contract with HP covers those costs.
That means the state will pay for the expenses, not parents or school districts.
What about school districts that already have mobile devices?
In Castleford, the school district bought every high school teacher and student an iPad this fall.
Earlier this month, superintendent Andy Wiseman told the Times-News the district will receive a check from the state instead of laptops.
Assistant principal Clint Evans said school administrators are happy with the decision to move forward with buying one-to-one mobile devices.
McGrath said schools -- like Castleford -- that already have one-to-one devices will still receive wireless Internet access under the contract with HP.
In Buhl, every high school teacher also received an iPad this fall from the school district through grant funding.
But they'll still receive laptops from the state.
Bill Fields, technology director for the Buhl School District, said the iPads are more of a teaching tool.
"It's a great device to teach with," he said. "It's not a great device to create content with."
(c)2012 The Times-News (Twin Falls, Idaho)
Visit The Times-News (Twin Falls, Idaho) at magicvalley.com
Distributed by MCT Information Services
Calling all HuffPost superfans!
Sign up for membership to become a founding member and help shape HuffPost's next chapter
BEFORE YOU GO