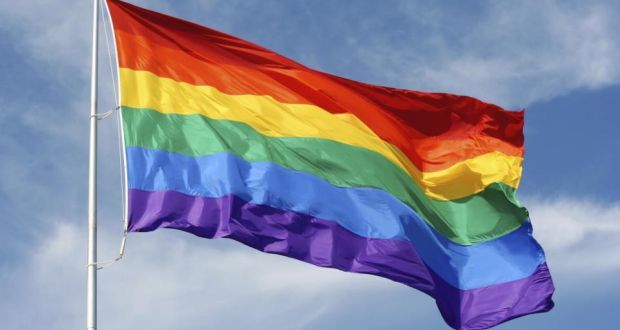 We're at the end of Pride Month, and across the country Pride parades have been taking place in cities large and small. Yet although it's been almost 50 years since the Stonewall Riots started the mainstream LGBT rights movement, the parades this year have shown the strain of renewed battles under the current administration. In Los Angeles, the parade committee decided to call it a "Resist March" rather than a pride parade, and San Francisco's historically celebratory march this year included a "resistance contingent."
It seems hard to believe that just two years ago the White House was decked out in rainbow colors to celebrate the Supreme Court legalizing same-sex marriage nationwide. Today, we're living with the most regressive political leadership regarding civil rights that we've had in decades. As a therapist and educator who has for years championed the rights of LGBT youth, I'm struggling to stay hopeful.
Education Secretary Betsy DeVos, with her abject refusal to take a stand on the maintenance of LGBT protections in the public school setting, is not making it any easier. While she has stated in a general way that she doesn't support discrimination, last month DeVos also refused to uphold denying federal funds to public schools that deny rights to LGBT students, or even those with LGBT parents. Consider what this means, when schools are one of the most powerful socializing forces of our youth.
A few months ago, I got a call from a parent wanting me to see her teenaged daughter for therapy, saying her previously happy, healthy, athletic daughter was becoming increasingly withdrawn, and failing in school for the first time ever. After a few sessions, the girl revealed to me that she had realized she was a lesbian and was terrified that anyone in her family or school would find out. She wasn't even sure that life as a lesbian was worth living.
"Read the news? People get to refuse service to people like me just because of who I am. At school kids say 'fag' and 'dyke' all the time and no one says anything. Why should I believe it's going to get any better?"
Some will say that we've seen great progress towards LGBT visibility and acceptance in the last few decades, and on some levels that's true. Twenty years ago, Ellen DeGeneres came out as a lesbian personally and on her television show, with painful repercussions for her as well as others who appeared on her show. Since then, we've seen gay characters in mainstream shows and movies; many states and then the federal government legalized gay marriage; the military's "don't ask, don't tell" law was repealed; and LGBT individuals and couples gained adoption and parenting rights.
But during that same time frame, what has changed in our schools?
Twenty years ago, I completed my dissertation, which examined how LGB youth were not served well by their school community. My research showed that despite a dropout rate that exceeded every other minority population, schools did nothing to keep gay and lesbian kids in the schools, and lack of support could actually be seen as contributing to the high dropout rate among this group. One young lesbian in my study, an honors student throughout 11 years until she dropped out her senior year, said to me, "I have seen my school bend over backwards to keep violent gang members on this campus, but when I started getting harassed, they didn't lift a finger to keep me here."
With the help of the media, society now has more visibility of LGBT lives, and young people can recognize homosexuality much more easily. But this visibility can have a detrimental effect, since schools haven't put serious protections into place to stop harassment. Eight states actually have laws that restrict teachers from talking about LGBT issues at all. With DeVos in charge, LGBT students have no reason to believe their rights will be protected. Is it any wonder then that the CDC reports that LGB youth are still today more than four times more likely to attempt suicide than their heterosexual peers, with one in six seriously considering it in the last year? LGBT teachers often feel only marginally safer as adults in the school setting, but their jobs are still not safeguarded by Federal legislation that protects many groups from workplace discrimination.
When it comes to making a difference, maybe the federal level feels out of reach, but that's no excuse for inaction. We need to hold educators more accountable to the communities they create for our children. Parents and all taxpayers need to speak up and start asking questions. How does the school handle bullying? What training is in place to help teachers learn how to address this issue? What is included in the curriculum that helps kids to understand the ongoing public battles over LGBT rights? Where are the safe spaces on campus?
This is not an issue that affects only the LGBT community. As long as a boy is afraid to be sensitive for fear of being called "faggot," and a girl doesn't want to risk being called a "dyke" if she's too strong or athletic, not only are the young affected, but we are all held within homophobic constraints of personal expression. As long as all kids can't be who they are, and LGBT teachers cannot freely be seen as positive role models, schools perpetuate the status quo of intolerance.
Calling all HuffPost superfans!
Sign up for membership to become a founding member and help shape HuffPost's next chapter
BEFORE YOU GO