WASHINGTON ― As Democrats cement their opposition to Supreme Court nominee Neil Gorsuch, it's increasingly looking like Senate Majority Leader Mitch McConnell (R-Ky.) will have to go "nuclear" to get him confirmed. That is, change the Senate rules to require 51 votes, instead of 60, to advance a Supreme Court nominee.
On Wednesday, Senate Minority Leader Chuck Schumer (D-N.Y.) warned Republicans against going that route, saying that they'll regret it in the long term, and that the better option is to demand a more mainstream nominee from President Donald Trump.
"They're acting as if a rules change is inevitable, like it's their only choice if 60 senators don't agree Judge Gorsuch should be confirmed. They're wrong," Schumer said at a press conference. "The answer is not to change the rules. It's to change the nominee."
Democrats argue that Gorsuch, currently a judge on the 10th Circuit Court of Appeals, is too beholden to corporate interests to be a fair Supreme Court justice. Progressive advocacy groups have been torching Gorsuch, too, highlighting his record of opposing reproductive rights, LGBTQ rights, civil rights, workers' rights, immigrants' rights and environmental protections.
"He was handpicked by special interests, is supported by special interests and has a record of siding with special interests," Schumer said. "This is no down-the-middle, neutral judge."
But their criticisms haven't slowed GOP momentum around Gorsuch's confirmation. His Senate vote is on track for Friday, April 7, and McConnell has exuded confidence that he will be confirmed.
"We are optimistic that they will not be successful in keeping this good man from joining the Supreme Court very soon," McConnell said Tuesday.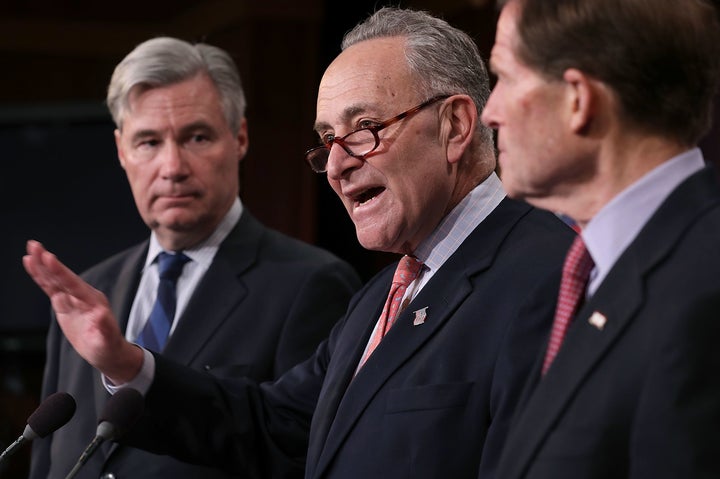 It may not be that simple. McConnell needs to cobble together 60 votes so Gorsuch can clear a filibuster. There are 52 Republicans and 48 Democrats (including two independent senators who caucus with them), meaning he will need eight Democrats to vote with Republicans. For the moment, the Senate leader doesn't appear to have those votes.
That's where the "nuclear option" comes in. Republicans can go around the 60-vote requirement by using this rarely invoked procedural step to change the rules, so it would only take 51 votes to move forward on a Supreme Court nominee. Former Senate Majority Leader Harry Reid (D-Nev.) took this step in 2013, when, in the face of ongoing GOP obstruction of President Barack Obama's lower court nominees, Democrats changed the rules to require 51 votes for them. But they left the 60-vote requirement in place for the Supreme Court.
The question is whether Republicans have it in them to make a rules change that could permanently alter the Supreme Court confirmation process. It would take 51 Republicans to agree to make the change. Some don't like the idea of eroding the institution of the Senate, which, unlike the House, specifically has rules like this to require bipartisanship and consensus. Others worry such a change could come back to bite them when Democrats regain the majority and a Supreme Court vacancy opens up.
Schumer is hoping those concerns will weigh heavily on GOP senators. "If they decide to change the rules, it will be on their back," he said.
Republicans are publicly signaling they're prepared to do whatever it takes to get Gorsuch through. Even moderate Sen. Susan Collins (R-Maine) has suggested she'd go along with a rules change. Privately, though, GOP senators may be more uneasy about it.
"I've had conversations with them. They certainly have strong reservations about it for all the the obvious reasons," Sen. Richard Blumenthal (D-Conn.) told The Huffington Post. "They certainly know the institutional seismic impact that this change in rules would have for future generations of Senate colleagues."
The path ahead for Gorsuch is still a guessing game. McConnell may find eight Democrats willing to vote with Republicans to get to 60 votes. That would avoid the specter of a rules change. Or, Democrats may decide to present a united front and deny McConnell 60 votes, which would put pressure on him to change the rules and require nearly all Republicans to agree to change a rule they like.
Either way, it's about to get messy.
Before You Go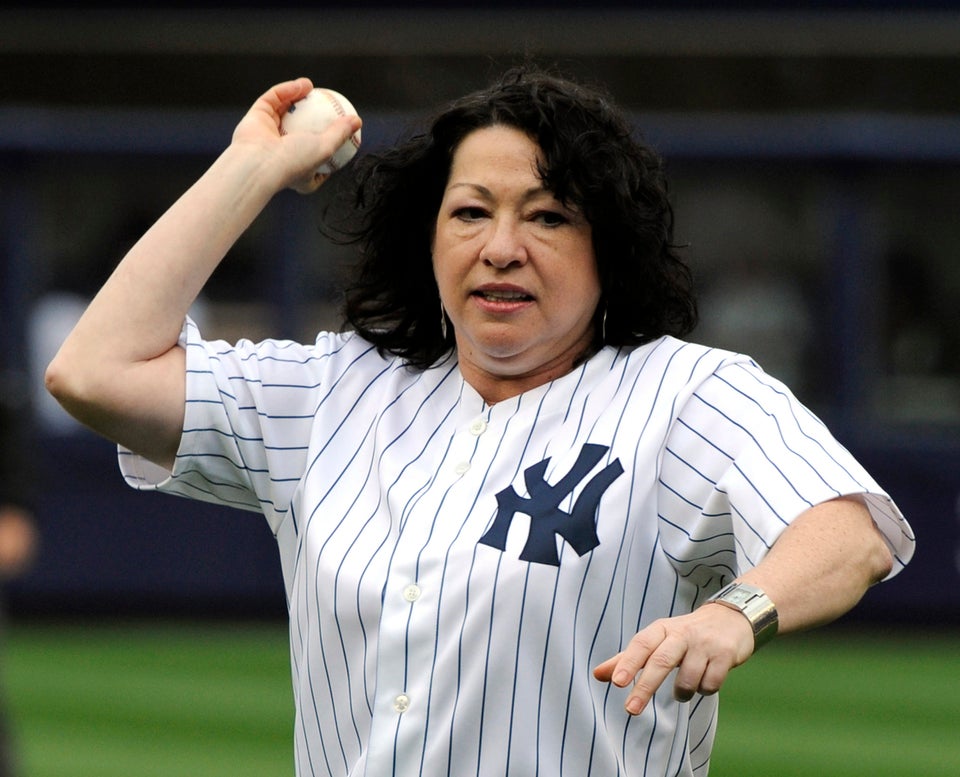 Supreme Court Justices Get Out Of The Office
Popular in the Community