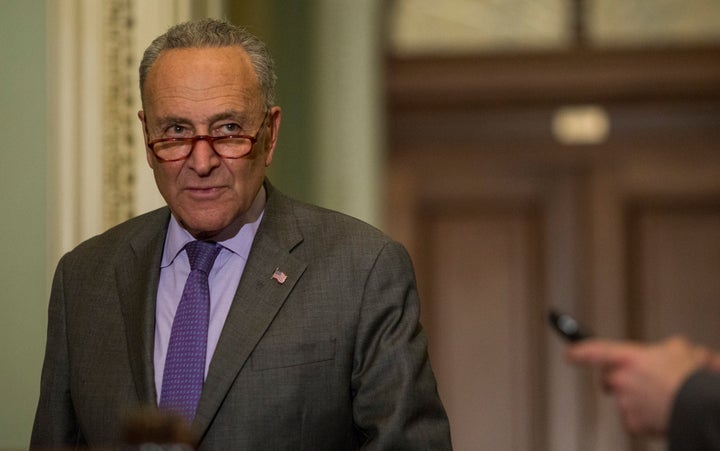 Thirteen progressive groups sent Schumer a letter Wednesday morning, telling him anything less than a united caucus vote against Kavanaugh will be "a massive failure of your leadership."
"Your job as Senate Democratic leader is to lead your caucus in complete opposition to Trump's attempted Supreme Court takeover and to defend everyone threatened by a Trump Supreme Court," they wrote. "But unbelievably, nearly two dozen Democrats have still not come out against Kavanaugh, and just last week, you helped Majority Leader Mitch McConnell fast track 15 Trump judicial nominees. That is not the leadership we need."
The signatories include Credo, Democracy for America, Indivisible and UltraViolet, and many of the groups have been critical of the minority leader in the past as well. Schumer's office declined to comment.
A group of activists also occupied Schumer's Capitol Hill office Tuesday evening.
Part of the progressive frustration with Schumer is over a deal he made with Sen. McConnell (R-Ky.) last week, when he agreed to expedite confirmation of 15 of President Donald Trump's judicial nominees to lifetime federal court seats. The deal allowed Democratic senators to go home sooner for the Labor Day recess to spend more time campaigning.
Arguably, all those nominees could have made it through anyway, since Republicans have a majority in the Senate. But Democrats could certainly have delayed their confirmations and caused headaches for Trump and McConnell if they had fought back. And that fighting spirit is what many progressive activists want to see more of.
Democratic senators did come out swinging Tuesday morning at the start of Kavanaugh's hearings before the Senate Judiciary Committee, demanding a delay because they didn't have time to review documents related to Kavanaugh's background that were released just hours before. Schumer had convened a call with Judiciary Committee Democrats over the weekend to coordinate hearing strategy, according to a source familiar with the effort.
But the proceedings then largely went ahead as planned ― albeit with frequent interruptions by protesters ― with senators giving their opening statements. And many progressive activists are frustrated with the focus on documents and process, and they'd like to see Schumer exert pressure on some of the more conservative Democrats ― such as Joe Donnelly (Ind.), Heidi Heitkamp (N.D.) and Joe Manchin (W.Va.) ― to stand united with the rest of the party. All three are up for re-election this year and voted for Trump's previous Supreme Court justice, Neil Gorsuch.
"Your strategy to sacrifice the Supreme Court in order to hold Democratic Senate seats is not only strategically and morally wrong, it will fail," the progressive groups wrote in their letter Wednesday. "It is wrong to assume that a no vote on Kavanaugh puts red-state Democrats in electoral peril or somehow protects them from Republican attacks."
Popular in the Community