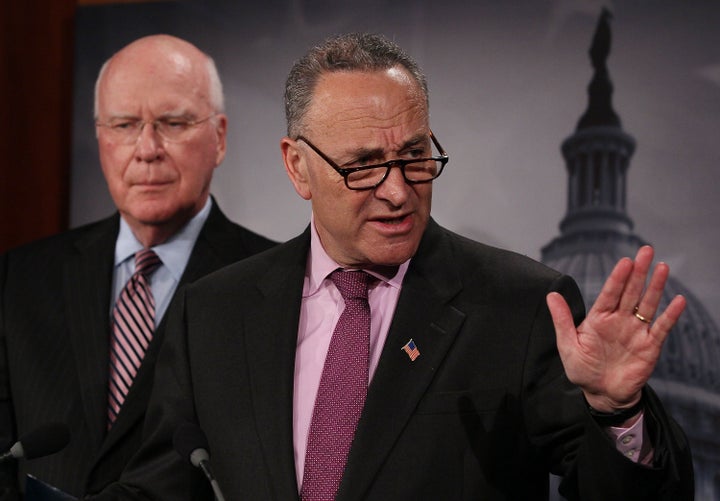 Senate Democrats have offered a compromise to Republicans in hopes of getting just a solitary vote tomorrow on sweeping campaign finance disclosure laws.
Addressing GOP concerns that the DISCLOSE Act -- which would require unprecedented transparency from organizations spending on campaigns -- was authored in an attempt to change the course of the 2010 elections, Sen. Chuck Schumer (D-N.Y.) announced on Wednesday that he will move the start date for the legislation until next year.
"We are willing to change the effective date to January 2011 so that it won't apply to this November's election," Schumer said. "Even if we didn't take this step, the reality is, we are late enough in the election cycle that the law could not realistically take effect in time for this fall. But to show we are willing to work with Republicans, we would offer this as an amendment if we can get onto the bill."
Schumer's concession, as he himself noted, is more ceremonial than substantive. Under the legislative language of the DISCLOSE Act, there is a 30-day window before implementation; meaning that if the law were passed tomorrow it would only go into effect roughly ten days before the elections took place. But the move is still a gesture of good faith to the GOP, one that Democratic leadership had steadfastly refused to make when the legislation was first being considered.
"What we are saying proactively is that if [the] GOP were to allow cloture to allow this to proceed, there will be a substitute amendment filed saying January 2011 will be the effective start date for the bill," said an aide.
There have been a number of Republican lawmakers who have tied their "no" vote on DISCLOSE to the pro-Democratic implications they believed it would have on the 2010 elections. And so, it would stand to reason, their opposition would lesson with Schumer's compromise. Schumer has been working the moderate Republicans in anticipation of Thursday's vote.
But aides on the Hill aren't holding their breath. The party had 57 votes for the measure the first go-round. But Senate Majority Leader Harry Reid (D-Nev.) voted against the bill for procedural purposes (he wanted to bring it up again during this Congress) and Sen. Joseph Lieberman (I-Conn.) missed the vote. With those two in line, the party still stands one shy of ending a GOP filibuster on the measure.
Popular in the Community