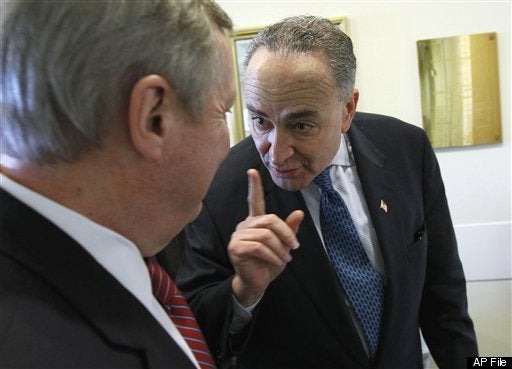 NEW YORK -- Three million senior citizens could each have to repay the government $250 if health care reform is repealed, according to two Democratic senators, the latest in Democrats' offensive to highlight the benefits of the Patient Protection and Affordable Care Act.
Sens. Charles Schumer (D-N.Y.) and Robert Menendez (D-N.J.), both members of the Finance Committee, which oversees Medicare, have written a letter to House Majority Leader Eric Cantor (R-Va.) arguing that repealing the Patient Protection and Affordable Care Act could force seniors to send back the prescription drug rebate checks they received in 2010. From their letter:
We are particularly concerned that repeal would reverse the course of making prescription drugs more affordable for seniors. The legislation approved by the House could require seniors to repay the government. As a first step to reducing the cost of prescription drugs, the ACA provided a $250 rebate check to seniors who fell into the "donut hole" -- or gap in prescription drug coverage -- in 2010. Repeal could force 3 million seniors to repay the government the $250 that they received last year.

Richard Foster, the Chief Actuary for the Centers for Medicare and Medicaid Services (CMS), has said that "in theory," seniors would have to return the checks if repeal becomes law. As you know, the burden of returning these funds will be significant on these millions of American seniors. In most circumstances, the individuals have already spent the funds, making the government's attempt to claw back these payments both impractical and unfair.

Repeal of the ACA will also re-open the Medicare "donut hole" -- immediately removing the 50 percent discount on prescription drugs that millions of seniors receive today. Seniors would once again be forced to pay out of pocket for important preventative services like mammograms, annual physicals, cervical cancer and colorectal cancer screenings, cholesterol tests, and flu shots. Repeal will also revoke the 12 additional years of solvency for the Medicare Trust Fund, harming America's seniors and taxpayers.
Cantor spokesman Brad Dayspring said that their office has not yet received the Schumer-Menendez letter. "Since Senator Schumer is behind this letter, it's not shocking it'd be sent to the press before the person it is actually addressed to," he wrote in an e-mail to The Huffington Post.
On Tuesday, at a briefing with reporters, Cantor addressed the $250 checks and said that Republicans don't envision that seniors would have to repay the government.
"These checks were received under existing law now," said Cantor. "If a repeal bill passes and there's any uncertainty as to whether those checks would have to be recaptured, we can speak to that then. But no, the intention is not to require seniors to return the $250 checks that they received under the operation of the law."
In their letter, Schumer and Menendez wrote that assurances to address "unintended consequences of the House-passed repeal measure ... at a later date" are "insufficient": "We urge you to commit to undo this problem now, if it is determined that repayment is necessary."
"It shows this, you know, rush to recall the entire bill, which almost all Americans believe have good parts, even those who are for repeal," said Schumer on CBS's "Face the Nation" on Sunday, admitting that he isn't sure whether seniors would actually have to repay the government if repeal is implemented. "Only 20 percent are for full repeal and the rest say keep the good parts of it. So this rush to do it doesn't make sense. And we hope that Majority Leader Cantor will say today that, if the $250 has to be returned, he will ask to bring back the bill that they passed, to recall it."
Popular in the Community