Reflecting an increasingly aggressive strategy for the 2008 election cycle, Sen. Chuck Schumer, D-NY, acknowledged on Wednesday that the Democrats are gunning for the seat of Senate Minority Leader Mitch McConnell, R-KY.
Schumer cited McConnell as a Democratic target for the first time during an open press briefing, and took a swipe at the Senate GOP leader, suggesting that his proximity to President Bush and his sagging poll numbers put him directly in electoral limbo.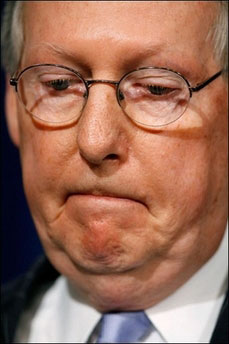 "One state that we have our eye on," said Schumer, "you've all seen the numbers, Sen. McConnell's numbers are not very good and we are hopeful of having a Democratic governor and we are going to go out and try to get a Democratic senator."
The statement reflects a growing desire within the Democratic circles to go after GOP congressional leadership in much the same way former minority leader Tom Daschle, D-SD, was targeted and upset in 2004. Already, the Democratic Senatorial Campaign Committee and independent 527 groups have run ads in Kentucky highlighting McConnell's support for the Iraq war and his work in sustaining President Bush's veto of the State Children's Health Insurance Program bill.
A recent Lexington Herald Leader survey put McConnell's state job approval rating at a pedestrian 46 percent approve/47 percent disapprove. The Senator's favorability ratings were not much better - 47 percent favorable/46 percent unfavorable.
Political observers cited a myriad of reasons for these mediocre numbers, primarily McConnell's high profile as minority leader - which often forces him to align with President Bush - as well as the senator's support for embattled Kentucky Gov. Ernie Fletcher, who is currently embroiled in multiple ethics scandals. More recently, McConnell has found himself in a scandal of his own making after the Lexington Herald-Leader reported that he was "pushing $25 million in earmarked federal funds for a British defense contractor that is under criminal investigation by the U.S. Justice Department."
Still, election watchers caution that Democrats face an uphill clime in efforts to unseat their chief Senate rival. For starters, there is no clear challenger to McConnell. Greg Stumbo, Kentucky's attorney general, has launched an exploratory committee. But those familiar with the race say he comes with some personal baggage, including an illegitimate child. Andrew Horne, meanwhile, is a veteran, but lost when he ran for Congress in 2006.
"I don't know how vulnerable McConnell is because the atmosphere right now is so poisonous with this governor's race that it may be clouding whatever the reality is," said Jennifer Duffy, managing editor of the Cook Political Report. "And once you get beyond this [governor's] race who is their candidate. You can't beat someone with no one."
Irrespective of the McConnell race, Schumer held forth optimistically about the current political landscape. Citing Republican obstructionism, a stagnate or worsening situation in Iraq, and a president who offers little if any political support to endangered GOP members, the DSCC chief predicted continued gains in 2008.
"This could be the seminal election," said Schumer. "The last seminal elections... they occur about once a generation, they change the tectonic plates of politics and they create a generation for one-party dominance."
Calling all HuffPost superfans!
Sign up for membership to become a founding member and help shape HuffPost's next chapter