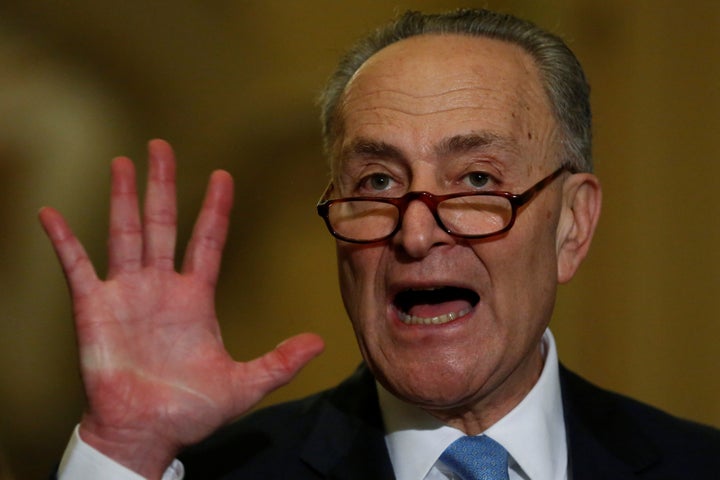 Sen. Chuck Schumer (D-N.Y.) said Friday that he plans to vote against former Exxon Mobil CEO Rex Tillerson for secretary of state. 
"I will oppose his nomination, and I encourage the full Senate to do the same," Schumer said in a statement released shortly before President Donald Trump was scheduled to speak to Russian President Vladimir Putin about sanctions imposed after Russia invaded Ukraine. 
"Mr. Tillerson's refusal to back new sanctions on Russia, and his refusal to even pledge to fully defend the current sanctions regime is unacceptable but not surprising given his closeness to Vladimir Putin and the depth of Exxon's investment in Russia," the Senate minority leader said.
Schumer said the oil magnate's record on climate change and his refusal to break with Trump on a possible registry of Muslims would inflame already tense relationships with other countries. 
"Just one week into his administration, President Trump is turning our foreign policy into shambles," Schumer said. "His nominee for Secretary of State, Rex Tillerson, a man who will not lift a finger to fight climate change and will not rule out a Muslim registry, would make it even worse." 
Sen. Bernie Sanders (I-Vt.) went even further Friday, calling Tillerson's nomination "one of the worst choices Trump has made." 
Under Tillerson, Exxon Mobil shifted its public messaging to acknowledge that the climate is changing, but continued to fund groups that undermine the overwhelming scientific consensus that burning fossil fuels is the chief cause. Tillerson publicly backed a national tax on carbon as early as 2007. Yet the company lobbied against two bills that would have established carbon taxes in Massachusetts as recently as last year, when Tillerson was still chief executive.
During his confirmation hearing earlier this month, Tillerson brazenly refused to answer questions about how much Exxon Mobil knew about climate change decades ago. Trump ― who has called global warming "a hoax" and stacked his Cabinet with fossil fuel allies ― has already erased climate change from the White House website, signed executive orders to build controversial oil pipelines and made moves to muzzle and gut the Environmental Protection Agency. 
Schumer's vote is unlikely to derail Tillerson's confirmation. He narrowly won approval from the Senate committee that hosted his hearing when Sen. Marco Rubio (R-Fla.) voted for him, despite having grilled him aggressively at the hearing. Senate Majority Leader Mitch McConnell (R-Ky.) moved on Tuesday to set a procedural vote to confirm Tillerson in the full Senate by the end of next week. 
But Schumer is under intense pressure to beef up his resistance to the Trump administration. Progressive protesters have gathered outside his offices in Washington and New York in recent weeks, demanding he muster something that resembles to the scorched-earth opposition Republicans led to obstruct former President Barack Obama.
REAL LIFE. REAL NEWS. REAL VOICES.
Help us tell more of the stories that matter from voices that too often remain unheard.
BEFORE YOU GO
PHOTO GALLERY
Climate Deniers