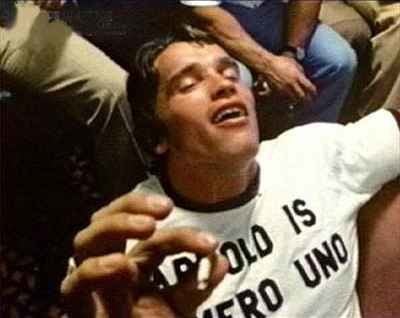 Arnold Schwarzenegger has an answer for an age old question: What are you smoking?
His response: Who cares? At least if it's pot.
The outgoing California Governor appeared on NBC's "Tonight Show" on Monday for a wide-ranging discussion about politics, including a law he recently signed to reduce the state's punishment for possession of up to an ounce of marijuana. The maximum penalty is now $100, with no arrest or criminal record -- he equated it to "a speeding ticket."
"No one cares if you smoke a joint or not," he told host Jay Leno while talking about recent election results in California. The comment drew a few supportive shouts from the crowd. Schwarzenegger didn't put much emphasis on the statement, but it was quickly echoed across the Twitter accounts of various news outlets. Instead, he casually moved on -- indicative of a laid back view on the issue that some of his constituents hold.
But many of his constituents do care. A week earlier, the state rejected a ballot initiative that would have legalized pot possession and allowed limited cultivation for individuals over 21 years old. It failed by a margin of 54% to 46%. Schwarzenegger acknowledged that the marijuana law he signed may have actually hurt the measure, which he said "went a little bit too far" and "was written badly." While remaining noncommittal on the idea of legalization, he left the door wide open by adding, "Propositions don't die because the idea is bad. It just dies because it's written wrong."
Of course, this would hardly qualify as news to people in California, who are well aware of their governor's position on the unofficial state plant. Schwarzenegger has been depicted on film smoking a joint during his days as a bodybuilder -- a full Hollywood career before he became a politician. He has insisted that the joint was real and been blunt about the fact that, "I also inhaled -- unlike some people claim."
WATCH SCHWARZENEGGER ON LENO:
WATCH SCHWARZENEGGER LIGHTING UP:
Support HuffPost
The Stakes Have Never Been Higher
Related
Popular in the Community