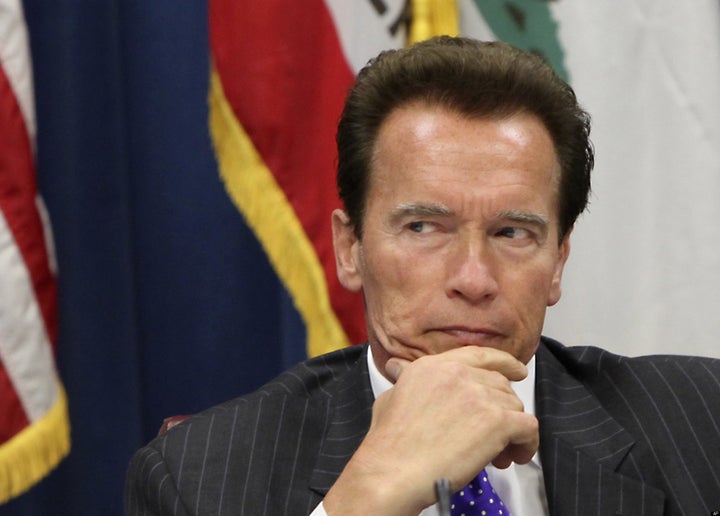 Remember when California Republicans wanted to amend the U.S. Constitution so that Gov. Arnold Schwarzenegger could run for president?
The founding fathers barred foreign-born citizens from the Presidency. Schwarzenegger, of course, is a native of Austria - that's where he got that terrific accent.
And in the heady days of 2004, the bodybuilder-turned-movie star-turned-point-man of the Gray Davis recall movement was hugely popular.
A Terminator for President campaign seemed plausible, the constitution notwithstanding.
But after years of cutting, slashing, borrowing and butting heads in a vain attempt to get a handle on the state's chronic budget deficit, Schwarzenegger's job-approval ratings hit a new low in this week's Public Policy Institute of California poll.
Only 23 percent of Californians think the Republican governor is doing a good job, while 65 percent disapprove, the survey found.
Six years ago this month, the governor's numbers were very nearly reversed: 64 percent approved of Schwarzenegger's job performance, while 26 percent disapproved.
The honeymoon began to fade in 2005. Schwarzenegger's ill-advised decision to cut staffing levels at the state's hospitals embroiled him in a bruising fight with unionized nurses.
"I am always kicking their butt," the governor said at one point, but a judge overturned the proposed staffing cuts, and the mass protests organized by the California Nurses Association drove his approval rating below 60 percent for the first time.
By March 2008, his numbers had dropped into the 40s: Blame the state budget mess and conflict with both the Democratic leadership of the Legislature and lawmakers from his own party about how to fix it. Then, with the crippling recession, the governor's ratings sank into the 20s, where they remain today.
As one would expect, Democrats are especially down on the governor, according to the institute's new numbers: 73 percent disapprove, according to the survey. But Republicans are also deeply dissatisfied, with 63 percent disapproving. The governor fares slightly better among independents (62 percent). Latinos (74 percent) are even more dissatisfied than whites (61 percent). Californians who earn less than $40,000 are also especially critical (70 percent disapproval) but Schwarzenegger doesn't fare well with any demographic.
It's cold comfort that the Legislature's job approval rating is even worse than the governor's - only 16 percent. That's the lowest in the Schwarzenegger era.
All that disaffection is related to the recession, the survey indicates. The state's sour economy is viewed as a crisis: 53 percent of respondents cite it as the most important issue facing California. (A distant second is the state budget, cited by 15 percent.)
Californians are uncharacteristically downbeat about the future, the poll also shows: 65 percent fear the state is in for more bad times in the next 12 months.
Calling all HuffPost superfans!
Sign up for membership to become a founding member and help shape HuffPost's next chapter