The mask, the mayhem, the music: for four decades the Halloween movies have invaded popular culture. Boasting one movie aggressively revered as a classic (the first one), the series continues in one of the most disjointed continuities (or really: outrageous lack thereof) in all of cinema — but features some underappreciated gems. Halloween is also back in entertainment news, for this time next year, we'll behold Jamie Lee Curtis returning to the series that launched her storied career. Challenging undertaking for screenwriters Danny McBride and David Gordon Green (the latter also directing) -- as Curtis' character, Laurie Strode, is declared dead in parts 4, 5, and 6; plus the revivified Ms. Strode is graphically killed onscreen in the eighth one. Well, anyway, join me in looking back at this entertaining if sometimes confounding series.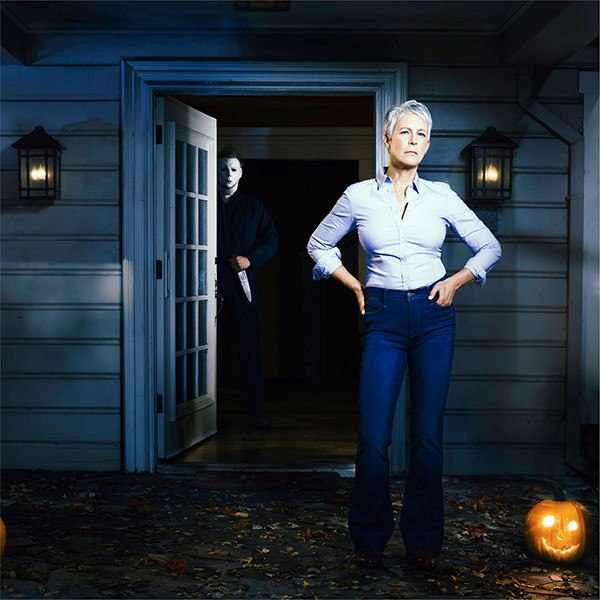 HALLOWEEN (1978) 🎃🎃🎃1/2/5 Conceived merely as the lurid "Babysitter Murders" until producer Irwin Yablans pushed for setting it on Halloween night, this one's narratively anemic -- its "plot": strong, silent type arbitrarily stalks seventh-year highschoolers, his blathering therapist in pursuit -- but earns its hosannas primarily in terms of atmosphere and performances, both verging on brilliant. As Captain Kirk-masked Michael Myers invades autumnal suburban Illinois, just ignore that background palm tree (the film was shot in South Pasadena, in springtime), and dig the moody tableaux and nearly bloodless violence. Jamie Lee Curtis delivers a star-making performance, and her onscreen pal P.J. Soles keeps things slightly naughty while presaging '80s kitsch ("Totally!") years before Sean "Spicoli" Penn. The first of five deliciously histrionic performances from Donald Pleasence as Dr. Sam Loomis (Psycho references abound) makes this a must-see -- even though we're left to wonder how it would have gone down had Christopher Lee accepted the role!
HALLOWEEN II (1981) 🎃🎃🎃/5 If you liked the first one, and you want to peek at "The Shape" doing more unpleasant things to people, you'll dig this ride. Picking up exactly where the first movie left off -- though produced three years later (competing with slasher-mania) -- Halloween II features Jamie Lee Curtis (in a passable wig) struggling to escape the decidedly unfunny Mike Myers, as he terrorizes her and several other people in a dimly-lit hospital -- again with Donald Pleasence enjoyably freaking out at every turn. Some modest backstory is scattered among the lurid bits. While not as elegant as the original, and leaning more gruesome in its fanperson "kills," this energetic sequel by director Rick Rosenthal ably sustains the thin storyline -- until, suddenly, it doesn't.
HALLOWEEN III: SEASON OF THE WITCH (1982) 🎃🎃🎃🎃/5 #Sorrynotsorry, I love this crazy thing. My dad took me to see it (not sure what he was thinking). Very unlike the first two Halloween movies, this ambitious mess represents the producers' (unsuccessful) attempt to launch an anthology series. Taking the form of a mystery with an actual (nutjob) plot, Halloween III follows a feathered-haired doctor (Tom Atkins) and Woody Allen's former girlfriend (Stacey Nelkin) to a Northern California motel -- but their romp proves short-lived, as a pagan toymaker (Dan O'Herlihy) — pagan toymaker! — plans to destroy the world's children via rubber masks infused with chips of -- y'know, it's better if you just watch it. Classic British sci-fi writer Nigel Kneale composed the first draft -- then took his name off the project! Basically putting all genres into "genre picture," making the weirdest episode of Doctor Who look like any old cop-hospital-fire-courtroom show, this sublimely silly story blends crude social satire with icky effects, plus the most annoying earworm this side of "We Built This City." Puzzlingly, Halloween III: Season of the Witch lost Best Picture to Gandhi.
HALLOWEEN IV: THE RETURN OF MICHAEL MYERS (1988) 🎃🎃🎃/5 Eerie atmosphere: check. Bookish 25-year-old highschooler with foster sister to protect: check. Increasingly crazed psychiatrist: check. Mysteriously rehabilitated boogeyman: check. Admittedly, I wasn't paying attention when these next three movies were initially released; the slasher craze was waning, I had stuff to do, and: "Michael Myers? Again?" Still, mainly owing to a fun, frenetic script by Alan B. McElroy (completed in 11 days!), this entry delivers the...goods? Bads? Whatevs. It's ten years later, Utah subs for Illinois (as in the next two), and "The Shape" stalks his niece, Jamie (get it?) Lloyd (Danielle Harris). Jamie Lee Curtis was busy, so in this semi-continuity, her character has died, with Ellie Cornell handling Final Girl duties. The mask sucks, but look for its amusing blond variant in the school scene. Boasts a shocker ending featuring Mr. Pleasence at his most thrillingly melodramatic.
HALLOWEEN 5: THE REVENGE OF MICHAEL MYERS (1989) 🎃🎃/5 The one they can't sell without attaching it to other titles in the franchise. Continues the Pink Panther title trend. Frustratingly ditches the narrative potential of 4 by rehashing 4. Adequate, watchable, meh. Mask sucks again. But ends with clues of intrigue to come!
HALLOWEEN (VI): THE CURSE OF MICHAEL MYERS (1995) 🎃🎃🎃🎃/5 In the grand tradition of Kevin Bacon, Johnny Depp, and Jennifer Aniston, Paul Rudd launched his lovely career with his dire "genre" turn here as Tommy Doyle: a mostly grown-up version of the kid Laurie Strode was babysitting in the first movie. There is much to like about this movie, but view the decades-awaited Producer's Cut! (The theatrical cut bellyflopped.) Much like III (and unlike the others), there's plentiful story here -- goofy, but fun. Tommy teams up with Dr. Loomis -- Mr. Pleasence's hoarse pathos in his final role is genuinely moving -- to battle a cult bent on, erm, "restoring the balance" by having a big guy in a Captain Kirk mask finish off his killing spree, then pass the torch. They failed again to get Christopher Lee, but with a legitimately solid performance, Marianne Hagan -- allegedly dissed by the Weinsteins for her appearance (!) -- deftly ties the movie together in the archetypal role originated by Ms. Curtis.
HALLOWEEN: H2O (1998) 🎃🎃🎃/5 ...or as I like to call it, Halloween: Water -- wherein the archetypal role originated by Ms. Curtis is fulfilled anew by Ms. Curtis: to the consternation of continuity buffs, but she's really good in this one! All grown up and with a son (Josh Hartnett), not a daughter, the curiously alive-again Laurie Strode is living under an alias as headmistress of a private academy in California where LL Cool J runs security. No more Dr. Loomis here, but Jamie Lee's real-life mother Janet Leigh shows up with the actual car she drove in Psycho!
HALLOWEEN: RESURRECTION (2002) 🎃🎃🎃/5 The explosive ending of a previous film is once again discarded by this confusing franchise, as we open with Laurie Strode, wracked with guilt, seemingly vegetative in one of those horrifyingly dank asylums only found in movies. Sure enough, Michael Myers once again stalks his sister: and this time -- well, let's say she's not in the rest of the movie -- which Rick Rosenthal (Halloween II) returns to transform into a zesty haunted-house romp. In Vancouver, Illinois, Expendable Youths and Sensitive Young Woman populate the Myers house for a night on a reality-TV dare, and guess what happens! Heck, you had me at "Busta Rhymes v Michael Myers." Not for purists, but was this franchise ever pure?
BONUS: TALES OF HALLOWEEN (2015) 🎃🎃🎃🎃/5 Fresh holiday frolics from a pumpkinload of talented people. Not of this series, but do check it out!
REAL LIFE. REAL NEWS. REAL VOICES.
Help us tell more of the stories that matter from voices that too often remain unheard.
This post was published on the now-closed HuffPost Contributor platform. Contributors control their own work and posted freely to our site. If you need to flag this entry as abusive,
send us an email
.