Now in its third year, Sci-Fest L.A., the world's only science fiction theatre festival, boldly goes beyond where live theatre has gone before, and proves sci fi isn't just for TV and movies.
Created by actor/producer/writer David Dean Bottrell, Sci Fest L.A. has staged one act plays by the biggest names in science fiction writing including Neil Gaiman, Clive Barker, Ray Bradbury, Ursula LeGuin, and this year, Janis Ian. Yes, singer/songwriter Janis Ian (At Seventeen) grew up loving the genre and has been writing science fiction for decades. Her emotional tour de force Prayertown makes its Los Angeles stage debut this month at Sci Fest L.A.
Sci Fest L.A. divides its offerings into two nights, Program A and Program B. The programs alternate on weekends through May 2016, and you can't go wrong - there's something for everyone. Sci Fest L.A. even goes the extra mile by casting actors from popular genre franchises including Nelson Ascencio from The Hunger Games, Tim Russ from Star Trek: Voyager, and many others.
Courtesy of AEFPR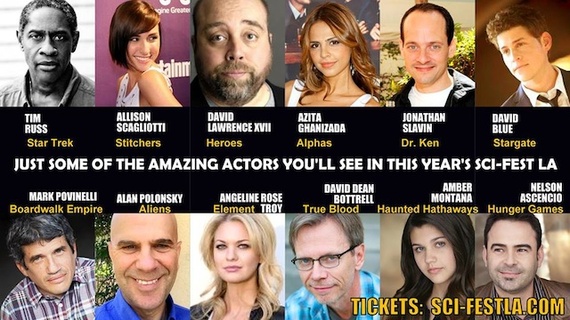 In addition to Ian's Prayertown, Evening A includes Neil Gaiman's fabulous and bizarre Shoggoth's Old Peculiar, and the apocalyptic drama Winged Cupid, Painted Blind featuring a video cameo from Dee Wallace (E.T.). Act Two of Program A begins with my single favorite performance in the festival: a jaw-droppingly good Jonathan Slavin (Grimm) who rocks the chilling Arrival. Program A concludes with the tense alien abduction comedy, Randomized Skin, which ultimately made me appreciate being human.
Courtesy of AEFPR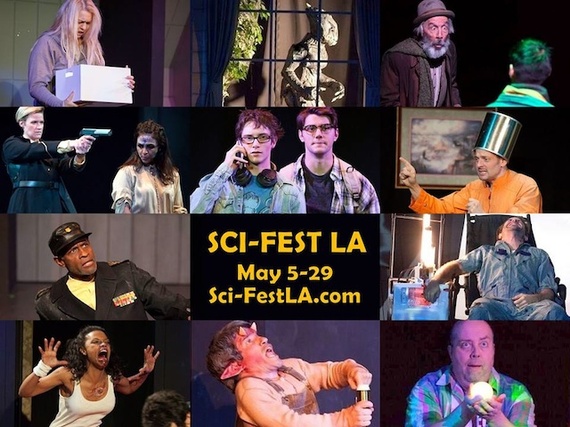 Program B kicks off with the futuristic love drama Love Live Alpha featuring strong performances by Angeline Rose Troy (Element) and David Blue (Stargate Universe). Certain Unexplainable Events creeps up, and takes us for the evening's most unexpected ride. Beautifully directed by Bottrell, Certain Unexplainable Events stars four young actors (Amber Montana, J.T. Neal, Cece Paige, Conner Scott) who I fell in love with. Dialogue-free, alien spookfest A Midnight Clear wraps up the dramatic triptych of Program B's Act One. After a short intermission, Act Two of Program B is pure zany fun. Zebulon's Calling (Sci Fest's shortest play this year) is a two character twisty gem. A fresh and hilarious finale, The Yattering and Jack brings the house down. Jack Kenny pulled out all the stops directing (and co-adapting with Matt Murray) this adaptation of a Clive Barker story. Mark Povinelli (Amazon's Mad Dogs) and Peter Mackenzie (Blackish) had me laughing out loud several times.
Rod Serling once said "There is a fifth dimension beyond that which is known to man. This is the dimension of imagination." That fifth dimension is found Thursdays through Sundays to May 29th at 135 North La Brea Avenue at the Acme Theatre in Los Angeles. Vive Le Sci Fest!
David Dean Bottrell and alien invaders at Sci Fest L.A. (Photo by Ed Olen)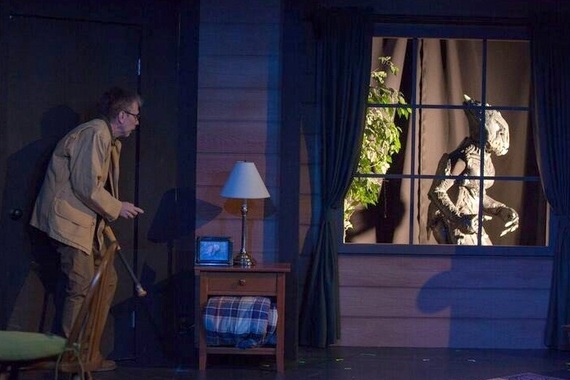 Calling all HuffPost superfans!
Sign up for membership to become a founding member and help shape HuffPost's next chapter