WASHINGTON -- When politicians talk about the need to maintain America as the destination for the best and the brightest in science, they probably have someone like Dr. Reena Pande in mind.
Pande's resume lists one high achievement after another. She earned a degree in biology at Harvard before attending the university's medical school. From there she did an internship and residency training at Brigham and Women's Hospital in Boston (which has been in the news for its top-notch treatment of the Boston bombing victims). She earned a fellowship in cardiovascular disease and vascular medicine and became a member of the Harvard faculty in 2009.
Along the way, she did research, primarily on the benefits that exercise can have in patients with vascular disease. Studying how such patients reacted to a training regimen, Pande used muscle biopsies in an effort to isolate the molecular signature of physical fitness.
"The holy grail is to find a gene that we can craft into a pill to help people who can't exercise with their medical issues," she explained to The Huffington Post.
Like all grail searches, however, this one has had its obstacles. Though Pande has a grant from the American Heart Association, she needs additional support to see the project "to complete fruition." And over the last few years -- the last few months in particular –- the funding situation has gone from awful to dire.
Several grant requests to the National Institute of Health have been denied, despite receiving good scores. And with NIH now dealing with budget cuts implemented by sequestration, Pande is considering the possibility that her work may be put on hold -- and that a generation of researchers like her may be driven from their profession.
"The honest truth is, people like me are going to leave science," she said. "There will be junior people, people in college, who will be steered away from doing research or going into science ... We won't be able to stay in the field."
Across the country, budget cuts -- made worse by sequestration -- are squeezing dollars, and consequently trained personnel, from the science and medical research communities. Researchers like Pande, eager to make the next big breakthrough, are now seeing limited opportunities to pursue their goals. Those who've spent years in academia are finding out that their degrees aren't opening doors or checkbooks, and some are just dropping out altogether.
"On the one hand, we are rightly encouraging young people to go into science and research, and on the other hand we are showing them a red light saying there isn't the money," said Rep. Chris Van Hollen (D-Md.), who has been one of the loudest congressional critics of the grant cuts.
One particularly jarring example of this brain drain, recounted by two independent sources, took place in the summer and fall of 2012. A young researcher in the Midwest with a Ph.D. in chemistry from a prominent state school had been left unemployed after the project on which she had worked didn't get a follow-up grant. Three months of attempting to find research or academic work produced no results. With no other options, she rewrote her resume, stripping it of any mention of her Ph.D., and began applying elsewhere. Within a week, she had secured a job as a secretary at an auto parts company.
The Huffington Post tracked down the researcher, "Rebecca," who asked that her real name not be used out of concern that it could jeopardize her current employment. Rebecca confirmed her story. Now an executive at the auto parts company, she recalled the abrupt end to her previous career as a "depressing" moment, filled with uncertainty.
"It is possible that I could have gone to another college and gotten another post doc, but that's a temporary position," Rebecca said. "When I started way back in the day, this was the field to go into ... it is a much different field today."
Despite 11 years of education (five as an undergrad, six for her Ph.D.) and aspirations of being a chemist, Rebecca said she has left science for good. She is happy with life outside the lab. Her company takes good care of her.
"They are already scared I'm not there to stay because they know I'm bright," she said. "They just don't how bright."
For science and medical research advocates, stories like Rebecca's are becoming remarkably, depressingly common. Not everyone may be scrubbing the doctorate from his or her resume, but increasingly young scientists and researchers are discovering that their education investments aren't paying off. The money simply isn't there.
The problem pre-dates sequestration, but the automatic spending cuts that began going into place in March have certainly made things worse. This year alone, sequestration will force the government to cut $9.3 billion in funding for research and development projects, including $6.4 billion from the Department of Defense, $1.5 billion from NIH and $749 million from NASA, according to the American Association for the Advancement of Science.
"The competition for research grants is unbelievable," said Andrew Rosenberg, the director of the Center for Science and Democracy at the Union of Concerned Scientists. "The process is incredibly intensive to choose the best of the best. Sequestration means success rates go down even further, which discourages people from even going into research ... You are really putting a wet blanket over research opportunities."
But the ramifications of sequestration don't end at the lab door. Potential medicines may not be discovered, scientists warn, which means that health care costs could unnecessarily pile up down the road. Companies will find the United States less hospitable, argued Van Hollen, who told of a biotech outfit in his home state that was moving their operations to China because government investments in research and science were better there.
And, like Rebecca, a generation of scientists may decide that there is no good -- or at least secure -- future in the field.
For now, Tom Linz is not one of those scientists. Having received a Ph.D. in chemistry at the University of Kansas just three weeks ago, he currently is working at the University of North Carolina on a project to develop micro-fluidic devices capable of diagnosing diseases. His boss has a grant from the Department of Defense, which has given them a stable platform to conduct research that he concedes has only a remote chance of success.
"You are looking for a needle in a haystack," he explained. "The research is very difficult, and it's why people have spent so many decades trying to find the right one. The potential payoff would be extraordinary."
Linz, 27, counts himself among the fortunate. He has friends and acquaintances who have left the field because there is no money to do work. And he worries that when it's his time to go searching for a grant, sequestration and the budget cuts that preceded it will put him in a similarly difficult position.
"I want to go into the academic research world," said Linz. "You can be a great teacher, but if you don't pull in grant money, you're in trouble. 'Worried' isn't even strong enough to describe the fear I have in having to compete against my old boss for grant money ... Sequestration is definitely hurting people now, but down the road the impact is going to be much greater."
Before You Go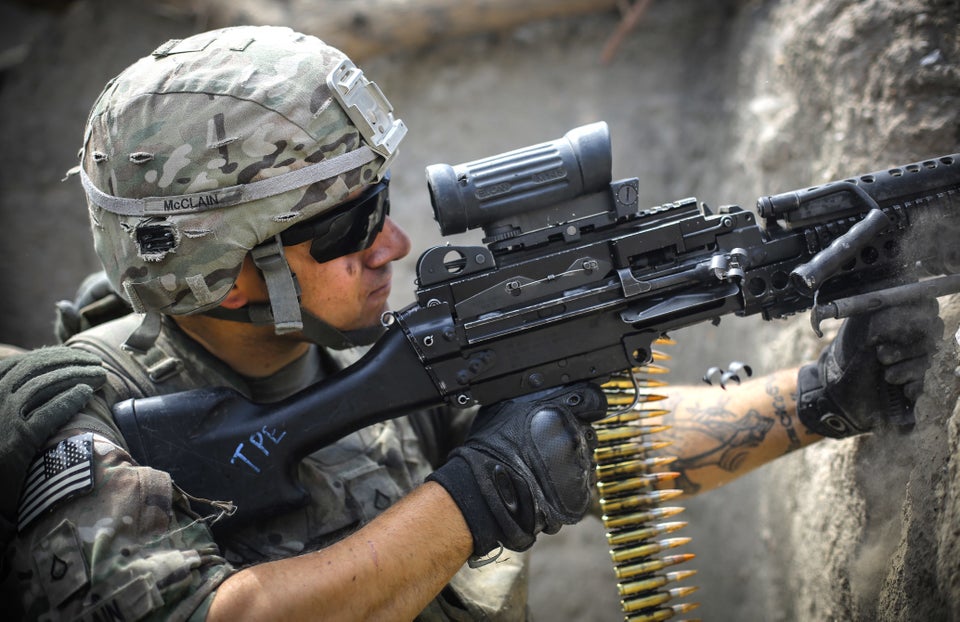 What Sequestration Would Cut
Popular in the Community