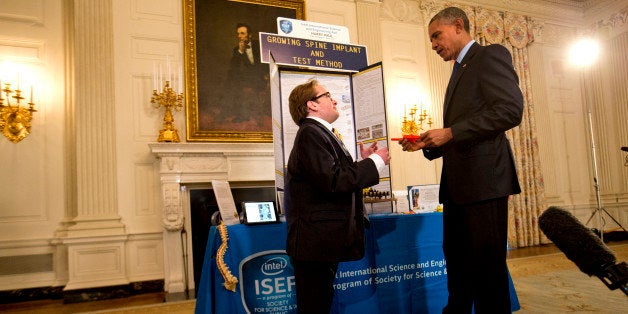 If we wanted to design a system to thwart students from becoming good critical thinkers and science enthusiasts, in some ways we could hardly do a better than what we are doing today in our K-12 classrooms. What's the problem?
Every test question has a right answer. Every lab has known results. We emphasize facts rather than the process and joy of science. We praise success but don't sufficiently reward effort. And although the National Research Council has long advocated "inquiry-based science," we often expect kids, who in their spare time are used to actively controlling their virtual worlds with role-playing games, to be passive absorbers of knowledge in classrooms.
Put another way, we don't give our kids enough experience in how to ask questions, develop a hypothesis, try things, gather data, and sometimes fail -- and to do so effectively. And we need to teach them it's OK for things to go wrong in the short term if they are working hard toward a longer goal and using the evidence-based process of science. Trying and failing is fine. Not trying: not fine. Sometimes you have to fail to succeed.
That's another reason that we need science fairs such as the one held yesterday at the White House -- the fifth one during the Obama administration. We need to recognize the kids who try -- and so inspire the rest of us to try as well.
"Hello, scientists!" said the president at the beginning of his formal remarks, after touring each of the 30-plus exhibits and speaking with the young researchers. "This has got to be the most fun event of the year."
And it was. As the editor in chief of Scientific American for half a decade, I've met a lot of fine scientists. And the students, with their posters and projects arrayed on tables in front of collections of china from former first families and presidential portraits in tastefully appointed White House rooms, would have matched any of them for passion and curiosity. Projects ranged from an automatic page turner built from LEGOs by a team of Girl Scouts -- all ages 4 and 5 -- to the impressively advanced work of high schoolers whose projects took thoughtful steps toward identifying new diseases and precision medicine for cancer treatments.
All of them shared a devotion to trying -- and then trying again and again if necessary. One of the students, Kenneth Shinozuka of New York City, a 2014 Google Science Fair finalist and the winner of the the 2014 Scientific American Science in Action Award, worked for two years to develop a sensor that could detect when an Alzheimer's patient has left the bed and might be beginning to wander and sound an alarm.
"I designed and engineered a treatment for congenital scoliosis, which I was born with," said Harry Paul of Port Washington, New York. He added, "My implant would only have to be lengthened about every three years," instead of every six months. He also built, with existing parts and 3D-printed items, a model of a spine to demonstrate how the implant could automatically "grow" along with the child. For his work he also took honors at the Intel International Science and Engineering Fair. What was the secret of his success? His advice echoed what I heard from several of the fair participants:
Never give up. I failed about 20 or 30 times in this project, and often right before big presentations. If I'd said, "Oh, I lost; got to give up," I would never be at the White House today. I always went back and pulled an all-nighter -- not saying you should do that! -- and tried as hard as I could to move right along.
"It's been several years now for all phases of the process," said Sophia Sanchez-Maes of Las Cruces, New Mexico, who demonstrated her project about creating a sustainable fuel system with algae. "I feel like I have a responsibility to make this happen."
As President Obama put it, "these young people have something to teach all of us."
Calling all HuffPost superfans!
Sign up for membership to become a founding member and help shape HuffPost's next chapter