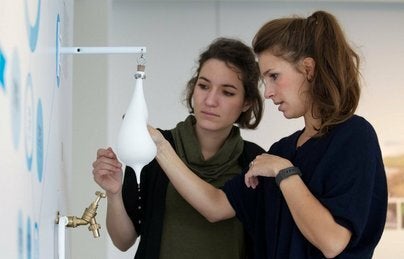 When the Science Gallery opened in Dublin in 2008, officials expected only about 50,000 visitors a year. They got a lot more. Over a million people have visited in the last four years, and the gallery at Trinity College has garnered international attention.
The Science Gallery seeks out work that explores "collisions" between science and art. It extends its reach with traveling exhibits, but now is looking to set up permanent spaces in London, Singapore, New York, Bangalore, Moscow and additional academic centers around the world.
Michael John Gorman, the gallery's director, said he had always wondered why museums limited themselves to one field of endeavor. Why not bring together "strange bedfellows" more often? Encourage great minds from different backgrounds to meet up? Thus far, the gallery has featured work from scientists, artists, psychologists, viral marketers, bankers and chefs, among many others.
In the exhibit now running in New York, "Surface Tension," which takes a look at the future of water, one isn't quite sure whether one is seeing art or science or sociology or all of those things. But the exhibit is presented "in a sexy enough way," as the gallery's education and outreach manager Lynn Scarff put it, that hopefully visitors are coaxed into learning a thing or two.
The pieces found in the Science Gallery's shows have been culled from hundreds of submissions, and many have a playful quality in common with those found at a children's science museum. But the discussion points are much deeper: The gallery has explored everything from the science of desire to infectious diseases to the future of our species.
"For our exhibits, artists won't just send you something in a box; they'll get involved," said Gorman. "They'll connect with the community around the exhibit in a powerful way."
At "Surface Tension" in New York, for example, one can drink water from the Hudson River (after an extremely complex purification process, thank goodness). Some pieces -- like "The Sea Chair Project," which considers how to recycle thousands of trash pellets found floating in the ocean -- offer solutions to major problems in our ecosystem, while others, like "Bit.fall," are just fun to think about.
"Exciting things always happen when you bring together people from radically different areas to explore something of a common concern," Gorman said. "When everyone's outside their usual comfort zone."
Some notable work featured in the Dublin gallery over the past few years includes "Bees," which showed how bees might be able to detect human health problems from the odor of human breath, and "Stressed Out Of My Mind," which used visitors' own saliva to explore the correlation between cortisol levels, stress and memory. The film "Aphasia Mechanica" paints an X-ray picture of how various nano machines might work within our bodies.
Certain Science Gallery projects -- including the solar-powered water purification system featured in "Surface Tension" -- have received outside funding from Kickstarter and FundIt, and Gorman hopes other pieces might take off in the real world. The gallery recently received a $1.3 million grant from Google.org to further "bridge the artistic and scientific communities" in major urban areas.
Gorman said he hopes the ideas featured in his gallery can offer inspiration in yet another field.
"Maybe the education system, rather than being a mechanism for information transfer, might actually be a mechanism for creativity," he suggested. "Information transmission was really valuable at one point in history, but if our students don't know [how to] collaborate, create and investigate, rather than simply memorize, then we've got a real problem."
The Science Gallery's next exhibit, "Hack the City," will look at how urban residents can "tweak, modify, adapt, and hack their city environment" to make it work better. It opens in Dublin on June 22.
"Go back to da Vinci. When he thought about flight, he didn't just design a flying machine -- he came up with landing gear and wind speed measurement devices. He imagined a whole society characterized by flight," Gorman said. "It's all about the imaginative leap to the future society."
The best-selling author Jonah Lehrer recently wrote in Seed Magazine that science needs the arts in order to thrive into the next century. He suggested colleges have their science students take art classes, rather than just the other way around.
"We need to find a place for the artist within the experimental process," he said. "If we want answers to our most essential questions, then we will need to bridge our cultural divide."
Perhaps the Science Gallery is just the first step of many more to come.
"Surface Tension" runs until Aug. 11 at Eyebeam in New York City. Watch videos showcasing some of the Science Gallery's past exhibits below.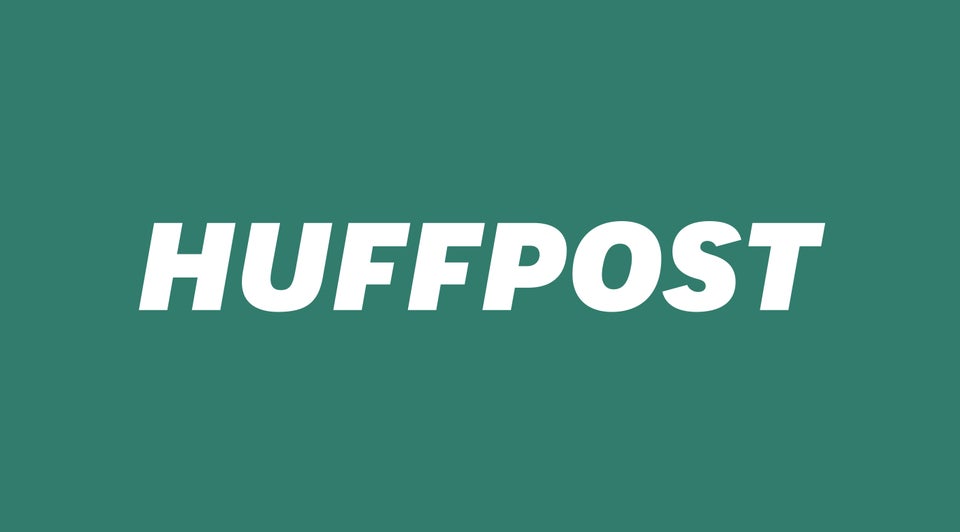 Scenes From The Science Gallery
Popular in the Community