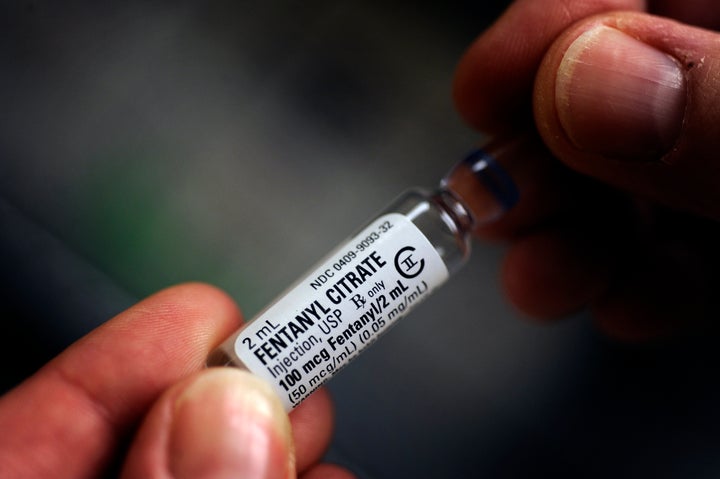 More and more communities across the United States are coming to know the devastating effects of our nation's opioid crisis, and our federal government is moving to combat this crisis through a series of public-health focused reforms. But what had been less well-known until authorities revealed the cause of Prince's death is that a major driver of the recent surge in overdose deaths is due to fentanyl, and many are struggling with how to approach this challenging issue.
Fentanyl is an opioid 50 times more potent than heroin, and has been added to U.S.-destined heroin from Mexico, China, and in clandestine labs domestically, mostly to increase illicit profits. Low-level dealers and users are often unaware of the presence of fentanyl in illicit prescription opioid pills and heroin. Against that backdrop, this highly potent opioid and its chemically related versions have contributed to over 5,000 overdose deaths in the United States since late 2013.
Because of the urgency of this overdose crisis, federal officials have moved to propose solutions. Leadership at the federal level is vital in responding to this epidemic, but it is important to use evidence-based approaches and to stay wary of perpetuating outdated and ineffective solutions.
The traditional, "supply-side" approach to combatting drug trafficking, whereby distributors (who often use the substance themselves) are simply put in prison, is a flawed approach. Our nation currently incarcerates nearly 1 in 100 Americans, and yet, drug use is soaring, and rates of overdose and death from opioids are at an all-time high. Clearly, continuing to pursue these short-sighted policies will not address this public-health issue in an effective and sustainable way.
Furthermore, the fact that fentanyl is a synthetic opioid produced in a lab, with endless potential for new forms, requires particularly thoughtful, innovative approaches to dealing with its harmful effects. That is, when fentanyl is outlawed, a chemically similar, yet legally permissible substance is created. This chemist's game of creating newer versions one step ahead of law enforcement leaves drug users ever-vulnerable to overdose by newer and potentially more potent or dangerous chemical compounds. To get ahead of these sophisticated production facilities, we must focus on demand reduction through a lens of science and public health.
We recommend that the federal government declare a public health emergency on fentanyl in order to support rapid expansions in evidence-based demand reduction strategies.
As medical researchers, it is our duty to pursue data-driven policies that promote the public health. Strategies like expanding access to Naloxone (the opioid overdose reversal medication), improving the accessibility of medication-assisted opioid treatment (like methadone and buprenorphine), getting more physicians to prescribe buprenorphine, establishing anonymous drug checking services to assess illicit drugs for fentanyl and analogues, enhancing fentanyl surveillance, and accelerating research on how people are being exposed to and avoiding fentanyl are all viable, evidence-based alternatives to  incarceration.
It's disappointing to see federal legislators revert back to outdated solutions. One such effort, the Stop Trafficking in Fentanyl Act of 2015, introduced by Senator Ayotte (R-NH), is a misdirected and ultimately flawed approach to be avoided.
Her bill would lower the amount of fentanyl necessary to trigger the existing mandatory minimum sentencing requirements in place for this substance; for example, 0.5 grams of a mixture or substance containing a detectable amount of a version of fentanyl would trigger a mandatory minimum prison sentence of five years. Though surely well intentioned –- Ayotte's home state of New Hampshire has suffered greatly from the overdose crisis -– this bill, rather than punishing those who add this substance to heroin, as intended, would affect only low-level street dealers and individuals who use fentanyl, thereby perpetuating the vicious circle of overcrowded prisons and high overdose rates in our country.
In the past, Ayotte has shown leadership on the heroin epidemic, sponsoring the Comprehensive Addiction and Recovery Act earlier this year. In our current crisis, we need all our federal officials to remain committed to data-driven, sustainable solutions that put public health at the forefront.
Need help with substance abuse or mental health issues? In the U.S., call 800-662-HELP (4357) for the SAMHSA National Helpline.
Calling all HuffPost superfans!
Sign up for membership to become a founding member and help shape HuffPost's next chapter
BEFORE YOU GO