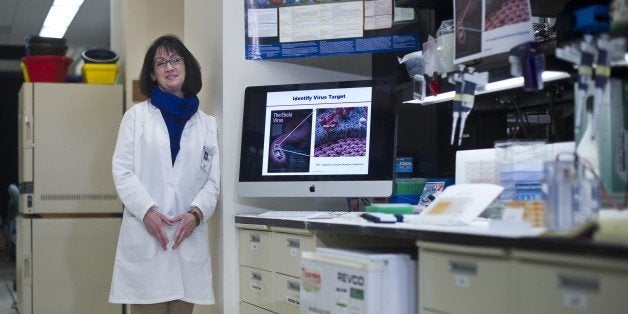 WASHINGTON -- Science advocates scored a major legislative victory on Friday -- a rarity in recent politics -- after the House of Representatives passed a bill directing billions to agencies that promote biomedical research.
The 21st Century Cures Act sailed through the chamber by vote of 344 to 77, a startling show of bipartisanship for a body that has done remarkably little of that. It now awaits movement on two fronts: the Senate, where similar legislation is under consideration, and, ultimately, the appropriations committees, which must take the directives of the bill and turn them into hard dollars.
Should they do that -- and indications from the House Appropriations Committee are positive -- it would mark a reversal of financial fortune for a corner of the federal government that's been fretting about budget shortcomings since the last dollars of President Barack Obama's economic stimulus package ran out.
"It is a glimmer of hope for science advocates," Rep. Diana Degette (D-Colo.), a lead co-sponsor on the bill with Energy and Commerce Chair Fred Upton (R-Mich.), told The Huffington Post in an interview. "And I don't think it is just the spending. It is all of the structural changes. I think what it shows is some of us are really receiving the old congressional practice of working together. And I hope this will continue after this bill."
There are two main pillars to the 21st Century Cures Act. One is plain old money. Under the bill, the National Institutes of Health will receive a boost of $8.75 billion over five years while the Food and Drug Administration will receive an additional $550 million over that period. That funding is offset by selling oil from the Strategic Petroleum Reserve, as well as reforms to Medicaid payments, and delaying reinsurance payments for stand-alone prescription drug plans in Medicare Part D.
The legislation's second pillar is bureaucratic reforms to the research apparatuses of federal agencies. The 21st Century Cures Act allows researchers to screen patients in advance of clinical trials to ensure that they are good candidates, it encourages data sharing between health agencies, and it pursues reforms for streamlining the drug approval process. It also gives drug companies that develop medicines for rare diseases gifts in the form of more market exclusivity and better payments to hospitals that use the drugs on Medicare beneficiaries.
Lawmakers who carefully put the bill together describe it as a delicate ideological trade off: a mix of bureaucratic tape-cutting and government checkwriting. That the bill was voted out of committee unanimously in May, supported by Republican and Democratic leadership, suggests they succeeded.
In reality, however, this is relatively low-hanging fruit. Virtually no one in Congress publicly opposes greater funding for biomedical research. Diseases in need of a cure touch all constituencies. Researchers at federally funded facilities exist in Republican and Democratic districts. For years now, momentum has been building to get more resources to these functions. Former House Majority Leader Eric Cantor (R-Va.) encouraged his colleagues to pass budget hikes without even offsetting the cost elsewhere. Tea party members said they'd put their fiscal conservatism in a drawer when it comes to NIH. And on Thursday, one of those members took to the House floor to call the 21st Century Cures Act not just a moral imperative, but a money maker.
"Our investment will pay for itself a thousand times over," said Rep. Kevin Yoder (R-Kansas).
That said, the bill is not universally loved. Conservatives pushed hard until the end to change the spigot on the money sent to the NIH and FDA. Under the bill, those funds are mandatory, meaning that they are on virtual autopilot for the five-year duration. Republicans, led by freshmen David Brat of Virginia, wanted to make the funding discretionary, in part so that appropriators could have a yearly say on the matter. Brat was supported by several outside groups that called sales of petroleum reserves a gimmicky pay-for and accused lawmakers are skirting budget caps they agreed to in 2011 in the form of sequestration. An amendment introduced by Brat was defeated on the House floor Friday morning.
On the flip side, the White House, while supportive of much of the 21st Century Cures Act, also expressed sequestration-related concerns, complaining that the bill fails to address the matter. In a statement of administration policy, it warned that if sequestration caps come back into effect, as they are scheduled to do in September after a two-year semi-hiatus, it would significantly dull the bill's goal of fostering scientific research.
The science community, likewise, has some divisions. While the Association of American Universities said it "strongly supports the National Institutes of Health (NIH) funding provisions of the 21st Century Cures Act," others remained agnostic.
"It's good but not great," said one advocate. "But, honestly, we would rather have NIH funding be increased over the years rather than have this funding stream that might go away."
Degette told The Huffington Post that she hoped the strong vote tally would encourage the Senate to move quickly on its piece of legislation, after which the two chambers would go to conference. Ultimately, she said, the goal was to get a bill to the president's desk by the end of 2015.

Calling all HuffPost superfans!
Sign up for membership to become a founding member and help shape HuffPost's next chapter
BEFORE YOU GO
PHOTO GALLERY
Politicians Mess Up Science