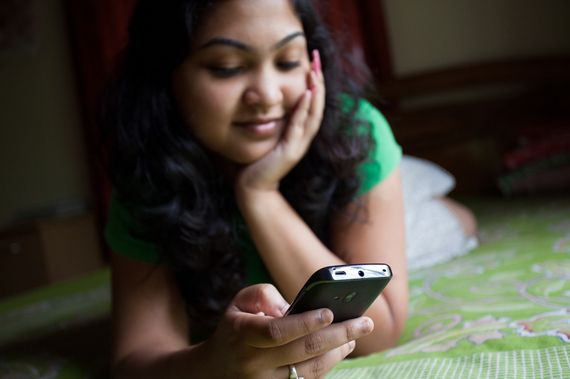 By Megan Jones, Psy. D and Chief Science Officer of Lantern
There seems to be a health app for everything. Sleep better, train for a marathon, stick to your medication schedule--there's nothing you can't do when you've got a smartphone. But with more than 100,000 health and wellness apps available in the iTunes and Google Play stores, the options can be paralyzing. And even if you do hit download, many health apps simply don't work.
The best digital health products empower individuals to take control of their health. Just like you care about your doctor's trustworthy reputation and high-caliber training, educated digital health consumers apply these same standards of quality to health apps.
Why Not Doing Your Homework on Health Apps is Risky

Just because an app is available doesn't mean it's reliable. There's a low threshold to creating an app and selling it in an app store. The FDA only regulates health apps that provide analysis, diagnosis, treatment, or treatment recommendations--only about 100 of the 100,000 apps on the market. App stores accept all other health apps without FDA evaluation.
In the Wild West of digital health, how do you choose an app that will actually help you meet your goals? Here's what you need to know to evaluate whether an app will get the job done, or whether it's just snake oil.

1) Who made the app and who's profiting from it?

Spend some time researching the maker of your product. Is the app made by a large corporate organization? If so, they may have an incentive to encourage you to buy more of their products. Did someone with a dubious medical or research background make it? It may be more snake oil than science.
If you've done your research and still aren't sure what to choose, check out a list of legitimate apps, curated by health insurance and digital health companies. For example, HealthTap, a telehealth startup, runs an initiative called AppRx that asks doctors to recommend health apps to the public. You can find their best recommendations in an annual HealthTap report.
If a company or app claims to be endorsed by another company (often with a logo on an About Us page), make sure the company providing the alleged support reflects the same endorsement on their website.
2) Is the app based on good science?
A section on research, complete with citations or links out to original research papers. Lumosity currently advertises that they "transform science into delightful games." To support this claim, they have a detailed science page that clarifies how their games relate to their original psychological research (see below). On Lantern's website, you'd find links to original and outside research that shows we base our program and coaching model on best practices in Cognitive Behavioral Therapy.

A team member or advisor whose clear responsibility it is to uphold the scientific integrity of the product or service. At Lantern, that person is me--the Chief Science Officer. My job is to make sure our company delivers a product that has high effectiveness (meaning, results that match or beat what is reported in research studies - and has meaningful results in "real life") and protects safety and wellbeing of our users. Other titles to look for include "Chief Medical Officer or Medical Director"
Sample size, clear metrics, and explanations attached to any presentation of data. Here's an example from Lantern: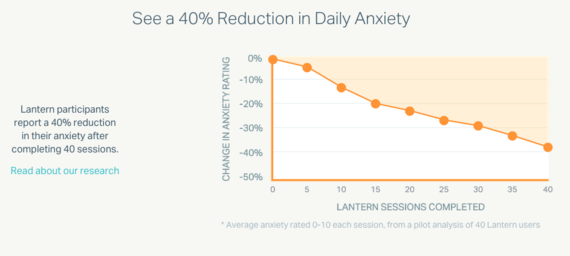 3) Safety, security, and privacy: What data is collected, and what is done with it?
Digital health companies will gather data on you. Some companies will use data for good things like making your experience better or supporting medical research. Some may violate your privacy by selling your data to advertisers or other business partners. Before downloading a health app, read a company's Terms of Use and Privacy statements to find out:
The kinds of personally identifiable information (PII), like your name or address, that's collected, and with whom it's shared
The process for viewing or requesting changes to that PII
The process by which the Terms of Use or Privacy statements may change, and how you'd be notified of changes
As an informed consumer, you'll be able to make a healthy and effective choice next time you pick out a health or wellness app. Remember that companies, especially those still in startup mode, want your business. So they'll likely respond to you if you reach out with questions. Don't be afraid to contact digital health companies to clarify their offering, business model, or data privacy and security protocol. Your questions will also help the company identify weaknesses and build a better product.
Have you downloaded any health apps that work for you? Do you know if they're backed by science? Let us know in the comments.
This article first appeared on Lantern's blog, which shares expert advice and research on strengthening emotional well-being.