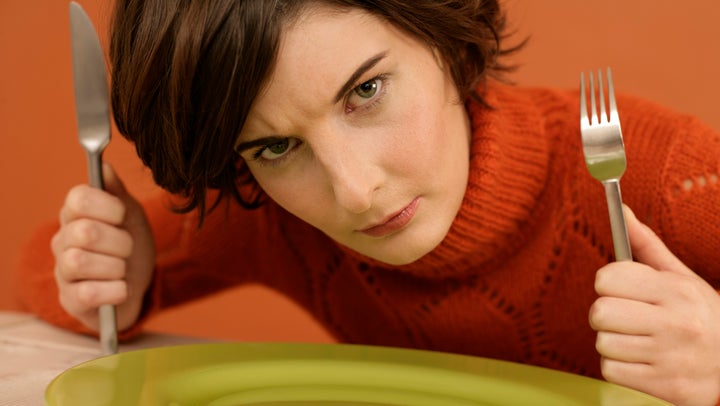 Many of us are all too familiar with feeling overcome by anger when we go too long without food. We even have a name for that feeling: Hangry.
Now, scientists are gaining a better understanding of why we feel hangry -- and that knowledge may hold clues to improving treatments for obesity and aggression.
"If our predecessors just stood back and politely let others get to the food before them, there is a good chance that they may not have gotten enough to eat, and they would have died -- possibly before they could pass their genes on to the next generation," wrote Salis, who is currently studying hunger. "So it was likely the individuals that were aggressive when hungry that had a survival advantage, and we hence carry their genes to this day, whether we live with a shortage or abundance of food."
So, what's happening in our bodies when we feel hangry? The feeling tends to occur when our brain perceives a lack of glucose, which comes from food, as life-threatening, Salis said. This causes the body to panic somewhat and to up its levels of stress hormones and a natural brain chemical called neuropeptide Y, which contributes to the aggression we often experience when we're feeling hungry.
Brenda Bustillos, a registered dietitian and researcher at Texas A&M Health Science Center School of Public Health, told The Huffington Post that adrenaline -- which produces the "fight, flight, or freeze" response in stressful situations -- is one of the hormones that is released.
"Thus, hunger induces the stress response that initiates aggression, anger, and lack of control, or hanger," she said. "Hanger becomes a survival mechanism because our increased aggression and anger allow us to 'fight' for survival, or in other words, fight to obtain food."
Our "hanger" can then trigger a vicious ripple effect since the brain needs fuel in the form of glucose to regulate our emotions -- and anger is among the most difficult to regulate.
Bushman said that as type 2 diabetes is becoming more prevalent around the world, exploring the link between low glucose levels and aggression remains important -- especially to determine whether poor glucose levels represent a risk factor for violence.
Meanwhile, Salis believes that better understanding "hanger" is key to improving the treatment and management of obesity, she said.
"If we understand hunger and hanger and what drives them, we have a better chance of helping people to eat less so that they can attain and maintain an optimum healthy body weight," she said. "When people lose weight, they typically experience greater levels of hungerand this is a number one contributor to weight loss plateaus and rebound weight regain, and a number one reason why people give up on diet and exercise interventions."
But while we now know why our growling tummies are often accompanied by grumpy attitudes, Salis said that more research is needed to solve the mystery of how exactly the feeling is caused in our brain -- "what are the exact molecular mechanisms in the brain that are causing hunger and hanger, and how we can intervene to reduce hunger and hanger in the context of today's world."
Related
Popular in the Community